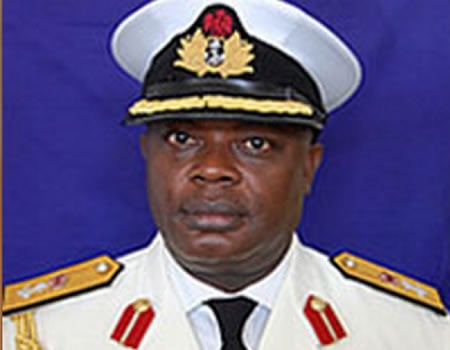 Commander of Joint Task Force (JTF), Operation Delta Safe, Rear Admiral Apoche Suleiman, says the force will partner volunteers and community leaders in Bayelsa State to rid Niger Delta of criminals.
Suleiman made the pledge when the Chairman, Bayelsa Volunteers, Mr Lucky Asanakpo and the local government coordinators of the group paid him a courtesy visit, on Tuesday, in Yenagoa, the state capital.
He said the military alone could not undertake the task of fighting crime without the input of agencies like the volunteers and community leaders.
According to him, most of the crimes are community-based perpetrated by persons who live among the people.
The commander assured of JTF willingness to collaborate with the volunteers to curb crime in the state.
In his remarks, Asanakpo said the visit was to inform the commander and his field officers of the existence of the volunteers.
He said it was also to seek strategic ways of partnership to safeguard government installations, lives and property in Bayelsa.
The volunteer chairman said since he assumed office two months ago, he had tried to fine-tune and redefine activities of the agency in line with the present political environment in the state.
He assured the JTF commander that his team would not disappoint having been trained to uphold integrity, good moral standards, commitment and loyalty to the present administration.
Asanakpo said the volunteers would not be involved in any act capable of bringing shame and disrepute to JTF in particular and the state government at large.
He observed that it was only in an atmosphere of peace that investors and tourists could be encouraged to invest in the state.