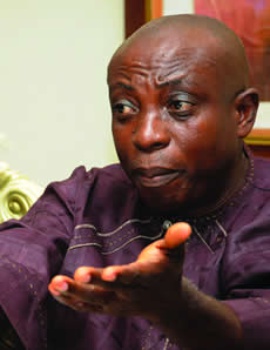 A section of Pro-Biafra agitators on Tuesday in Enugu berated Chief Ralph Uwazuruike, the Leader of the Movement for Actualization for Sovereign State of Biafra (MASSOB)  over his meeting with the former Chief Security Officer to Late General Sani Abacha, Hamza Al-Mustapha in Kaduna last Monday over the Igbo quit notice by Northern Youths.
In a statement by the Igbo Women Assembly (IWA) led by Mrs. Maria Okwor, it described the Uwazuruike's visit to Kaduna as charade, stressing, "where he went to plead for one Nigeria, while attacking Nnamdi Kanu the Leader of Indigenous People of Biafra (IPOB) at the same time is, nauseating, horrifying and despicable"
Mrs. Okwor recalled, "while pretending he was fighting for our people, he led thousands of Igbo youth to their early graves so he could live in opulence and luxury, today his closest ally is the infamous Al Mustapha. He has finally destroyed himself".
"Igbo women will protest against him in the coming days. He is a big shame and a ruthless traitor, it's high time he is banned in Igbo land. We will meet to decide sanctions on him. Nnamdi Kanu is our new leader, Uwazurike should cover his face in eternal shame.  His unending greed drove him to irrelevance, He is now seeking relevance, after he destroyed himself by countering Kanu's May 30th stay at home order, and was ignominiously ignored.  Our people do not want to hear his name again.
Also in its reaction, the Eastern Consultative Assembly (ECA) noted, "the outing with Al Mustapha in Kaduna on Monday, was a public confirmation, that Uwazuruike never believed in our people's freedom.
In a statement issued by the Publicity Secretary of ECA, Reverend Fr.  John Odey noted, "He has been trading with the blood of Igbo Youth for two decades, for him, it's all about money, money and more money. Nobody is fooled, our people know that the oppressor, whose agent, he has always been, funded his trip to Kaduna, because he can do anything for money.
"He destroyed himself, when he countered and viciously opposed the May 30th, Nnamdi Kanu ordered stay-at-home. Our people unanimously consigned him to the dust bin of history, by complying 100% with the IPOB stay at home order, thereby covering Uwazuruike with shame.
"Uwazuruike's current effort to sabotage the freedom of our people will bring doom on his head. He has gotten away with so many things in the past, that he has begun to take our people for granted.
"We are hereby warning him to desist forthwith from selling our people to the oppressor for a dish of porridge. He has acquired hundreds of properties all over the world with the blood of our youth. He should know, that our people are watching his treacherous moves, his cup is about to fill.
"We commend our leader, Mazi Nnamdi Kanu for his tenacity, uprightness, sacrifice, love of truth, respect for elders and total commitment to the freedom of our people from slavery.
"We implore Kanu, and the noble IPOB, to dutifully ignore Uwazuruike, who is only craving for relevance, after his greed, drove him to the pit of infamy.
"Only an early referendum and split to regions can save Nigeria now, sponsored fake peace trips to Kaduna cannot deceive anybody. Uwazuruike is a certified clown, who is struggling for relevance so he could continue to deceive the oppressor, not our people. We know him now. Nobody wants to hear his name down here. His name stinks.