Lionel Messi's exit from international football after Argentina lost 2-4 via penalties to Chile,  in the final of the Copa America Centenario indeed came as a shock to many football addicts especially his faithful.
To some, the time to quit should have been after a major victory but Messi, who missed his kick during the penalty shootout believed he has had enough of 'failures' with his country. It was his fifth penalty kick miss this season.
He was in tears during the post-match conference where he announced his retirement after lamenting the loss to Chile.
Arguably, Messi with five-time Ballon d'Or, eight La Liga and four Champions League titles with FC Barcelona, remains the best all-time player of his generation. However, his success in international football  largely centred on his exploits at age-grade global championships.
He had the Beijing 2008 Olympics gold to show as well as the 2005 FIFA U-20 World Cup, while he holds an enviable record of being Argentina's all-time goalscorer with 55 goals.
Messi, was named the Most Valuable Player of the 2005 U-20 World Cup and he has since remained in the world reckoning given his feat.
Many great players had in the past missed crucial spot kicks at major finals such as Italian Roberto Baggio at US '94 World Cup final, Frenchman Michel Platini at '86 World Cup quarter-final against Brazil and Messi, perhaps was unhappy to have joined the list.
Last Sunday's Copa America final was not the first time Messi had missed a penalty kick, In fact, despite his precision in front of goal, which has made him become a nightmare to many goalkeepers, Messi also holds an infamous record of being the only Barcelona player to have missed eight penalties in La Liga  history.
Messi also missed more penalty kicks in one season than any player in La Liga in the last decade.
Thus, when the Albiceleste missed the Copa title again last Sunday at the MetLife Stadium, East Rutherford, US, the petit forward believed the 113th cap should be his last game for his country.
Messi did not hide his frustration after what turned out to be his valedictory game for Argentina.
"For me, the national team is over. I've done all I can. It hurts not to be a champion," he declared after losing two Copa America finals on penalties to Chile, including the 2007 edition and was in the squad which lost 0-1 to Germany at the 2014 World Cup final in Brazil.
Messi, who made his debut for Argentina in 2005 further defended his decision to quit international football.
"It has been four finals. It was what I most wanted. It didn't work out. I think that's it. It's what I feel now, what I think. There is great sadness. I missed the penalty, that's it."
Perhaps, Messi might soon be joined in the party given the remarks of his team-mate, Sergio Aguero.
"We're all messed up. But that's the worst I have seen Leo. He did everything he could to get us here. But Messi probably won't be the only one to quit the national team. Several us are thinking about not carrying on," Aguero said.
The Manchester City striker had said during last year's Copa that "it would be a failure if this generation of players didn't win anything" and his team-mates all agreed with that statement.
But they still haven't and now the likes of 'Kun', Javier Mascherano, Angel Di Maria and Gonzalo Higuain could all follow Messi out of the national team.
However, Messi believes his retirement from the national team of Argentina will be a source of joy to many of his kinsmen.
"It's for the good of everyone," he said. "For me and for everyone. Many want that. People aren't happy with reaching the final and we are not happy either."
But one person who is not happy over Messi's exit is his Barcelona team-mate and
Chile's Copa America-winning goalkeeper, Claudio Bravo, who hopes the former should have a rethink.
"For me Messi is the best player in the world," said Bravo, who claimed the centenary tournament's Golden Glove award for best goalkeeper.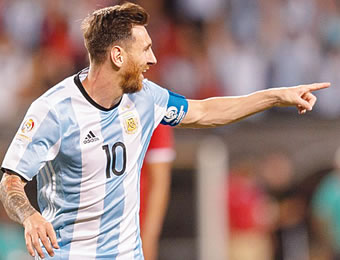 "We  know   too  well the quality of person he is. I'll take the best player in the world. I hope he continues playing for Argentina
for many years."
Also, Argentina President, Mauricio Macri and the country's soccer legend, Diego Maradona have joined the growing list of those who want Messi to stay on.
"He has to stay because he still has playing days ahead of him," Maradona was quoted as saying by La Nacion newspaper online. "He will go to Russia in form to be world champion."
The 1986 World Cup winner, Maradona, believes Messi is a victim of the rot in the  Argentina Football Association (AFA), saying "Those who are saying he should quit are doing it so that we won`t see what a disaster Argentine football has become".
President Macri was said to have urged Messi to shelve his plan for now.
"He (Macri) called him and told him how proud he feels of the national team's performance and asked him not to listen to the criticism," a spokesman for Macri told AFP by telephone.
Also, another team-mate at Barcelona, Luis Suarez, believes Messi's decision was based on the spur of the moment.
"I'm sure that he will change his mind, but whatever he decides he will still be the best ever," the Uruguay striker told Radio Tenfield.
"Knowing Leo, I'm sure it was said in a moment of sadness and helplessness. It would be a shame for football if he took this decision, but I'm sure he will reconsider and change his mind. It's a difficult time. Everyone has the right to make decisions and they should be respected."
But will Messi make a U turn, only time will tell?
---
---