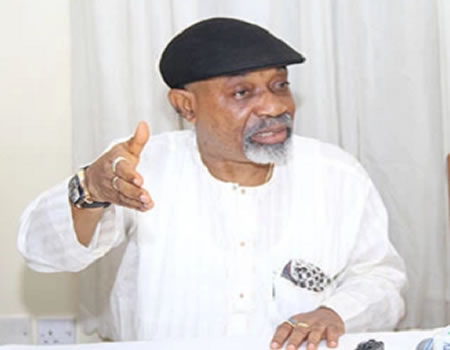 THE Federal Executive Council (FEC) has approved the National Employment Policy to guide this government in its employment programmes.
Similarly, it has authorised the implementation of the Nigerian Petroleum Policy as government bids to end fuel importation by 2019.
The Minister of Labour and Productivity, Dr Chris Ngige, told State House correspondents after the council's regular meeting in Abuja on Wednesday that captured in the new policy are things like "employment for people with disabilities, decent jobs programme and doing jobs without polluting the environment and other things that are new and contemporary in the labour market."
He recalled that the last employment policy was approved in 2002, noting that a lot of things have changed since then.
Ngige added: "So, this policy was reviewed in 2013 with technical assistance from International Labour Organisations and major stakeholders like employers were involved; workers, unions and this document was crystallised and this policy seeks to give decent jobs to people.
"Job creation is multi-sectoral. It is not limited to one ministry, not limited to the public service alone and private sector is involved and this policy seeks to capture the relevant affected persons and people that will apply.
"This is so that we can fight unemployment and under employment."
On the negotiations for a new National Minimum Wage, he revealed that a chairman for the negotiations committee established in May was yet to be nominated while Labour has not also sent in its representatives.
Also speaking, Minister of State for Petroleum Resources, Dr Ibe Kachikwu, said the essence of the new Nigerian Petroleum Policy approved by FEC was to change Nigeria from an oil producing country to a gas producing country.
He explained that the policy focuses on oil and the imperative needed to change in policy in the oil sector, adding that it was geared towards facilitating government's desire to exit the importation of fuel in 2019.
Kachikwu added: "It captures the re-organisation in the NNPC for efficiency and enable accountability. It captured the issues in the Niger Delta and what we needed to do as a government to focus on stability and consistency in the sector.
"It is a very comprehensive, 100 page document that deals with all the spectrum in the industry.
"The last time this was done was in 2007 and it has been 10 Years and you are aware that the dynamics of the oil industry has changed dramatically.
"Apart from the fact of fluidity in pricing and uncertainty in terms of the price regime in crude, we are pushing for a refining processing environment and moving away from exporting as it were to refining petroleum product.  That's one change you will see.
"Secondly, how we sell our crude is going to be looked at. There is a lot of geographical market we need to look at, long term contracting and sales as opposed to systemic contracting we have been doing.
"Those are the fundamentals. It's a document if well executed will fundamentally take the change process that we began in 2015 to its logical conclusion hopefully in the next couple of years."
In her own presentation, Minister of State, Budget and National Planning, Zainab Ahmed, said FEC considered and approved the National Social Protection Policy.
She explained that the policy is a framework which seeks to provide social justice, equity and inclusive growth using a transformative mechanism for mitigating poverty and unemployment in Nigeria.
She recalled that the federal government had commenced the implementation of Social Investment Programme (SIP) in 2016 with each of the programme that had been rolled out including, the School Feeding programme and N-Power programme were drawn from this policy which was in a draft form at the time.
"What we have done is to submit to the council today, a policy that is largely aspirational but seeks to ensure that every Nigerian gets at least a minimum of what is required in terms of human development and protection," she added.