Ambode's wife visits quadruplets, says multiple gestation demands early, quality care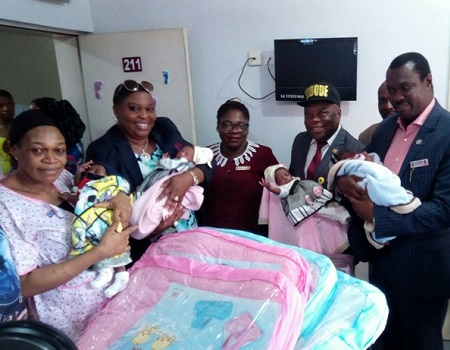 MRS Bolanle Ambode, Lagos State Governor's Wife, on Tuesday visited a set of quadruplets in Lagos, with a call on pregnant women, particularly those with multiple gestations, to register with government hospitals for quality care.
The governor's wife, represented by Mrs Folashade Kadiri, Assistant Director, Public Affairs Department in her office, visited the babies at the Amuwo Odofin Maternal and Child Centre (AOMCC), FESTAC Town.
Ambode said that early registration would enable expectant mothers to get adequate ante-natal care from qualified and experienced medical personnel during and after pregnancy.
She donated money, baby beds, mattresses, diapers and clothes to the quadruplets – two boys and two girls – born to Mr and Mrs Martin Onwuka.
They weighed 2.6kg, 2.3kg, 2.2kg and 2.0kg at birth.
The News Agency of Nigeria (NAN) reports that governor's wife also visited a set of triplets equally delivered in the hospital.
She also gave gifts to the two boys and a girl born to Mr and Mrs Chilem Nwaoha.
One of the babies weighed 2.6kg while others weighed 2.0kg at birth.
NAN reports that multiple gestation pregnancy is one where the mother carries more than one fetus.
Most multiple gestation pregnancies are with twins.
Ambode said: "I thank God for the safe delivery of the children.
"It is not easy to have one, not to talk of having two, three and four; we give God the glory that mothers and children are all alive.
"I also thank the AOMCC staff and the team of doctors who took delivery of the babies for taking good care of the mothers during pregnancy.
"It is important that women register for ante-natal care in government hospitals once they confirm they are pregnant.''
She said that expectant mothers would be properly monitored and managed in government hospitals during pregnancy and after child birth.
Ambode urged the parents of the babies to take care of them, advising that they should ensure regular checkup and routine immunisation for the children.
The Medical Director of AOMCC, Dr Dapo Soyinka, said that the babies were full term and delivered safely.
"This shows the quality of care in the hospital.
"High order multiple pregnancies are difficult to manage.
"Some people usually travel out of the country to go and be delivered, but the level of obstetric care here and strong neo-natal backup and support make it possible for us to manage such cases,'' Soyinka said.
Mrs Bolatito Olawale, the Chief Matron of the hospital, advised expectant mothers to strictly heed to doctors' advice.
"Let them take their drugs as prescribed by doctors and take enough fluids; they should also take a lot of fruits and vegetables.
"Sometimes, because of the multiple pregnancy their blood pressure may go up; so, they should take less salt and fried foods, particularly at night,'' she said.
In his response, the father of the quadruplets, Onwuka, hailed the state Gov. Akinwunmi Ambode for `his good works'.
"I am very grateful to the wife our governor and her husband. God has used them to touch our lives and those of our children,'' he said.
Also, the father of the triplets, Nwoha, thanked the wife of the governor for her benevolence.