Zamfara community where graveyard has been experiencing fire outbreak for 18 years
MUHAMMAD SABIU reports that a community in Zamfara State has been experiencing a fire outbreak in its burial ground for the past 18 years, amidst different reasons adduced for the mysterious situation.
GRAVEYARDS or cemeteries are sacred places where the dead are buried. Since pre-colonial times, communities and individual families have always carved out special places to bury their dead. With time, governments began to allocate plots of land as public burial grounds which are managed by local governments.
Also, by the end of the two world wars, special burial grounds began to be allocated to the military where the nation's fallen heroes are buried in some states and cities like Lagos, Ibadan, Enugu, Port Harcourt, Kano and Kaduna.
However, over the years due to population explosion and congestion in urban areas, state and local governments saw the need to acquire more expanse land to be used as burial grounds.
In northern Nigeria, for instance, there are often two burial grounds in many communities—one each for Muslims and Christians.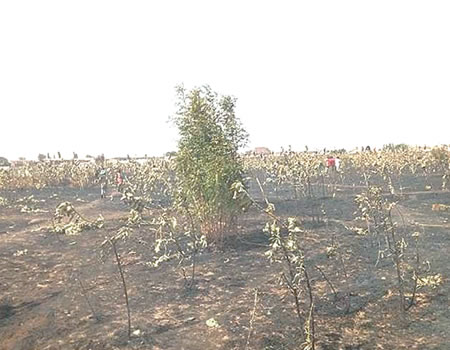 According to Sani Adamu, a volunteer who has been working in one burial ground for two decades, a burial ground is a sacred place that is supposed to be kept clean. According to him, as the final destination of every man, "we sweep, weed and ensure that the entire burial ground is kept clean."
However, in Zamfara State, there is one burial ground that that does not enjoy the peaceful and serene atmosphere that graveyards are associated with. Apart from the fact that the graveyard, located in Anguwar Yan Mangwarora in Gusau Local Government Area of the state is unkempt, residents of the area are worried about the case of recurring fire outbreak in the cemetery for the past 18 years.
ALSO READ: COVID-19: Lagos To Feed 200,000 Households For 14 Days
Arewa Live investigations revealed that residents of the small community are finding it difficult to come to terms with the mystery surrounding the annual fire outbreaks which the graveyard has been experiencing. Many of them were not ready to talk to Arewa Live on the issue.
Those who eventually spoke to Arewa Live said they hope for immediate solution to their predicament and prayed that very soon the problem would be a thing of the past.
A resident who wouldn›t like his name to be mentioned in print told Arewa Live:"We want to be happy but what is happening in our community is always making us sad."
"This is the 18th year that the fire has been ravaging our burial ground. To us, it is frightening and disturbing. Even though we hear so many stories surrounding it but we are yet to know what the real issue is!
"What is the source of the fire? Is there anybody responsible for it? What offences had those in the burial ground committed? These are the questions that are always on our lips."
The resident laments: "This year alone, we have had three fire outbreaks and each experience was a nightmare. It always takes us several hours to quench the fire."
Speaking further, he explained that whenever there was a fire outbreak, "we always drop whatever we are doing to quench the fire. Everyone is concerned about this sad development because we keep asking why fire should be breaking out in a cemetery."
Another resident, Mallam Buba told Arewa Live that the small community is worried because, according to the elders, the community people are peace-loving.
"We are a peace-loving people who are mostly farmers and traders. But who did we offend? That's the one million dollar question we want someone to answer.
"I have lived here for the past five decades. I had never witnessed such a thing until about two decades ago when we went to our farms and when we came back we were told there was a fire at the burial ground. The whole area was consumed by fire," he said.
He recalled that "We had to rush to the burial ground to see the damaged done. We were wondering what was amiss.
"We offered prayers, gave alms and sought Allah's intervention. However, up till now, our prayers have not been answered."
He however, remarked that some residents of the area believe very strongly that there is a spiritual dimension to the fire ravaging the community's burial ground.
Muhammad Mannir, a young man also resident in the community told Arewa Live that underscoring the spiritual dimension to the fire outbreak is the belief by some elders that "Maybe our forefathers offended the gods during the dark ages."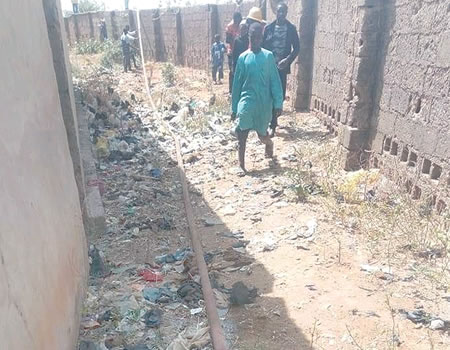 Mannir is of the view that a strong committee must be set up by the state government in order to get to the bottom of this.
"This is necessary in order to unravel the main source of the fire. We have heard so many unconfirmed sources. There are even some people who attribute the fire to activities of smokers who set the burial ground ablaze, among several reasons adduced by people," he said.
Commenting further, he disclosed that the area around the graveyard has no good road, noting that going to the site is a herculean task, adding that "we cannot bring the fire service in time to help us quench the fire anytime there is an outbreak. There is no water. Whenever we have fire, we always mandate the youths in every household to bring a bucket of water."
But an Islamic cleric in the area who pleaded for anonymity dispelled such claims as fetish belief. According to him, Zamfara State is an lslamic state where such beliefs would not hold water.
Abdulrazak Bello Kaura, a journalist disclosed to Arewa Live that he was on the ground when the last fire incident occurred in the afternoon of February 4, 2020.
"I rushed to the scene. I was shocked to see flames coming out of the burial ground and people were shouting Allahu Akbar! 'Allahu Akbar,' (God is Great), while some were shouting 'Innalillahi wainna ilaihin raji'un (To Allah we come to Allah we will return)," he said.
However, head of the community, Alhaji Isa Shehu, confirmed that the village has been experiencing the mysterious fire for years.
"Every year this graveyard experiences fire outbreaks; now this is the 18th year that it has been happening," he declared.
He also confirmed the existence of a snake in the community which he says comes out every Saturday and Monday, saying whenever the snake is seen around the graveyard there will be a fire outbreak.
"We have done anything and everything humanly possible, including lodging a report with the higher authorities.
"I always tell my subjects to fear God in whatever they are doing and shun immoral behaviours so that we can have Allah's blessings. For now peace has eluded us," he said.
The community head also appealed to the government to employ youths to be taking care of the burial ground on a permanent basis, hoping that it may help to unearth the mystery behind this.
When contacted, the state Commissioner for Religious Affairs, Alhaji Tukur Jangebe, implored everyone to fear God, saying the fire incident is a reminder for everyone to correct their relationship with God and seek His forgiveness, adding that the state government is ready to take care of all burial grounds in the state.