Youths besiege Chevron's office in Warri, clash with security agents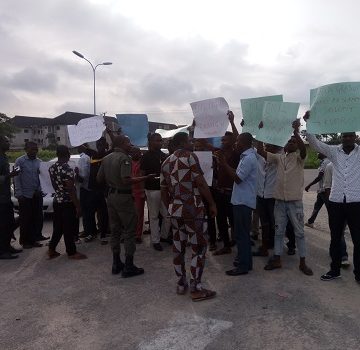 YOUTHS under the aegis of KOMBOT-Egbema/Gbaramatu Graduates Association and the National Association of Ilaje Graduates, on Wednesday, clashed with security agents in front of the office complex of Chevron Nigeria Ltd (CNL) over unmet demands.
The youths had, last Monday, given CNL 48 hours to absorb trainees from VTP5, OPT2 and VTP6 programmes as full staff of the oil multinational or face disruption of its operations through mass action.
But CNL's General Manager, Policy, Government & Public Affairs, Mr Esimaje Brikinn, in his response to the threat last Monday, said that "at no time did CNL represent or guarantee that it would hire the trainees at the time of graduation from the programme."
Brikinn reiterated that the "effort to sponsor eligible trainees for Operations & Maintenance Vocational Training Programme (VTP) was in accordance with its goal to help build the skills and capacities of the trainees to become more competitive in the Nigerian economy.
"The trainees are contracted by the training provider, Prime Atlantic Cegelec Nigeria Limited (PACE), and each trainee has a contract for an On-the-Job-Learning (OJL) trainee position at a CNL Production Facility."
But in deference to the explanation given by CNL, the youths, as threatened last Monday, besieged the office complex of CNL along NPA Road in Warri on Wednesday morning in a peaceful protest to press home their demands.
The youths who are Ijaw and Ilaje graduates were, however, prevented from executing the protest march by a combined team of soldiers and policemen deployed to the Warri office of the oil multinational company to prevent chaos.
Angry over the quashed protest rally, the youths, who were armed with placards with varying inscriptions, issued another ultimatum of one week to CNL to tender a public apology to their manhandled members and called for a high-powered meeting with their leaders.
Failure to do this, the youths threatened a total shutdown of CNL's operations in various parts of the creeks in Delta.
Leader of the protesters and President of KOMBOT-Egbema/Gbaramatu Graduates Association, Yabrade Moses, and that of the National Association of Ilaje Graduates, Ikuesan Ademola, spoke to journalists after the protest was quashed.
They said they had informed appropriate authorities before embarking on the protest, vowing that the physical attack allegedly meted out on them would not deter their members from achieving their aim.
They described, as modern slavery, the alleged continued refusal of CNL to convert the trainees to the status of full staff, while trainees from other places had been absorbed.
Speaking further on the botched protest, the duo said it "is all about our indigenes that are working in Chevron's Ogere training; the VTP5, OPT2 and VTP6. For a training of 18 months, they have been kept stagnant for about 4 years now, since March 2013. This is slavery.
"While those taken from the national, at Agbami, have been converted to permanent staff, those taken from our communities are not converted yet, using them as cheap labour or what we call modern day slavery because should anything happen to any of them, Chevron cannot be held liable and this is the major means through which our people can be taken into Chevron.
"The programme was designed to take our people into Chevron, but the company is trying to change the goalpost in the middle of the game.
"If they had listened to us, it would all have ended in dialogue; to see how the people would be converted, discuss and give a time frame they would be converted and see how those on waiting list could be taken, probably see how they could give us our quota from the employments they've done so we can get our slots for us to fill those positions."
"We cannot be intimidated; they should go increase the number of security men they used against us today, but we shall not be deterred, they should be ready to kill us because we are going back to our communities now.
"We are giving them one week to tender an unreserved apology to our people who they manhandled today and for their Managing Director to call a high-profile meeting with our leaders, their failure to do these within this one week will be met with a harsh reaction because all their flow stations in our domains; Abiteye, Opuekeba, Makaraba and all other ones will be taken over by our people."
Brikinn had also promised that CNL would continue to "hold discussions with the Delta and Ondo state governments, Itsekiri, Ijaw and Ilaje community leaders and the appropriate Regional Development Committees (RDC) under the Global Memorandum of Understanding (GMoU) to reiterate our constraints regarding employment due to the current state of the business."
It will be recalled that the protesting youths had been agitating for their demand for over two years.