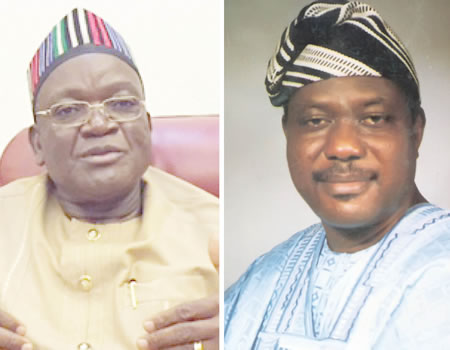 FORMER Senate minority leader and ex-governor of Benue State, George Akume, has lambasted his estranged political son of parading fake university PhD certificate.
Ortom, also in a swift response described Akume as someone with a penchant for outburst.
Akume had at the APC expanded caucus meeting held at Castle Event Center, Makurdi on Sunday accuses the Governor of Benue State, Ortom, of parading fake university degree.
He said that the PhD been paraded by Governor Ortom was from non-existing university, Commonwealth University, Berlin.
The former Governor also accused the Governor of running the National Social Investment Program as his family business.
According to Akume, "Ortom said he has PhD from Commonwealth University, Berlin, but there is nothing like Commonwealth University, at least am a graduate of University of Ibadan where I bagged my first and second degrees am also a fellow Institute of Management and I had PhD honorary degree from University of Jos."
Akume debunked the claim by Governor Ortom that he (Ortom) had been a strong politician at the time he (Akume) was a civil servant and a protocol officer who used to serve him (Ortom).
Akume said, 'I never saw Ortom in government house that period.
The former governor also said that he has been winning elections in the state, alleging that if not him, Ortom wouldn't have won 2015 governorship election, the election he said Ortom lost in his local government.
ALSO READ: We will probe Alpha Beta's N150bn scandal if… —EFCC
"But I won election in 1999, he (Ortom) was in SDP also in 2003 and when I moved to ACN I also won elections but the last election, Ortom lost in his local government. When I was building PDP where was Ortom," Akume asked.
He accused the governor of attacking Buhari to.attract.symparthy, saying that all the federal intervention had also been granted to the state.
The former governor called on Ortom to pay the salary arrears of the workers, especially the pensioners who he said were dying as a result of non-payment of the allowances.
But governor Ortom replying his former boss said PhD has never been a requisite for election.
The special adviser on Media and ICT, Tahav Agerzua enjoined senator Akume to render account of his stewardship since he has been on the Senate.
The governor, however, asked Akume when he becomes an assessment authority to be assessing him.
Ortom' said that he never expected to get all the voters to vote him in the election and waved the claim that he did not win in his council area as non-issue.
"Akume is not an accreditation authority and he can not speak on that, in any case, that has no basis because a PhD is not prerequisite for governorship, so it is diversionary tactics, what he said has nothing to do but let him give account of his stewardship, he should stop assessing others, he is not an assessment authority.
Ortom boasted that in all the elections in the state, he had always been a contributing factor to Akume's victory in elections.