Tunde Busari examines the history, categories, patronage and varied uses of beads, especially in its association with royalty, spirituality and decorative embellishment.
Many ethnic groups that make up Nigeria have a strong attachment to the use of beads as an important part of their culture. The Igbos call it Mgbaji while for the Hausas, it is referred to as Jigida.
For the Yorubas, beads play a very significant role in many cultural events. They are a major feature during many traditional festivals during which devotees and participants decorate their bodies with beads of different shapes, colours and sizes.
According to www.theyoruba.com, aside the fact that "beads were one of the products traded in exchange for humans between Europeans and West Africans in the Trans Atlantic Slave Trade era, not many know that the Yoruba had their own bead manufacturing industry at the time.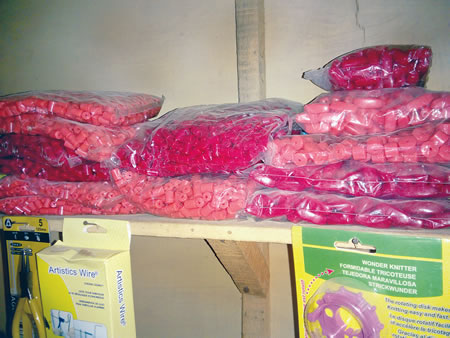 "Evidence of bead manufacturing among the Yoruba dates as far back as 11th Century AD. Scientific evidence  exists indicating that blue-green glass beads made in Ile-Ife were being traded outside the Yoruba area long before the era of contact with the Europeans. The Yoruba of the Middle Ages had 3 methods of bead manufacturing: They used powdered-glass to make beads from finely ground blue, green, and red glass; they polished beads into shape from broken glass; they drew beads from heated  dark greenish and medium blue glass. This method was considered the most sophisticated and the beads created differed from the European traded ones found at most sites in West Africa because of their unusual length, method of production and other attributes."
Beads, royal significance and fading local production
The Olowu-Kuta of Kuta, Oba Adekunle Oyelude, who affirmed that beads signified royalty and distinguished a royal father from his subjects, noted that though traditional and honorary chieftaincy title holders always wear beads also as a sign of their status, bead were more used by monarchs.
"Every Yoruba son and daughter, home and abroad, knows that apart from the crown and horsetail, beads are another important element of traditional rulers. It is a mark that one occupies higher traditional position. It separates the king from his subjects. Apart from the king, the prince and princess also have right to wear beads, especially on their wrists to serve the same purpose of identification."
According to findings by Nigerian Tribune, beads are grouped into different categories according to their quality. Iyun is said to be the richest and most expensive of all the categories. This submission can be found in the Yoruba axiom which asserts: "Iyun is the father of all beads."
Iyun is deposited at the basement of the river prior to extraction. Digging for Iyun is said to be comparable to the search for gold. After it is successfully extracted, work then shifts to polishing it to reveal its colours of wine and red.
Today, the dearth of persons interested in the Iyun extraction business has reportedly taken a toll on the availability of Iyun in the market.
According to the duo of Taiwo and Kehinde of ModupeOluwa Twins beads outfit at Oje Market, Ibadan, the Oyo State capital, for Iyun beads available in the market, it is assumed that such beads must have been sold by one who inherited it from late parents.
"In fact, those who still have it don't keep it at home. They deposit it in the bank for safe keeping. This is to tell you how expensive Iyun is. It has existed since ancient times and is still very valuable till date. Traditional rulers and rich men and women use it. But they must have inherited it from their forefathers," they stated.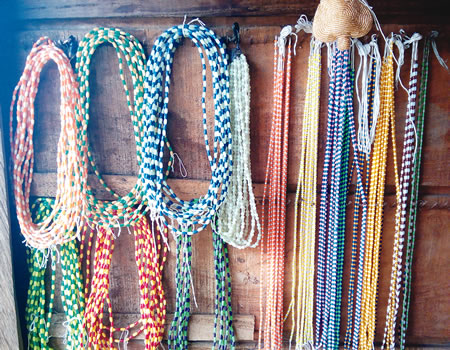 Ranked next to Iyun is the one called Akun. Like Iyun, Akun is also scarce. But unlike Iyun, it is made of stone and filtered before it is ready for market.
The third in the category is Eyin Erin (Ivory). It is also expensive. There are others like Segi, Opoto and Ikan, all of which serve the same socio-cultural purposes.
Beads can be used for birth control, preventing stillbirths –Elebuibon
According to findings, beads are used for religious, cultural and beautification purposes. Nigerian Tribune gathered that Ifa devotees, for instance, go with green and brown beads while their Osun counterparts wear white. However, this variation, it was also learnt, does not suggest any spiritual connotation.
The ArabaAwo of Osogboland, Chief Ifayemi Elebuibon, revealed that waist beads, for example, were used to stop the recurrence of abiku in a family, for birth control, and, in particular, preventing unwanted pregnancy.
The renowned Ifa Priest, however, clarified that beads worn on the neck and wrist were adorned for the purpose of status identification.
While noting that it was a practice that exists till date, Elebuibon stated that "This is a way to showcase our rich culture and tradition. It is cheaper than spending scarce money on expensive jewellery."
There's nothing fetish about beads –Chief (Mrs) Okundaye
The founder of Nike Arts Gallery, Chief Mrs Nike Okundaye, dismissed the claim which linked beads with fetish practices, accusing the proponents of the claim of mischief and ignorance.
She said wearing of beads was part of Yoruba culture, a culture that has been a source of attraction to the foreigners. She recalled her daily interaction with the whites and their remark on Yoruba culture, regretting what she called blind consumption of western culture.
"Two years ago, a young Brazilian lady came to Nigeria in search of her root. She was at the gallery where she saw different art works, including beads. She was impressed and promised to return to Nigeria.
"We should not say because we are Muslims and Christians our culture is fetish. It is not fair. I use bead to inspire young people," she stated.
Taiwo and Kehinde of ModupeOluwa Twins beads outfit also shed more light on the social value of beads as a complement to appearance.
The twins, who inherited the trade from their mother and grandmother, revealed that from their experience, beads were used for decorative purposes.
"Because we have no other job, we can tell you authoritatively that there is not much hidden in beads. This is what our experience in the business has taught us. Beads add to the quality of appearance. Nobody would see a traditional ruler in his full attire without beads in his neck and wrist," they unanimously told our correspondent inside their shop.
Use of beads is not restricted to the neck and wrist, as the waist is also regarded as home for beads as further findings revealed, a practice which cuts across ethnic borders.
Waist beads are said to accentuate the shape of female's lower region. Culture analysts would see it from the perspective of making an appeal to men folk as a fashion statement.
Mrs Adeola Akinniyi, a trader at Gbagi Market, Ibadan, offered an insight into the claim that waist beads were adorned by women to entice the male folk.
According to her, the practice was as old as the Yoruba race.
"Our forefathers were very strong. They had metaphysical solution to every problem brought before them. I have never used waist beads for any purpose but I know that young girls of nowadays use it. It is not peculiar to us (the Yorubas) here as girls of other cultures too use them," she said.
Beads and undying patronage
In terms of patronage in the face of western influence on Yoruba culture, Taiwo and Kehinde attested to the boom in the beads trade. Both said they had forgotten the day they returned to their respective homes without impressive returns on sale.
According to them, they have their regular patronage in traditional rulers, queens, princes and princess as well as chiefs. Besides, some Nigerians living abroad also buy and export to their countries of residence.
"We have to say the truth to show our appreciation to God; we don't lack customers. They come always to buy. We also attend cultural arts exhibitions where we usually record good sale," they revealed.
Corroborating the twins on the profitability of beads business, Yinka Abayomi, who operates his beads shop at Aleshinloye Market, Ibadan, Oyo State, said he regularly enjoys patronage and is satisfied with the business, even though the current Naira misfortune in international market had affected price of beads.
Abayomi disclosed that most of the beads in his stock are imported from China, thereby making the increase in price of dollar affects the price of beads and, consequently, sales.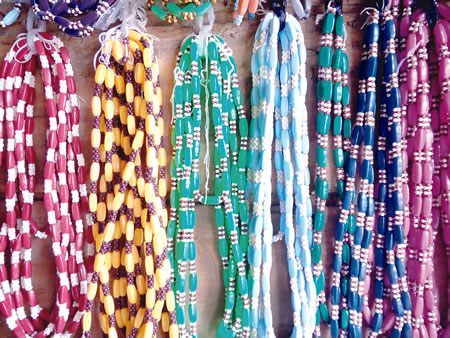 "I can say this is the challenge we face now. You will agree with me that the price of dollar affects other imported items too. But apart from that, we thank God that our customers always come and pick their choices. But whenever I think deeply on the business, I feel sorry for my country and our inability to produce," he lamented.
Abayomi advised the fashion conscious public to embrace the use of beads not only, he said, because of its cost effectiveness, but because it is not usually a target for criminals.
The Bachelor of Science in Economics holder from Olabisi Onabanjo University, Ago-Iwoye, Ogun State, said beads were never attractive to criminals unlike gold and other jewelleries.
"It may interest you to know that our people are becoming wiser as they go for beads instead of expensive gold. Prospective brides and grooms come here to pick their choice for their wedding. So the beads market is not stagnant," he assured.