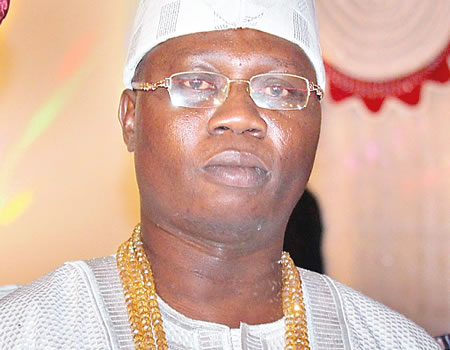 National coordinator of the Yoruba socio-cultural group, Oodua Peoples Congress (OPC), Chief Gani Adams speaks with DARE ADEKANMBI on national issues, including the threat of war and the preparedness of the Yoruba nation, restructuring, what acting President Yemi Osinbajo should do, among others. 
THE OPC that the Yoruba were greatly proud of in 1999, the OPC that rose in defence of the Yoruba in Sagamu during a clash with the Hausa is no longer the OPC there is now. What went wrong?
I think this is as a result of what you feel as an individual. Someone who is not an insider will obviously not know what goes on inside. You are a journalist and you are an outsider. You don't know the level of our planning towards own our nation. You don't know how organised we are. Most of you don't even know the mission of OPC.
Talking about OPC of 1999 and the OPC we have now, I will say without any shadow of doubt that we are now very organised with more cohesion and a moderate approach to critical issues. If we continue the way we started, Yoruba people would not have accepted us as they have done. We operate within a civilized race and we have to operate according to how the Yoruba people want us to function.
But not much has been happening from the OPC camp
You don't expect us to be operating like some groups within the Niger Delta. Environment determines how you approach things. If you don't take your environment into consideration while approaching issues, you will run into trouble. The most delicate aspect is when the people you say you are defending tell you not to fight for them, because they feel you are forceful. Don't forget that the South-West is more civilized than other parts of the country.  So, the struggle for Yoruba self-determination as it were is being driven by what the Yoruba leaders want and not what the outsiders want. As a group, we understand what our people want and that is what we are operating with so that at the end of the day we will not turn to be enemy of the people we set out to defend.
We are now more sophisticated that we were in 1999, I can assure you that. You will have noticed that we do a lot of culture related activities. We believe that cultural revolution is part of the struggle. Our people don't cherish our culture any more. They have neglected our Yoruba language and our tradition is fading away. Fighting a war is not only by the physical; there is a spiritual dimension to it. We must carry our ancestors along. Our heritage must not be neglected too. Countries such as China, Kenya, Eritrea, Ethiopia that are great culturally today all respect and cherish what God has given to them. The Yoruba no longer champion their identity. If we do not lose our identity, then we can achieve unity.
OPC is trying to build a solid foundation for the struggle. Someone might rise and say they want to fight for the Yoruba race without having an understanding of or belief in Yoruba heritage, culture and tradition. If situations demand that we act like a self-determination group, we shall swiftly so act. We can't run beyond the pace the Yoruba people want us to go. If we say we should create an agenda for the Yoruba race or we should increase the tempo a little bit, the politicians will create problems for us. We know some politicians in Yorubaland who are ready to sell the race for personal economic interest. We even know some Yoruba leaders so-called who have been given the job of working on so many groups, especially the OPC, to break these groups for their selfish interest. They know OPC has structure in every community in Yorubaland that has a population of 500 people. Some wealthy politicians who are connected at the federal level have been working round-the-clock to break OPC since 1999. But in spite of all these, we are growing and waxing strong.
What is the level of influence of politicians on OPC? Is it true that they have hijacked and castrated the group?
The level of influence is very minimal. It is not the case that politicians have hijacked and castrated us. Far from it. But I can tell you they have used various means to reduce our influence unsuccessfully. We remain intact. In fact, we now have a diaspora branch called the Oodua Progressive Union (OPU) which is in 78 countries. In 1999, we were not in all the local government council areas in Yorubaland. The only thing we don't encourage our members to do is hooliganism or to be on the wrong side of the law.
When we started in 1994, it was gradual. In 1999, we thought we should expand our scope to the area of community policing. But the police kicked and said we were taking law into our own hands. The issue of factional crisis gave us a lot of setback. By 2003, we were able to get our bearing because the factionalisation gave us the opportunity to checkmate ourselves. We now have a group for the diaspora. We believe we can't be fighting here without coordinating those in the diaspora. I daresay those in the diaspora are more than those of us who are resident in the country. The diaspora group is also necessary for us to get international support when the need arises.
A lot depends on our politicians in this part of the country. Some of them believe that the Yoruba people should not be liberated because they are making a lot of money from the central government. Even the clamour for true federalism, many of them have abandoned it. We have a lot of saboteurs among the prominent politicians in Yorubaland. Those who started the agitation for true federalism now oppose change of status quo because they are now dining at the centre. These are the people who clamoured for change of political power but do not clamour for progress.
You said you are still trying to lay a solid foundation for OPC after more than 20 years that it has existed. If happens today that there is an attack on the Yoruba nation, will OPC not be caught napping?
I am not given to bragging, but I can tell you that we don't react. We are battle ready and very prepared for such attack. But we don't want to jump the gun. When we hear some loud mouths talking, we just look away and ignore them. Every member of OPC is being conscientised to liberate the Yoruba race. When we get to the bridge we shall cross it. On the modalities and details, I will not want to say much for now. But let that situation arise first and you will see what we are capable of doing. You will see that the Yoruba nation can repel attack from any part of the country. We don't pray for a war to break out. But we are prepared for any eventuality. In the history of the Yoruba nation, no foreign group ever overpowered us. We knew what happened between 1830 and 1840 when the Fulani people were trying to overrun the Oyo Empire. We defeated them.
The Yoruba might have repelled them then but today there are Fulani herdsmen overrunning many Yoruba communities, raping women and killing farmers and destroying farmlands almost unchecked.
We are in a country we didn't agree to live together in. This is why we are saying restructuring is the way to go. We need to go back to regionalism. It will be very difficult to checkmate the Fulani herdsmen's terrorism with the kind of system we operate. We need local police in the regions and states. If we have this, we won't warn them before they will stop this nonsense. The Nigerian police can't checkmate the herdsmen because the Hausa/Fulani are the ones controlling the security apparatus.
It is not only Fulani herdsmen that can't be checkmated with the kind of structure that we have. The current structure will make it difficult to check criminals and have low crime rate. Nigeria's crime rate is so high because security of lives and property for over 180 million is being centralised. There is no country in the world that will have only one structure of police as we do in this country. A stark illiterate among the Fulani herdsmen has the telephone number of the commissioner of police in the state where he grazes his cattle or the powerful people in the Villa. So, if anybody kills any Fulani man in defence, the fellow is guilty of murder. If the fellow attacks them and they sustain injuries, the person is arrested and charged with committing assault or attempted murder. When you don't have power to defend yourself and these Fulani herdsmen kill you, they go away. Apart from those who were jailed on account of the incident involving Chief Olu Falae, how many Fulani herdsmen have the police arrested? The jailed Fulani have even gone to appeal the verdict and anything can still happen. Chief Falae is a prominent leader, but what about those who are not so placed in society.
Would you call for a partnership between the police and OPC to stem the crime rate?
There has been no collaboration at all. If OPC steps in, police will ask us why we involve our members. They even ask our members where they get guns from. Is the police ready to give our members pump action rifles that are licensable? If they call us, we shall collaborate with them to stem the tide of crime in the country. There is a worrying situation in Ikorodu now called the menace of Badoo boys. The deputy commissioner of police in Lagos called me yesterday [Wednesday] and we discussed. We are ready now that they are calling us. A subsequent meeting will be held to fine-tune arrangements. We will not just jump onto the streets to say we want to help government stem crime rate. I have a name to protect and I don't want my integrity to be dented in anyway. Restructuring is the only way to solve the problems confronting this country.
What is the numerical strength of OPC today?
Every day, we receive new members into the group, though a very few people also left in the because of election matters. We call it soldier go, soldier come. If about 100 people left a group of about 6 million people, those who left constitute an insignificant number. With the new image OPC now has, we have been able to attract quality people to join us. We now have lawyers, doctors and other kinds of intellectuals. Almost every family in Yoruba now has a member in OPC. Today, OPC is 6 million-strong and has structures in 28 states of the federation, including Kwara, Kogi, Niger, Kano, Kaduna states, South-East and South-South. But some of the structures are minimal in the core North. But the structure is large in the Niger Delta area and three states in the South-East. We have more than 10, 000 members in Abuja alone.  The governments in these states know OPC exists in their states.
The Yoruba are prepared to defend themselves anywhere in Nigeria. In the aftermath of the June 12 struggle and Abacha took over power, a large crowd of people joined the OPC to actualise the struggle. The population of OPC, before the death of Abacha, was not up to 2, 000 or even 3, 000. But in three months, we were more than 200, 000. There are so many guys on the streets who are not OPC members who will equally be coordinated into groups if any crisis breaks out now.
Rising from a meeting in Daura, Katsina State this week, a coalition of Arewa Youths accused Yoruba leaders of betrayal and warned that any attempt to make Acting President Yemi Osinbajo a substantive president will fail. What do you make of this warning?
We will study the statement and the think tank group in OPC will analyse and debate it and we will come out with a robust response. When we are asked to respond to a technical issue/statement, it is beyond me as an individual. But I can tell you categorically that we are not power mongers. During the 2015 elections, what we wanted for the Yoruba is restructuring of the country, beyond number one or number two position. Even with Professor Yemi Osinbajo as number two man, the Yoruba are still in bondage.
How do you mean?
We are in bondage because the country has not been restructured. Even if Osinbajo becomes the number one citizen today and the structure does not change, we will be moving in a circle and it won't pay anybody, including the Arewa people. If there is no justice, there is no way a country can move forward. Osinbajo is our son and the number two or number one position does not freak us. However, if God creates a vacuum in the presidency today, the constitution is clear as to who should be number one citizen- it is Osinbajo. I send this message to our Arewa brothers that this is not a draft game, but the constitution is very important. If they say the constitution should not work again, what that means is that there is no Nigeria anymore. If they deny Osinbajo what rightfully belongs to him, the Arewa are telling us that Nigeria can't work and it won't work.  There will be no nation called Nigeria. So, when they issue statements, they should be very careful. The mandate of 2015 was given to Buhari and Osinbajo jointly. So, if Buhari is sick, we pray that God will give him quick recovery because we don't pray for him to die. If they resist Osinbajo from being a substantive president if a vacuum exists. Then anarchy will take over, though we don't pray for this to happen.
The Arewa message should, however, serve as a lesson to some Yoruba leaders, especially those bent on selling the race for a pot of porridge; those who are not ready to key into the larger Yoruba interest but are keen on serving the interest of the North. Osinbajo has met with the South-South, South-East and Arewa leaders, including Emirs from the North. The acting president should not forget his home. When Obasanjo was in power, he was coming home to relate with the Obas, leaders of thought and others in the South-West.
There are no imminent threats to the peace from the South-West and this could explain why he has not done what you mentioned.
It is not until there is a threat that he should jaw jaw with Yoruba leaders. He should remember what happened to Lieutenant General Oladipupo Diya who was once a Chief of General Staff. Diya, in 1994, was used to talk about one Nigeria amidst the clamour for the restoration of MKO's mandate. The North used Diya for two years and implicated him in a phantom coup and put him in jail afterwards. Acting president should not have the mindset that he has his godfathers in the APC. The voice of the godfathers will not be loud enough when trouble rears its head from the North. Every group in Yorubaland has its own voice that can make a great impact. Now that the Arewa youths, who are speaking for their elders, are threatening fire and brimstone, the ball is in his court. When Jonathan was president, he related even with the opposition, which was why when the election came, they accused us of dining with Jonathan. We met with Jonathan because he summoned the national conference the outcome of which many now clamour should be implemented. The Arewa youths and their leaders say they don't want restructuring. This means they prefer anarchy. Nobody should pray for anarchy. They use resources from the South to develop the North. Look at the 2017 budget, the National Assembly has been accused of reducing votes for Lagos-Ibadan highway from N31 billion to N10 billion so as to frustrate the project. So, what is the benefit of central government for those of us in the South-West? 90 per cent of the agric sector budget is going to the North.
It is time for leaders from across the regions to sit down and discuss the terms of our living together. The Arewa leaders should stop using their youths to provoke other regions into a war. They have shifted from attacking the Igbo and the Niger Delta people to the Yoruba leaders. We should now be thinking about how to unite the South against the North because what we have on the ground is a North versus South issue.