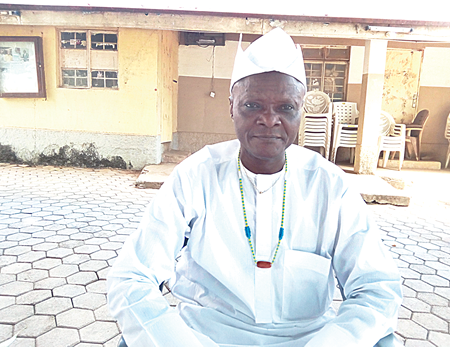 Prince Oye Adeagbo is a Yoruba man and currently the President of Egbe Omo Oke Ogun Parapo North. He left Oyo State 41 years ago for Kano and later Kaduna . He shares his experiences with MUHAMMAD SABIU. Excerpts:
What is your background like?
My name is Prince Oye Adeagbo. A freeborn of Oke-Ogun. I came to the North about 41 years ago, that is in 1976. I stayed in Kano for 11 years before coming to Kaduna. I am currently the President of  Oke-Ogun Parapo North as well as the state chairman of Kaduna branch. The association was already existing before I came to the North. We have to commend our elders who came to the North before us and saw the wisdom in  forming the association. I have been a floor member since 1977 and rose through the ranks to where I am today.what is your background like?
How did you find yourself in the North?  Was it by accident?
Well, to God be the glory, I came to the North by accident because many people came to the North by transfer, some came for trading  while others came to look for jobs. To God be the glory, I came to the North on health grounds and to God be the glory within three months that I came my health was restored. So, since then I have stayed in the North. The only thing I will say is that I remain grateful to God.
Having been in the North for over four decades how can you describe the North then and now?
Going down the memory lane, there are some memories one does not like to recall. For instance, there was no way you could buy a tin of Peak milk for N2. Then we used to soak gari with a tin of peak milk. We poured the entire milk  inside the soaked gari. But in the Nigeria of today, not even in the North, I think the cheapest tin of milk is N150. So, as it is today, we can only give thanks to God for whatever situation we find ourselves in, at least for sparing our lives. I am hopeful that everything will be better.
When I first arrived in Kano, I was close to some northerners like Lawal Dambazzau, Mudi Sipikin, Adamu Dankura, and Aminu Kano. The Alhaji who facilitated my coming was very close to these eminent Nigerians. In those days, if you mentioned Kano, you had to mention these names. I used to go to their houses. Here in Kaduna, it is the same thing. I don't know whether it is politics or the interest of some people that we have segregation now. Now, we are segregated. Nobody will tell you that he is happy with what is happening. I am a Yoruba man and I have a title of Danmadamin Kabala West and this title is from the Gbagi tribe. But now, a Christian does not go to a Muslim's house and vice versa. When I came to the North, we never knew that Ikulu, Kataf and Gbagi, were different tribes; we  called them all Hausa. But for reasons best known to politicians they created these divisions. I believe the politicians too will be regretting it because today, what do you have? Fire burning here and tomorrow you will hear of fire burning in another place. No more rest of mind. In those days, when I came to Kaduna, I had a Suzuki motorcycle, I could leave it in front of my shop and come back to pick it later. Also, I used to leave my shop at Konan Lami open and move down to Kakuri and I would come back to meet the shop intact without a single pin missing. But what do we have today? You will be staying with people and be afraid of leaving your handset behind to go and urinate.  Things  have degenerated today.
Can you tell us how your association started in the North?
As I earlier said, I met Oke Ogun Parapo Association on the ground when I came to the North. The association was founded by our elders who were in the North before us. The aim and objective of the association  is basically to cater for the welfare of our members in the North. Secondly, we give advice to our members on some of the things we feel are not in our interest. Anything that will tarnish our name, we try as much as possible to avoid. I am pleased to say our members have been very supportive and also the rules of the association. Aside from this, we assist our members who are in need of urgent help. In short, many of our members have benefitted from the loans we issued out to those among us who were in need. We are like a pressure group. Back home we have been advising politicians, intellectuals, royal fathers. To God be the glory, all our royal fathers have continued to hold us in high esteem, the politicians too. We don't participate in politics. Our politics is about the development of Oke-Ogun. It may interest you to know that the agitation for the creation of Oke-Ogun state started right here in Kaduna. Some of the participants are now dead. May God have mercy on their souls, but the few of us that are still alive took the idea home and it was welcomed.
Why would Oke-Ogun Parapo North be agitating for a state?
Basically speaking, Oyo North is Oke-Ogun. If you have the opportunity to go there, you will never believe that we are part of  Nigeria and our area constitutes 60 per cent of the entire land mass of Oyo State, as well as 30 per cent population. We are the food basket of Oyo State and partly the food basket of Lagos State, but  we cannot boast of good roads. Aside from this, people call us teachers. Yes, we are proud to be called teachers. If we move around people also mock us. We don't take offence, why should we? If today they take audit of professors in every community in the country, if we do not come first going by the number of professors we have in Oke-Ogun, we will come second. But the irony of it is that we don't have a single federal tertiary institution in the whole of the area. Interestingly, we have 10 local government areas that make up Oke-Ogun. Ibadan is has 11 local government areas, Ogbomosho has five local government areas, while Ibarapa has three. Historically speaking, Ibarapa and Oke Ogun are the same people, but for political purpose, we were separated. Otherwise, we would have formed 13 local government areas. My brother, with 10 local governments, being food basket of Oyo State, with 60 per cent land mass and 30 per cent population of Oyo State and no single higher institution, I think we deserve to be considered for a state.
Also, over the years, we have been kingmakers but never have been the king. We have never produced a governor. The position of deputy governor is always what is given to us. That's why we told ourselves, we must develop according to our pace because we have the land mass and the population. Apart from that, we are also blessed with abundant mineral resources. Like the Ikere  dam, if developed, it can be a source of electricity for the entire area. It can also solve the perennial water problems and boost irrigation farming in the area. Oke-Ogun Parapo North has written many letters but still, nothing concrete has been done about it. Okerete transnational border markets if fully operational, can also benefit the entire area and  Oyo State in general. Benin Republic is more serious about the market than Nigeria. If the market is developed, it can be a source of employment to thousands of our youths who are moving about without jobs. That's the reason we are crying and we will continue to cry until development comes to the area. That's the aim of Oke -Ogun Parapo in the North.