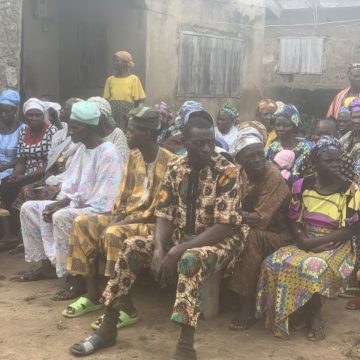 In a bid to reduce poverty and help the poor and vulnerable in the society, the Youth Employment and Social Support Operation (YESSO) programme began its data collection exercise in Oyo State.
The exercise which took place on October 9, at Alamo, Ilora, Oyo Town was focused on giving practical session to selected Oyo State Operation Coordinating Unit (SOCU) officials, Community Based Targeting (CBT) teams and Enumerators from the 7th round of the 15 local government areas on the basic and best practice of CBT and registration of potential beneficiaries into a single register for the state after four days of teaching the team on the process of community-based targeting exercise.
Mrs Olaide Lasisi, State Coordinator, Oyo State Operation Coordinating Unit at the exercise disclosed that the groundbreaking initiative was to establish and expand the register of the poor and vulnerable in the state.
According to her, "Today's exercise is to see how much the team has grasped what they have been taught, as well as to measure their effectiveness when deployed to the field to commence registration and data collection."
Lasisi further explained that the community-based targeting exercise is focused on fishing out the 'poor of poor' in each community which would, in turn, give the federal and state government necessary information on how to assist such individuals in the society.
She noted that after completion and proper scrutinisation from the designers of the process of identifying the needy in the society, they would be added to the government's list to receive assistance.
ALSO READ: Water Resources Bill guarantees citizens' right to water ― Minister
Etemba Thomas, one of the registered beneficiaries while speaking with Tribune Online, decried their current poor standard of living and noted the new initiative was a welcome development.
He said: "We have nothing to eat and our farms are being overridden by Fulani herdsmen. We can't feed the children, talk less of sending them to school. We are actually calling the government to come to our aid."
Recall that the Commissioner for Budget and Economic Planning, Mr Adeniyi Farinto, had previously reiterated the state's stance to continue utilising the YESSO programme to elevate the situation of the poor, needy and vulnerable in the state.
The data collection would enable the state government to establish a social register of the poor and vulnerable in the society as well as equip youths from poor households with the intention of elevating them from poverty.