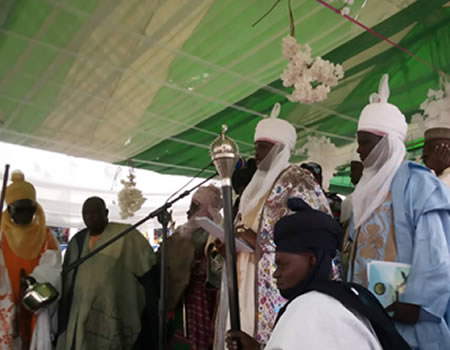 Greed and selfishness of Northern elites have been attributed as the main problems and cause of the backwardness of the North despite the region's abundance in human and natural resources.
The attribution was made by a one-time Secretary of the Government of the Federation (SGF), Mahmud Yayale Ahmed while speaking as the chairman of the coronation ceremony and presentation of Staff of Office to the Emir of Deba, Alhaji Ahmad Usman Muhammad at his palace in Deba town over the weekend.
According to him, traditional rulers, as well as traditional title holders in the North, must join hands and put heads together with a unity of purpose by initiating policies that will bring back the good image the North was known for in the past.
He described as unfortunate, a situation where the North is seen as backward in all spheres of human endeavour even when it has intelligent people who can propel the people and region to a greater height.
Yayale Ahmed who himself is the Ajiyan Katagum in Bauchi state further said that traditional title holders have a great stake in the effort of redeeming the image of the North.
He said, "The traditional title holders and our traditional rulers must start initiating policies that will redeem our image if not the future looks bleak because our future generations will suffer, not only here in the North but in Nigeria".
Presenting the Staff of Office to the Emir, the Gombe State Governor, Ibrahim Hassan Dankwambo, commended the people of Deba Emirate for their contribution towards the educational development of the State which he said, has placed them as a fountain of knowledge in the State.
He described the Emir, Ahmad Usman Muhammad, who ascended the throne as the second Emir of Deba on the 8th August, 2017, as a forthright person who has earned the respect, integrity and dignity of the entire people of the Emirate.
He said that his Government has placed much respect for the traditional institution, which is the reason they have been engaged in several aspects of the State administration.
In his acceptance speech, the Emir of Deba, Alhaji Ahmad Usman Muhammad who could not hide his joy over what has been done to him and the people of the Emirate said the honour done to them by eminent persons who came from far and near was highly appreciated.