Yahoo boys target Nigerian students abroad
•Lure them with cash gifts to use their accounts to launder money •Use relations, friends' bank accounts in Nigeria •We know fraudsters use various tricks —EFCC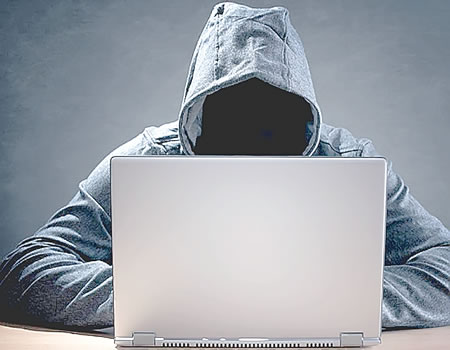 NIGERIANS studying abroad have become the latest target of fraudsters who are also not sparing their relations and friends back home, reports of new scam methods have shown.
A fresh student of a United Kingdom university who shared his experience publicly with a Saturday Tribune columnist, Professor Farooq Kperogi during the week disclosed how a Yahoo boy paid N30,000 into his bank account as a gift to rejoice with him over his university admission but soon followed it up with requests to make his bank account further available for the purpose of funneling money to Nigeria at 15 per cent commission.
Saturday Tribune learnt from a security source that this new trick might have turned many naive students abroad into ignorant accomplices and accessories with their bank accounts being used to funnel scams proceeds to real fraud partners in a bid to make the cash movement difficult to trace for security agencies who are hot on the heels of the fraudsters.
The Economic and Financial Crimes Commission (EFCC) told Saturday Tribune that it was aware that fraudsters and particularly internet scammers evolve new tactics and methods even as it said that the commission was on top of the situation.
With the recent crackdown on internet scammers by the United States' Federal Bureau of Investigation (FIB) and the EFCC, leading to mass arrest in the US and Nigeria, unsuspecting couriers are now reportedly being sought by the fraudsters to cover their tracks.
It was gathered that the suspected criminals always fall into the net of law enforcement agents while trying to move proceeds of their crime, necessitating them looking for credible human covers and shields who are financially vulnerable enough to fall victim to their schemes.
Saturday Tribune is in possession of accounts of two victims who were befriended by the fraudsters and who were almost drawn fully into money laundering deals before becoming alert to what they were being talked into doing.
A security agency source told Saturday Tribune that once credible intelligence, which is being gathered, confirmed the trend, it would be diligently tackled.
To have access to students' accounts abroad, the money launderers first splash unsolicited cash on them before tabling mouth-watering commission-based deals before them to be partakers in the loot from wire and credit card fraud, among others.
According to the information available to Saturday Tribune, the fraudsters always make the sharing formula attractive and almost irresistible.
An elaborate account of one Durojaye J. Oluwaseun, a Nigerian studying abroad posted on the Facebook wall of the Saturday Tribune columnist, Kperogi, reads: "Nigerians are the problems of Nigerians. While Nigerians at home are working on their hypocritical and divided problems, I would like to quickly point out what Nigerians do to themselves that continues to damage our image more in the world.
"I would have loved to write about it on my page but I am being sensitive to the person's feeling. Recently, I had a Tier 4 student visa to study abroad, at the Edinburgh Napier University in Scotland, the UK. So, I needed to tell one or two friends, particularly those in this media space, and some family members.
"While I was telling this so-called Facebook friend, he quickly requested for my account details and he sent N30k (thirty thousand naira) right away. I was very happy and I called to appreciate that gesture. Although I was not expecting any financial assistance from anybody because my mother-in-law had really been helpful in all that is required but the fact that he requested for it, I had to appreciate such extension.
"In fact, I had all kinds of supports from my friends here, accommodation, money, ideas, guidance, etc. So, I am grateful they all did. So, there is this particular friend among them, he called yesterday to check on me, encouraged and offered pieces of advice. After much talks, he told me I would be doing something for him: 'I will be sending you credit cards and you take it to Western Union to collect money, take 15%, and wire the rest back home to me'.
"Immediately I heard that, my mind was, like, 'is this how Nigerians are being introduced into frauds just because I had the opportunity to travel abroad?'
"What would be my fate in this land of full of opportunities? How would I explain it, just three days ago that I arrived in Scotland? While I was asking all these questions, I called my wife that, that man that gave us N30k is a fraudster. She was speechless.
"I remembered you are conducting a research on some of this cyber fraud, so I requested (from the fraudster), how will it go? He quickly sent me a link to download some software that the UK government monitors WhatsApp, direct calls and Facebook. I just replied  (that) will be back.
"What this means to me is that there is 'no free meal even in Freetown'. This is how cybercrimes are spreading and (subsequent) indictment of some personalities. Till now, I still don't know what to say – just because you pretentiously sent N30k and I should become a criminal just two days after I entered the UK? I am down as I write," he said.
There is a little amendment to how relations and friends back home are railroaded into the fraud and money laundering schemes, Saturday Tribune was told.
The ones to be used are picked, treated to cash gifts and then requested to become building project supervisors for them in Nigeria, watching over and helping to handle cash for various developmental projects.
The testimony of a victim also on the Professor's Facebook wall showed that once money is sent into such accounts in Nigeria, instead of giving instruction on spending on the so-called projects, different accounts are sent to the unsuspecting victims to distribute the sent money into.
The new methodology is said to be fallout of the decision by Western Union to suspend services directly to Nigeria.
The victim (Oronsaye Monday Osafure), who also posted his experience to the Saturday Tribune columnist, said: "A friend I was helping to build his house here latched on that opportunity to use my accounts to ferry funds for fraudsters. I didn't know initially because I have always received money and distributed to the workers and engineer. Suddenly, this guy in Sweden would send money in torrents using his wife and friends. The moment the money hit my accounts, he would start calling: 'Please send that money to the account I am forwarding to you.'
"First, I thought he was building another house in Benin. Three days later, I couldn't take it. I called a mutual friend in Benin who is close to them. He told me bluntly the guy was a middle-man for fraudsters who incidentally are his younger brothers in Canada.
"I called him and told him what I heard. He came to Nigeria two days later, throwing money around. I called him aside and told him if he dared send any kobo through my accounts, I would report him to the EFCC. That was how our friendship ended.
"One of his Yahoo brothers is a member of the House of Representatives as we write. The government knows he is a fraudster but, like they say, he is in the company of like minds."
The EFCC told Saturday Tribune that the discovery was not among the antics already known by the commission.
The spokesperson of the commission, Wilson Uwujaren, however, said the commission knew the fraudsters employ all manner of tricks to hide the proceeds of their crimes.
"Fact is fraudsters have different means of disguising the proceeds of their illicit activities," he said.