Xenophobic attacks: 'If you fight them, they will lock you up even when the attackers are caught with guns'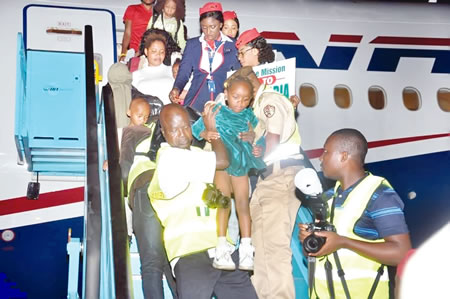 Shola Adekola | Lagos
Following the return of 187 Nigerians caught up in the xenophobic attacks launched at Nigerians and other Africans in South Africa through the Murtala Muhammed International airport Wednesday night, many of the returnees have continued to make startling revelations on why Nigerians have become the targets of the hostile South Africans at the slightest provocation.
While virtually all the returnees have similar painful stories to tell, one of such stories  that sounded dramatic but corroborated what many Nigerians particularly the menfolk have identified to be responsible for the unrivaled hatred the South Africans, especially their men, have against Nigeria.
According to one of the returnees who begged for anonymity due to personal reasons, he traced the hatred the South African men  have towards the Nigerian men residing in their country to what he called the drinking spree of the South African men which he said was responsible for their low libido and subsequent unappealing status their women have towards them.
Many of the South African men have deep hatred for the Nigerian men who their ladies prefer to date and have relationships with because of their hard work and ability to attract the South African women with flashy gifts.
This he said had been a far departure from the South African men who engage in frequent drinking which he said had seriously affected their libido and reduced the high expectations from their women.
Many of the Nigerian men according to information gathered are either married to South African women or having relationships with them, a situation which has created enmity and tension between the two sides.
The South African men who are said to have been looking for an opportunity to teach the Nigerian men a hard lesson, found an alibi in the latest xenophobic attacks hence, went all out to force the Nigerian men out of their country.
Similar to the Greek mythology of the story of Helen of Troy whose unrivaled beauty sparked the popular Trojan war, the South African men are said to be uncomfortable with their Nigerian counterparts who have come to not only to pursue greener pastures in  their land but also  possess their women who in return have turned against their men.
Many of the South African women who have spoken through the social media had attested to why they run after Nigerian men with many attributing this to reasons ranging from the ability of the Nigerian men to spoil them with gifts, cash, love and above all the high fashion sense of the Nigerian men which the South African ladies found missing in most of their men.
The latest xenophobic attack came at the best time for the South African men to show the Nigerian residents in their country their grievances towards them.
According to the returnee: "Hard drinks frequently taken by South African men has seriously affected their libido; a situation which makes South African ladies to prefer Nigerian men to their men."
Isaac Chinedu, one of the returnees, while narrating his ordeal with tears flowing freely from his face, said he left Nigeria to the shores of the African country in 2014 precisely only to return with a bag containing just four clothes he could salvage out of all he laboured for five years of hard work.
His words: "I left Nigeria for South Africa in 2014. This nonsense started two or three months ago. I need help. I don't have a mother, I don't have a father. I am looking for anybody who can help me. They collected my passport, my phone, my wallet, everything I had with me. I did not come back with anything, just my little bag that had four clothes inside. That is the only thing inside this place. What I experienced there was very terrible".
"They will never allow you to pass freely on the road. They are so wicked to Nigerians. If they find just a cheap phone in your hand, they will try to stab you in a way that you can hardly survive it just because of a phone.
Nigerians and other nationals from Africa are the target of these criminals. One of my sisters who had her shop very close to mine; her name is Echi. She sells fish in bags, she had her shop completely razed.
For Grace Uche who described South Africans as racists, she narrated how hoodlums go unchallenged by the Police who looked the other way when they attacked other people from Nigeria, Mozambique, Zimbabwe, Zambia and Tanzania.
"If you fight them, they will lock you up even when the attackers are caught with guns. The Police will ask why you decided to fight your attacker even when it was obvious that you were the one attacked. Let us take this scenario for instance. After catching an armed robber, you are hoping that the armed robber will spend some time in jail, but you will be surprised that after two weeks, the armed robber will come out more emboldened and tell you to your face that he was enjoying his life in jail watching DStv. Sometimes, they commit crime to go to jail and rest".
"Their police are not like Nigerian Police who immediately get you arrested when they see you with gun. Here (Nigeria), they will shoot you because you are a criminal if you are not licensed to carry a gun. Over there in South Africa, guns are like toys to those people. If they can rob me because of Nokia phone, that means they can kill.
After the evacuation of the 187 back to Nigeria Wednesday, the management of the airline is waiting for the green light from the Nigerian High Commission in South Africa to continue with the evacuation of the remaining Nigerians willing to return home.
From the information gathered, the number of those willing to return home has continued to increase.