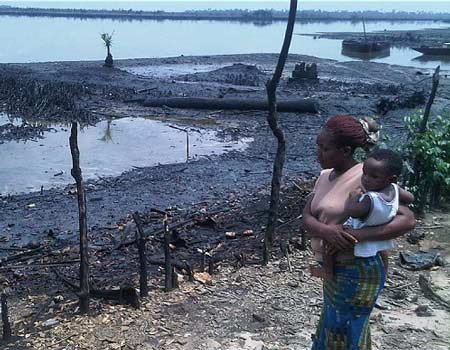 The national president of Environmental Management Association of Nigeria (EMAN), Dr Emmanuel Ating, has urged the Federal Government to make budgetary provision for the clean-up of the Niger Delta region.
Ating made the call on Monday in Uyo while speaking with the News Agency of Nigeria (NAN) on the environmental challenges in the region caused by oil and gas exploitation.
"There should be a special fund set aside in the budget every year for the clean-up of the Niger Delta region."
"The government should realise that the money used for the running of our economy is from oil taken from the region."
"Hence, a substantial amount of that money should be ploughed back to preserve the Niger Delta environment," Ating said.
He also urged the Federal Government to strengthen the National Environmental Standards and Regulations Enforcement Agency (NESREA) to enforce compliance on issues of environmental management in the country.
Ating called for the expansion of NESREA laws to cover regulation of oil and gas activities in the Niger Delta region.
He said that the clause in NESREA's operations that the agency did not cover oil and gas activities should be amended.
"The dangerous limitation placed on NESREA should be removed. The original intention of the agency was to enforce national standards, we need appropriate legislation concerning enforcement of standards," Ating said.
Reflecting on the theme of this year's World Environment Day celebration, which is "Connecting People to Nature", EMAN president advised operators of industries and governments to exploit natural resources sustainably.
"Our industrial activities should be re-tooled to keep the environment safe and green.
"Most of our children in the cities do not know how the natural environment looks like, there is need to connect them to the nature," Ating said.
He also advised industrialists and the Nigerian citizens to embrace responsible consumption and production, which is the focus of goal 12 of the sustainable development goals (SDGs).