Jacinta Chukwu is a SSS 3 student of Queen's School, Ibadan and the winner of the 2021 Ibadan Schools' debate competition recently organised by the Black Girl's Dream Initiative (BGDI). In this interview by KINGSLEY ALUMONA, she speaks about what winning the competition means to her, why her school is the best school in Ibadan, why she wants to be a lawyer, among others.
Congratulations on winning the 2021 Ibadan Schools' Debate Competition organised by the Black Girl's Dream Initiative (BGDI). When did you recognise that you are good in debate and public speaking? And how did you hone these skills?
I realised I was good in public speaking when I was in junior secondary school, and I honed the skills by practising regularly, and by engaging and participating in debates, be it in my class or in my school.
There were training sessions in the selected schools prior to the competition. How many of you were trained in your school and what were you students taught in the training?
There were twenty students who were trained in my school. They taught us how to improve on our debating skills. We were also given tips on how to be courageous and to stand our ground whenever we are on stage. They taught us the dos and don'ts of debating. We were also corrected on the mistakes we made during debate that hindered us from being awarded points by the judges.
What unique things did your school see in your performance that made them to nominate you to represent them in the competition?
They saw I had good points during the training sessions and that I can boldly defend my arguments. The points I presented were real. Also, being courageous, that is being able to face the crowd without fright, was another good quality of a good speaker I have. I think they saw that in me and in my performance.
In the competition, you argued for the motion: 'Electronic voting: The way forward to achieving free and fair elections in Nigeria'. What were your major responses to this motion?
My major response to the topic was that E-voting prevents many anomalities that are associated with the ballot system. Also, it is the system of voting that can bring total revolution in the electoral process in Nigeria.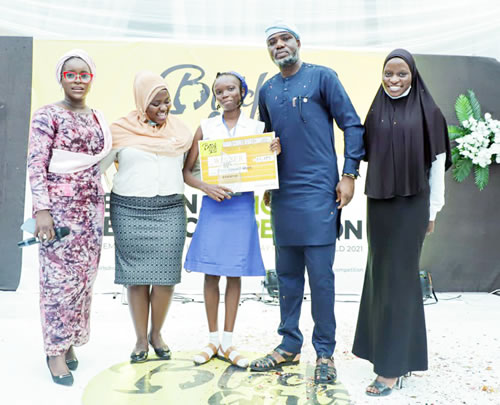 How did you feel when you were announced the winner of the competition? And how did your school and your family feel about it too?
I was excited and fulfilled. My school and family felt the same way too. Actually, before the result was announced, my schoolmates were tensed. We were so anxious. Immediately the result was announced, we become so relieved. I felt so excited. My school was so proud of me. I could not wait to get home so as to announce it to my family. My family was also proud of me.
What three lessons did the competition teach you? And, how were you inspired by the advice of the judges of the competition?
It taught me to be confident, to improve on my debating skills, and to always make references during debates. The judges inspired me to be more determined in continuing in my public speaking engagements.
What prize and gifts were you given for winning the prize?
I was given a cash price of N50,000. I was also given a customised BGDI bag, notebooks and some literary and inspirational books.
Tell us about your school, the class you are in, and your best subject.
The name of my school is Queen's School, Ibadan. I am in SSS 3. My best subject is Government. I don't hate other subjects, though. My school is the best school in Ibadan because we set the pace for other schools by passing on the torch which is still brightly shining.
What course would you like to study in the university and why?
I would like to study law, because I have passion for defending the rights of the less privileged in the society, especially women, girls and children.
What can you say about the founder of BGDI, Karimot Odebode?
I would say that Miss Karimot Odebode is an idol. She is a role model most girls are looking up to, and I admonish her to continue the good work she is doing for the betterment of black girls, in making their dreams become a reality. I look up to her as what I want to achieve in life, which is to be a lawyer
Do you believe that what a man can do a woman can do it better?
Yes. I strongly believe that women can do much better than men when given the opportunity in the society.
The BGDI's affirmation mantra is 'I am a black girl, and my dreams are valid'. What are your dreams? And where do you see yourself in ten years?
My dream is to be a lawyer, and l see myself achieving that in the next ten years.
The theme of this year's International Day of the Girl Child is: 'Digital Generation. Our Generation'. What can you say about the digital rights of the Nigerian girl child, using your school as an example?
Girls should be given the opportunities to participate in this digital generation without restrictions, and there rights should not be limited. In my school, for example, there are no technical classes for girls and many others that can make a Nigerian girl-child access and utilise her digital rights. The government should look into this and make sure the digital and other basic rights of girls are actualized.
What advice do you have for your fellow girls who are aspiring to be like you?
I advice my fellow girls to aspire to be a better version of themselves, to make diligence their watchword. They should let their voices be heard by building up the courage and the determination to achieve their dreams, not withstanding their colour, because we are black girls and our dreams can change the whole universe.
YOU SHOULD NOT MISS THESE HEADLINES FROM NIGERIAN TRIBUNE
Lagos Is Second Least Liveable City In The World For 2021
Lagos is the second least liveable city in the world for the year 2021. This is according to the most recent annual ranking put together by the Economist Intelligence Unit (EIU)…
FACT CHECK: Did UNICEF Say Blocking Children's Access To Pornography Constitutes Human Rights' Infringement?
CLAIM 1: A Twitter user claims UNICEF said any efforts to block children from accessing pornography might infringe their human rights.