Mistura Asunramu-Alao is one of the actresses in the Yoruba speaking movie industry. Lately, she has been missing in action after  relocating abroad. In this interview with SEYI SOKOYA, she speaks about life abroad and why she would not quit acting for any other thing. excerpts:
The rumour doing the round since you relocated abroad is that you have quit acting. So, how has it been since you left the industry?
I have never and will never leave the movie industry. I want to use this medium to inform my fans that I am still in the industry and nothing has affected my acting career. I am still an actress and I am enjoying the profession because it is what I love doing. People should disregard the rumour that I have quit acting. Nothing has changed about my acting career. In fact, I have even expanded my scope of acting abroad as well as diversified into other jobs, broadcasting precisely. The only thing that has changed is that I have relocated with my family to the United States.
What has been happening to you aside acting in recent times?
I have a lot of stuff at hand, I still shoot movies, I do radio presentation and everything pertaining to entertainment.
Don't you think relocating abroad will affect your career?
God forbid! Anything about entertainment is sweet, so why would I want to get bored when I have a life? As an entertainer, no matter where you go, it's in the blood. Nothing has changed; instead I have used my wide experience to impact and affect the industry abroad. I have done a couple of works that were widely accepted and also spurred me to do more. I have also been able to increase my fan base here too.
There were various reports about your absence in the industry. Some people said your home was in disarray, while others claimed that you were frustrated in the industry. Could you shed more light on this?
Yes, there were so many wrong insinuations. My God will never let my home be in disarray. To the glory of God, I'm living fine and I'm happy with my family and my job. I have never been frustrated with acting. I am in USA; I have produced two movies entitled: 'Akebaje' which is presently on YouTube and 'Ayeajifa' which will be premiered very soon. I have done a soap opera right here, and I have featured in a lot of movies here too such as: 'Ola Inukan', 'American Babes', 'The twins', 'Aminat Minaj' among others. So, I'm still very relevant in the movie industry within and outside Nigeria. I have come to realise that I don't need to feature in every movie. I feature in good ones and try as much as possible to produce good movies myself.
How did you overcome all that were said about your home and your relocation abroad?
I am not bothered about the rumour because it was not true. People are used to saying whatever they like about entertainers. I have a happy home and I am comfortable with my acting career.
Looking at how far you have come in the industry, would you say you have done enough for yourself ?
I have done a lot, but it's not over until it's over. In fact, to top up my entertainment life, I now present on African Pride FM, Houston Texas, where I run a programme known as 'Konnect with Mistyee .
Do you feel you get the deserved respect, especially among the female folks?
Of course, I'm highly respected because I respect people too. I am not too forward and I don't overdo things because respect is reciprocal and self respect is the ultimate wisdom. I'm learned and I know what it takes to keep one's dignity and humility.
You celebrated your fifth marriage anniversary early this year. How has the journey been?
Thanks to the Almighty, the journey of my marriage has been very good and I appreciate my backbone for his support always in all I do.
Could you recall how acting started for you?
Acting started as a choice because I have the talent. It all started in 2002 when I was in the Olabisi Onabanjo University, Ogun State, as a Mass Communication student. Later, I joined the 'Awadakerikeri Organisation' which belongs to Adebayo Salami, Iya Awero and Sunday Omobolanle. I started acting English movies, soap operas, and then later switched to Yoruba movies till date.  It has been God all the way.
If not acting, what would you have become?
I would have become a newscaster or a journalist. This is what I also love to do.
How have you been able to handle scandals?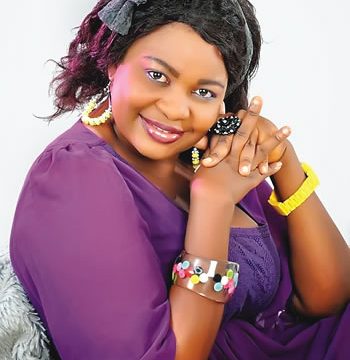 Scandal is in every industry, so it's not a new thing.  It has just been God.
There are allegations that female actresses camouflage acting for dirty jobs. How true is this?
I don't know about that, I only believe in hardwork and humility and that has been helping my acting career.
Who are your friends and foes in the industry?
Everybody is my friend, my colleagues, my fans and family. They have really supported me positively, so, I don't have foes.
Do you still keep in touch with your friends in the industry?
Sure. I still have a cordial relationship with my friends. I would say that distance has not affected the bond too.
What is your relationship like with Odunlade Adekola?
We are colleagues and there is not string attached to our relationship; nothing at all.
How do you handle male admirers?
I appreciate them for admiring me. If you are a woman and you are not being admired by men, then you are something else.
What is your most challenging role ever?
My most challenging role would be my movie entitled: 'Faliolomi', where I played the role of a comedian. I'm not a comedian but I know that I'm versatile to the extent that I can play any role given to me, and I love the fact that my fans appreciate the movie.
Are you satisfied with the state of the movie industry in Nigeria?
No stakeholder in the industry is satisfied with the situation of things when piracy is killing our jobs. We are still hoping and I believe it will get better soon by God's grace.
What do you miss most about Nigeria?
I miss Nigeria's activities in general and I also miss going to parties. We go to parties here too, but only important ones like movie premieres, awards ceremonies, among others.
How would you compare the movie industry abroad and that of Nigeria?
Entertainment is the same thing everywhere; it is easy to work at location abroad because there won't be any disturbance. No noise pollution, especially from generator and car horns. Also, no disturbance of area boys that would want to collect money because we are shooting in their area; there is always silence and mind your business attitude abroad. Anyway I miss going to several locations to shoot, the noise and activities of moving around in Lagos.
How were you able to fit into the industry abroad?
I am a professional in the industry and a known face before I came here. So, they know what I am capable of doing. I have no problem settling and fitting into the system. Meanwhile, I want my fans in Nigeria to expect me soon. I will return very soon.