Woman seeks help to pay delivery bills of quadruplet, ensure their survival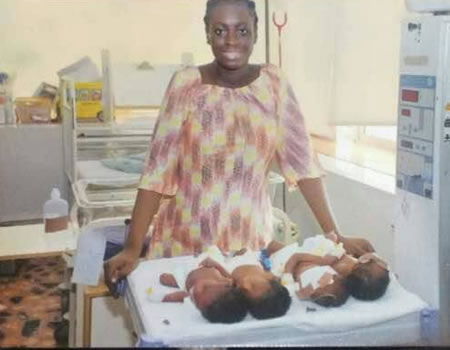 For 32-year-old Oluwatoyin Adeyemi, a resident of No 8, Unity Crescent, Liverpool Estate, Ijegun Waterside Satellite Town in Lagos, the joy when she discovered she was pregnant with her first child with the full expectation that it would just one child, was soon marred with worry when scan revealed that it was going to be a multiple birth.
She had been looking forward with joy that she would be a mother and life would be complete but as the pregnancy advanced, this joy was shadowed with the worry of how she, a small scale business woman with a husband that is managing to swim the financial water with his clearing and forwarding business, survive the arrival of more than a child at once.
They tried to do the needful in preparation but this was not to be as their efforts didn't give the expected result and their finances couldn't cope with the challenge. "We have been trying to make ends meet but due to situation of the country, it's a bit difficult," she told Nigerian Tribune, adding that she never dreamt of having children she would be unable to cater for financially.
She explained that in spite of the surprise of having four babies at once and the accompanying frenzy, they began to look for ways that will aid smooth delivery and ensure they didn't go through enormous financial strain when the babies were delivered.
This however was not the case as their best laid plans didn't work out and with the arrival of the babies; three boys and a girl on July 26 at the Outreach Hospitals in Festac, Lagos, the future is looking bleak; it has dawned on her and her husband that they may not even be able to leave the hospital having incurred a heavy bill and the babies are still in the Neonatal Intensive Care Unit of the hospital.
"Though there was no complication with the delivery because we already knew what to expect from the scan and there was no labour stress as the babies were delivered through caesarean section, we are in dire straits, our bills run into millions because of the intensive care and the babies are still there. Even if we are discharged, there is no hope of going home because there is no money to clear the bills.
"Taking care of the children is looking like almost impossible because even if we get help to clear our bills and leave, we still have the challenge of a huge financial burden that is presently too much for the family to bear. We are already overwhelmed with the financial and psychological burden and we don't even have anyone to run to for help.
"The hospital bill is on the high side and that means we will still be here for a long time because we have to pay before we are allowed to leave and the longer we stay, the more our bills will skyrocket. As it is, what we have to pay is beyond our means and I do not know what will happen next.
"I want Nigerians to help financially so we can give our babies a better life. Neonatal intensive care is expensive and I am appealing to people to help me because I need help to leave the clinic with my babies and also to ensure their survival.
"My appeal is that people should find it in their hearts to assist me with these children not because I am entitled to it. I am only appealing for help. I resorted to this because we have tried all other options available to us," the mother of the quadruplets said.
The survival of the four babies depends on the efforts of well meaning and kind hearted people.
For enquiries and assistance; Oluwatoyin can be reached on her mobile number 08063848004.
Financial assistance can be sent to the following account:
Adeyemi Oluwatoyin
Guaranty Trust Bank
0108059369.