With over 1,000 COVID-19 cases, residents defy use of face masks, social distancing directives inside Ogun markets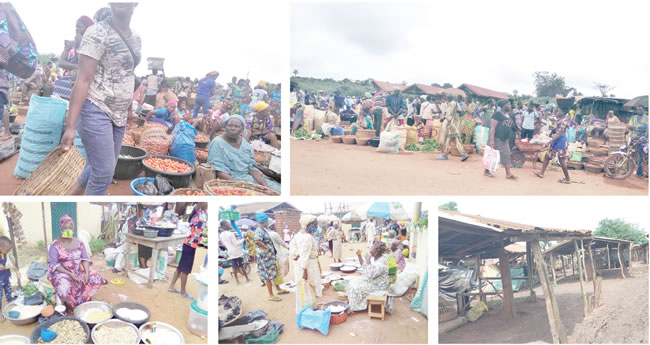 Ifedayo Ogunyemi recently spent almost a week in Ogun State visiting fifteen markets across the three senatorial districts of the state to ascertain the level of patronage and compliance by traders, shoppers and other residents with the COVID-19 prevention guidelines. His report:
FIFTEEN markets across Ogun State covered in six days. The verdict is the same: Regulations mandating face masks, social distancing and other COVID-19 precautions were rarely obeyed.
COVID-19 remains one of the major health issues that have affected the world since the turn of the new year. Over 15 million confirmed cases have been recorded across the world with over 600,000 fatalities while over nine million have recovered from the infection which was first reported in Wuhan, China. In Nigeria, Africa's most populous country with about 200 million people, more than 800 deaths have been recorded from the 37,000 confirmed cases recorded nationwide as of July 22. While the Nigeria Centre for Disease Control (NCDC) claimed it has achieved 99 per cent awareness creation on COVID-19, a lot of residents are still ignorant of the infection.
Since the onset of the pandemic, different governments of the world institutionalised many measures to contain the spread of the novel virus in line with the advisories of the World Health Organisation (WHO). Some of the guidelines include social distancing, compulsory use of face masks and regular hand washing. In implementing the social distancing directive, governments-enforced lockdowns, road and air travel bans, school closure, among others.
On March 19, 2020, President Muhammadu Buhari announced the lockdown of Lagos and Ogun states and Abuja, the Federal Capital Territory. These measures were subsequently reviewed leading to the gradual phasing of the protocols. The Ogun State government, thereafter, shifted the full-fledged lockdown to weekends putting pressure on the regular market days which hold every five days.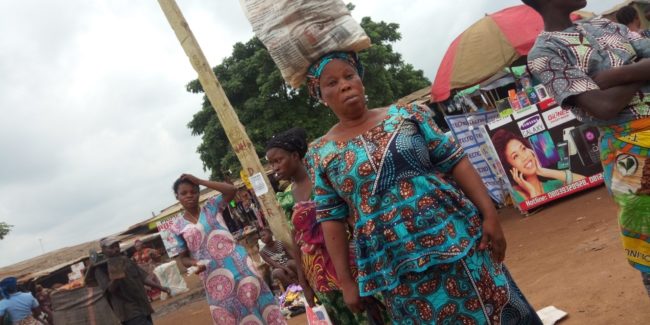 The worry of the NCDC about compliance with the guidelines, in part, necessitated this mission as confirmed cases in Ogun State topped 1,000, the majority of whom were as a result of community transmission and despite warnings by the state government prescribing punishment for anyone who disobeys these guidelines, many residents seem unperturbed. During Saturday Tribune's visit to markets in the state, a large percentage of traders and shoppers were at different worlds with the infection's prevention guidelines.
Saturday Tribune reports that the human traffic normally recorded in these markets under normal circumstances have since depleted. This, many marketers attributed, in part, to the harsh economic situation in the country.
Despite this low human traffic in the markets and low patronage by shoppers, prices of commodities are on the rise. Data got from the National Bureau of Statistics (NBS)'s Selected Food Prices Watch showed that prices of 1kg tomato, 1kg local rice (sold loose), 1 loaf of 500g sliced bread, 1kg tuber of yam, 1kg boneless beef, 1kg of white garri, and 2kg of prepacked Golden Penny wheat flour increased by N110,44, N4.5, N18.82, N136.65, N76.74, N28.84 and N86.07 respectively between January and May 2020 in the state.
Data from the NBS further showed that national food index rose by 15.18 percent in June 2020 compared to 15.04 percent in May 2020 while general inflation also increased by 12.56 percent in June 2020 when compared to June 2019.
Similarly, a United Nations Food and Agriculture Organisation (FAO) and World Food Programme (WFP) report titled "FAO-WFP early warning analysis of acute food insecurity hotspots" also warned that people in Nigeria and 24 other countries will likely face "devastating levels of hunger and food shortages" triggered by the COVID-19 pandemic. David Beasley, WFP executive director added that "if we do not act now to end this pandemic of human suffering, many people will die." The fears propagated by these reports and cries of hunger across the country may have informed the decision of the Ogun State government and others to reopen markets in the state.
COVID-19 is the killer, while social gathering and improper use of face mask are the catalyst
On Friday, June 10, Saturday Tribune are visited Siun market in Obafemi-Owode Local Government and observed that while there was no regard for social distancing, a large percentage of the people in the market, including traders and shoppers, did not use face masks while those who used them failed to use them appropriately as prescribed by the NCDC and WHO.
Wunmi Adelaja, one of the market women who spoke with Saturday Tribune on the impact of COVID-19 on sales, lamented that sales have reduced, while expressing displeasure at some of the guidelines. "How can they expect me to cover my nose for hours? It is not comfortable for us and that is why many of us don't use it.
"How do you expect someone that has been sacked or that his/her salary has been cut to come here? Even those rich people that always come here on market days no longer come because of the fear that they may contract COVID-19," another marketer, Oluwaseun (not real names) told this reporter who had earlier planted himself among shoppers.
Condemning the development, Agbele Babaoja, Majeed Bakare said: "The state government recently gave us face masks and hand washing materials, but people are not using them.  We have tried our possible best to make them use the items, but it is not working. We appeal to the government to take the bull by the horns by enforcing the NCDC guidelines with full force." Bakare added that there are three handwashing points in the market. Saturday Tribune, however, did not see any of these handwashing points during the visit.
'COVID-19 does not affect poor people'
At Fidiwo market, also located in Obafemi-Owode Local Government Area, Saturday Tribune found that the farmers' market was deserted as only a few traders were seen displaying their produce. Only a handful of those who thronged the different stalls in the market used face masks. Asked why they were not using face masks, one of the traders said that COVID-19 "does not affect the poor." Another said that they knew one another and nobody among them had the infection.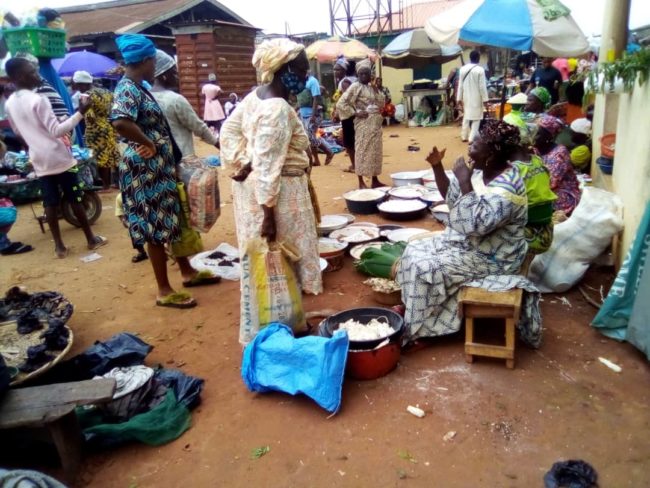 At Kuto market, a popular market in Abeokuta South Local Government Area, one of the COVID-19 high-risk local governments in the state, Saturday Tribune saw large clusters of people who showed little or no regard for social distancing or wearing of face masks.
'We cannot die before death'
The traders complained that since the government had lifted the ban on market, they had not been selling like they used to. A fish seller who identified herself simply as Shakirat said: "I have not been selling like I used to since they opened the market. Things have not been going well for me because we don't see a good number of buyers anymore. It is not possible for the government to expect people to comply with the use of face mask. Do they want us to suffocate to death? We cannot afford to die before death comes."
Meanwhile, the Iyaloja of Kuto market, Alhaja Isfat Adeoye, in contrast to opinions aired by some of the traders, insisted that people in market were following the guidelines stipulated by the government since the reopening of the market. Adeoye explained that the traders were doing everything to ensure that buyers without face masks were not attended to, adding that there was an enforcement committee set up to ensure compliance with the guidelines. She noted that the hand-washing point at the entrance of the market was removed because people did not make use of it.
This disregard for social distancing and use of face masks was what Saturday Tribune observed also at Iberekodo, Olomore and Lafenwa markets located in Abeokuta North Local Government Area of the state.
When approached, the Iyaloja of Iberekodo, Mrs Monsurat Mustapha, said the market leaders were doing everything to ensure that people follow the safety guidelines. She, however, lamented that people have not been coming to the market since it was reopened by the government.
At Ifo market located in Ifo Local Government Area, the most populous local government in the state, traders and buyers also exhibited disregard for these safety guidelines. The flagrant disregard for the guidelines was on parade just like the wares on display.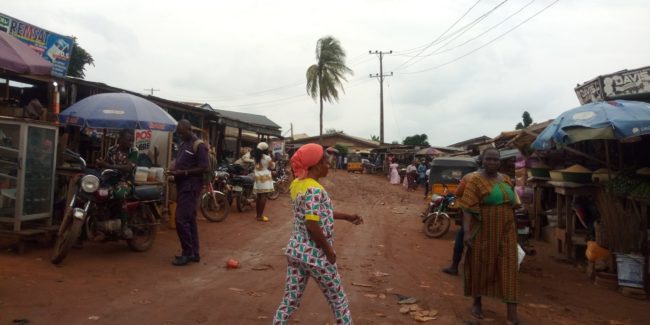 Saturday Tribune also visited four markets in Ado-Odo/Ota, one of the 20 high-risk local government areas, according to the NCDC's Situation Report 91 for June 2. The situation in these markets located in Sango, Iju-Atan, Atan and Lusada areas of the local government were no different from those earlier visited as most buyers and sellers went about their activities without caution. A small percentage of the people were noticed to be mindful of the safety guidelines.
While mobility was nearly impossible at Lusada market as a result of the bad road that divided the long-stretched market into two, many stalls in the market were shut, leaving the market partly deserted.
At Iju-Atan, both the Iyaloja and Babaloja were not around when Saturday Tribune called. The Babaloja, Abdullateef Kehinde, who later spoke briefly on the phone, said: "They gave us about 150 nose masks and we gave everyone in the market. They also gave us about bottles sanitiser and we procured some for ourselves. We had fumigated the market before the government came to fumigate it."
When asked why the majority of the traders failed to use face masks, Kehinde said: "People can be very stubborn. Once they notice my presence, they will quickly put on the masks. We keep telling them to use the masks, which they all have. We are talking about their health and safety but they will tell you it is all lies; that there is no coronavirus."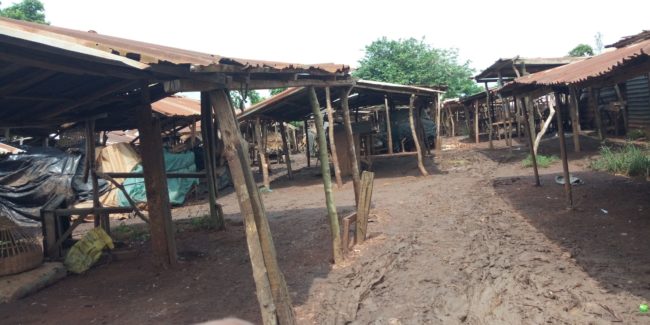 'God will protect us all'
In faraway Ogun East, another COVID-19 high-risk local government, Saturday Tribune visited Sabo and Awolowo markets in Sagamu, as well as the Oba Adetona Market in Oke-Aje and Olabisi Onabanjo International Market, both in Ijebu-Ode. A garri seller at Sabo market told Saturday Tribune anonymously that "we have been doing all that they asked us to do. As for sanitiser, God will protect us. We have brought enough water to the market for regular hand washing. Even my children are used to it." This trader's view is not far from what the Secretary to the Government of the Federation and chairman, Presidential Taskforce (PTF) on COVID-19, Boss Mustapha described as "exhibition of reckless confidence" by some Nigerians regarding immunity from COVID-19.
When Saturday Tribune met Angela Tyongur, a beans seller at the Awolowo market, she had lowered her mask. She gave reason for this: "I had to remove it when I wanted to eat. I always ask my customers to wear their face masks and I have to lead by example. I always tell my customers not to rush me. I stand in front of my wares because we cannot identify a person with coronavirus. I tell them to protect themselves, too."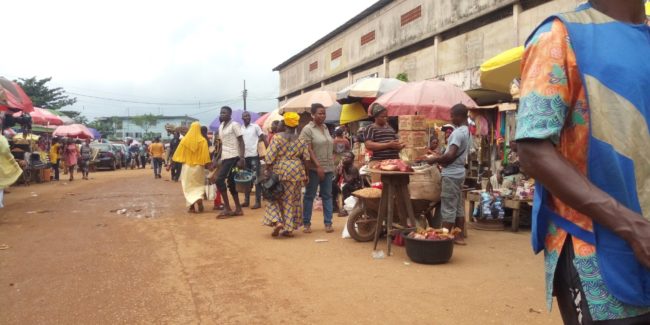 In an interview with Saturday Tribune, the Iyaloja of Olabisi Onabanjo Market, Chief (Mrs) Ogunba Oloruntele, said: "We make sure people cover their noses here but out of 100 people, let's say about 80 do not do it. What the government gave us is not enough. We want them to supply us with more. I asked someone to sew fabric masks and I distributed them to the traders. The Iyalaje of this market whom you met before coming here also got fabric masks which she distributed among the traders. Sales are not really impressive but we are always here. These market women you see are the ones that are virtually taking care of their families."
An aged Alhaja Kuforiji, the Iya Oloja, Oba Adetona Market in Oke-Aje, who was getting set for a meeting with some other market women in her shop when Saturday Tribune approached her, said: "The items delivered were not enough; they didn't go round. In fact, we had to buy additional face masks at N300 each to distribute to the traders. The government brought other items, including six buckets and washing bowls to enable traders wash their hands. One of them is what you see here. The others are at different locations in the market."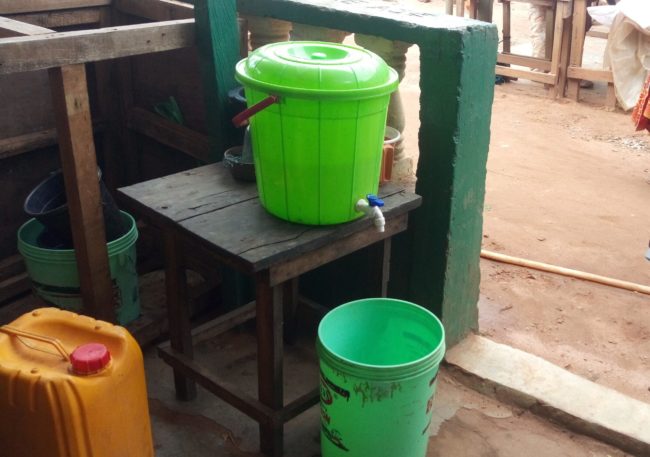 Why the government needs to intervene
Public health consultant, Janet Ogunkayode, condemned the general lack of adherence to the safety protocols, saying: "It is sad to see people defy the guidelines put in place by the NCDC. Most people believe that the COVID-19 is a scam and that the government is trying to make money from it. Going forward, the government needs to do more regarding community awareness. They need to let people who are COVID-19 survivors speak with people in the communities or via the media. The government should penalise individuals who fail to comply with the COVID-19 safety guidelines. You will be surprised that people will start using it."
A public health specialist at the Federal Medical Centre (FMC), Abeokuta, Dr Abayomi Erinosho, told Saturday Tribune that "the government cannot continue to stay in Abuja and give instructions to people in rural areas. There should be a form of interface between the government and the people. The government must utilise interaction, community participation and there must be continuous awareness and everybody must be involved. The government should not assume that everybody knows about COVID-19. Let them know the importance of these guidelines and that COVID-19 is not a joke."
Worried by the level of compliance in the markets, the Ogun State Commissioner for Health, Dr Tomi Coker said: "When you drive across the state, especially Ogun Central at Abeokuta, you find that the compliance level is almost zero. A lot of people wander about the rural areas, especially people congregating in the markets. So, compliance is very poor. The government uses the task force to make people comply but this seems not to be working. We are going back to the media so as to actually communicate the risk to the people all over again.
"They need to take responsibility; they can't keep dumping everything on the government. They need to observe social distancing in the markets. They should start with that. They all cluster in one place, all the tomato sellers, one next to the other. Touching should be limited and there should be running water in the markets for people to wash their hands. They can't keep blaming the government."
This report was supported by the Participatory Communication for Gender Development (PAGED) Initiative.
YOU SHOULD NOT MISS THESE HEADLINES FROM NIGERIAN TRIBUNE