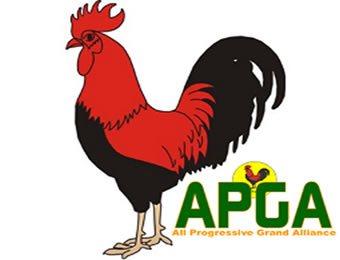 FACTIONAL national chairman of the ruling party in Anambra State, the All Progressives Grand Alliance, and (APGA) Chief Victor Oye has declared that the party would win the forthcoming governorship election in the state despite its internal crisis.
Tribune Online gathered that the party has been embroiled in leadership tussle at its national secretariat, culminating in emergence of two factional chairmen, Victor Oye and Martins Agbaso.
But addressing newsmen in company of certain leaders of the party, Chief Oye said his party was determined to retain its grip on Anambra state.
He said: ''APGA will win the election one hundred percent. Let me tell you APGA is a movement. In Anambra state as we speak, all these things happening nobody even know about it, all the people are interested is returning Governor Willy Obiano as Governor for second term because he has performed excellently.
"In Anambra, workers receive their salaries promptly and accurately, pensioners receive their pension and gratuities up to date. There is security of life and property and many other positive things are happening. ''
On the leadership crisis rocking the national secretariat, Chief Oye described himself as the authentic chairman as he claimed that his rival, Martins Agbaso, has been flaunting fake court papers to proclaim himself as the new chairman.
"The truth of the matter is that nobody has ever suspended me from the party. I have taken charge of this party since 5th of June 2015 till date one hundred percent. Just leave the charlatans and what they say.
They want to bamboozle the people. What they are looking for is money.
"The judgment he (Agbaso) is parading was granted fraudulently and in error and I was not joined.  The court in Nnewi made it clear that Martins Agbaso will not organise the primary anywhere, anytime in Anambra state because that judgment is localized  because if you want to organise primary the court must be in that state.''
He also called for the arrest of Martins Agbaso, for allegedly breaking into the national secretariat of the party.