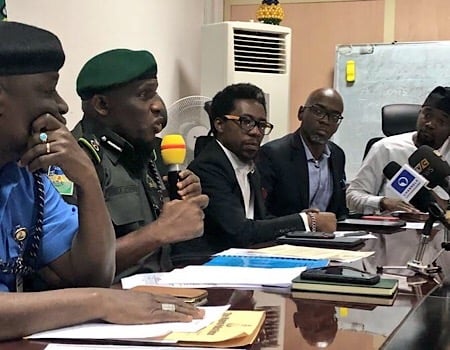 The journey thus far has been daunting to say the least and the most common questions have been; "Can the pronouncements be trusted?" "Will the police Reform be real and felt on ground?" "Will it be sustainable?" "We have heard many terms before and nothing has changed since the sundry political pronouncements" someone said to me, while walking out of the Force HQ in Abuja. A reporter specifically asked what is being done differently now for citizens to be optimistic?
As a pragmatist, let me be forthright with all and sundry. There are no guarantees. I don't know if things will work this time and even if we succeed, no one can, at this point guarantee sustainability. Why? This is simply because there are too many variables here, chiefly the disconnect of the public and the orientation of each and everyone of us about self preservation and instant gratification. 
ALSO READ: Police invite Fani-Kayode over alleged inciting publications
We must not think this is a task isolated to the police or politicians in government. We must all be involved in the process. We must take ownership in the police structure and society. We must realise we are the chief security officers of our society with a duty to report crimes (both those perpetrated by police and by known/unknown criminals in our midst). 
We must be sensitively conscious in our rush for the pursuit of happiness with great panic and anxiety, which are needless in our becoming. Our society is the environment that creates a platform for us to either thrive or fail.
When we fix society, we fix ourselves and position ourselves for accelerated improvement for better and a new experience. When a plant is deficient or deformed, fixing its environment changes its fate. 
When Nigerians succeed everywhere but their own country, it tells a lot about the derelict and toxic condition of our environment that we have chosen to normalise. Our institutions are weak because we allowed it and what we allow continues.
It is time to realise that ordinary people change the world all the time and it is time a critical mass of enlightened Nigerians come together to fix our institutions one after the other beginning with the Police institution. 
If we can perceive it we can achieve it. We sure can collectively build a society where our youth need not be depressed or stressed. A community where we trade hugs and not drugs. A haven void of battery cum need for escape and rape. A society where anxiety has no meaning. A new Nigeria where police is truly our friend and bail is indeed free. 
Over 70million youth population is enough indication that we are blessed. Great nations are adjudged wealthy by their productivity (fruitfulness) and the strength of their workforce. What precisely is the value of our dormant and impoverished youth to the economy?
The ones the system promised would be gainfully employed right after NYSC. What is the relevance of the curriculum to what is actually a dominant requirement in the job market? Why the gaping gulf between the town and the gown? 
How can we justify our sense of entitlement with the expectation of 21st century policing when policemen have nothing to work with? It is not just about welfare, where is the sense of belonging and hope for the future? How can any officer boast of self actualisation on a job that issues directives without responsibility. 
How then can the leaders morally demand accountability? How do you police a population more enlightened than you? How can anyone respect you when they can see your flaws? With great power comes great responsibility. The more power you possess the more the restraint expected of you. 
Our institutions and leaders are not Ugly. They are merely a reflection of our society, where teens are high and leaders lie. How then do we find comfort in being adjusted to a profoundly sick society? But before we point fingers at society, let us remember that we are society. A healthy man in a sick society is a sick man for the more a man's life is shaped by the collective norm, the greater is his individual immorality. 
Everybody is uniquely blessed, this is our Nigerianism. To unleash this, we must fix our society beginning with our institutions. For where in our time and society would you find a person who knew how to express what your uniqueness alone can express? 
To put this less poetically, the question posed is to us all, will we make the Police Reform work this time? Will we make Nigeria work for all? Will we be disciplined and committed enough to go through the learning curve and accommodate true change and due process?  
The success and failure of this journey is in our hands. Question everything, get involved, contribute your quota and be a part of history. Each time we break the law, abuse the rights of fellow citizens, insult officers of the law or give bribe, we are on the wrong side of history and have positioned ourselves to steal from the Cause, thus setting us all back. 
The process must be dutifully and surgically executed for the sake of our children and loved ones. It is their future we are investing in. We are creating a new culture and it is a journey that has no arrival. We will keep improving, evaluating, updating the public, obtaining feedback and perfecting the system until our joy as a people knows no bound in satisfaction with the services of our heroes, who kept watch while we sleep.