Rivers State Governor, Mr Nyesom Wike has expressed disappointment over the exclusion of Rivers State from states that are to benefit from the projects to be executed with the fresh loan that the Federal Government is seeking to obtain from the World Bank.
This is as he observed that Nigeria must encourage federating states to harness their resources and generate revenues, including Value Added Tax (VAT) to advance their development.
He described as a sheer act of discrimination the Federal Government's exclusion of Rivers State as one of the states that would benefit from projects for which it is seeking fresh foreign loans to execute.
The Governor made the observation when the Managing Director and Editor-in-Chief of the SUN (Newspaper) Publishing Limited, Mr. Onuoha Ukeh led a delegation to present a letter of nomination to him as the SUN Man of the Year 2020 Award at Government House, Port Harcourt on Monday.
He said; "Look at the money that Federal Government has gone to borrow from the World Bank. Of all the projects, in all the states, Federal Government did not include Rivers State.
"Look at the list of projects that states will benefit from this money they're borrowing from the World Bank, that they have sent to National Assembly for approval, the only states that are not benefitting is Rivers State.
"It is the prerogative of Mr. President; if he says he does not like Rivers State, if the ruling party says they don't like Rivers State, I won't kill myself. But leave the one that the law says I should be the one to collect so that I will be able to develop my own state," he stressed.
The governor observed that there are mounted attempts to frustrate federating states like Rivers, to actualise the constitutional provisions that empower them to harness their resources and revenues, particularly VAT.
He decried the situation where the legality of states collecting VAT is not considered on the merit of the law by some public commentators including state executives, rather, they are politicising it and looking at it from the prism of ethnicity and religion.
According to Governor Wike, what the FIRS was doing was illegal and could be likened to robbing from the states.
He said; "You don't even need to be a lawyer to know that VAT is not in items 58 and 59 of the second schedule of the 1999 Constitution as amended. Everybody knows that. It is not even in the concurrent list. Therefore, it falls under the residual list. It is not arguable. That yesterday nothing happens does not mean that today nothing will happen, or tomorrow something will not happen.
"Nigeria should encourage states to be strong enough to have resources to develop their states. we are in a federal system where we are practicing a unitary system. Everybody at the end of the month will run to Abuja to share money. Nobody comes back to the state to think, how do I develop my state."
Wike explained that the contest against the collection of the Valued Added Tax (VAT) was started by Lagos State which had sued the Federal Government at the Supreme Court. According to him, Rivers State only avoided their pitfall by suing the Federal Inland Revenue Service, FIRS, which is an agency of the Federal Government, that was illegally collecting the tax in the state.
The governor explained: "The issue of VAT did not start from Rivers State alone. It started in Lagos State when Lagos State challenged it in Supreme Court. Unfortunately, the Supreme Court said you (Lagos) shouldn't have sued the Federal Government. All you would have done was to sue the agency. "
He further observed that rather than commend Rivers State government for seeking to entrench fiscal federalism and constitutionalism, a particular state governor had threatened that the judgement of the court that declared that States and not FIRS are entitled to collect VAT within their jurisdiction, will not stand.
He urged those demanding for a brothers' keeper consideration to first appreciate the position of the law and situate it rightly.
"Some people say, be your brother's keeper. I have no problem being my brother's keeper but why not come out and say, let us tell ourselves the simple truth. As it is being provided in the law, who is the person responsible to collect the VAT.
"When you agree to that, that it is the state, then we can sit down to look at the different problems of states. And not to say be your brother's keeper while you're doing an illegal thing, in disobeying what the law says you should not do."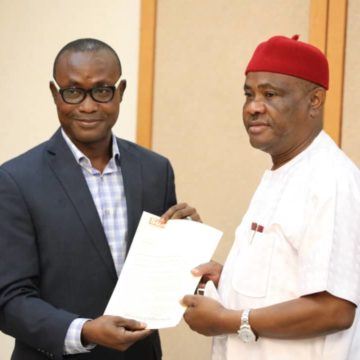 Speaking further, Governor Wike explained that beyond the provision of infrastructure, his administration is seeking a law that will provide comfortable accommodation for judicial officers on retirement.
The reason, he said, is to ensure that, while in service, the judicial officers can concentrate on their jobs without cutting corners and avoid corrupt practices.
Managing Director and Editor-in-Chief of the SUN (Newspaper) Publishing Limited, Mr. Onuoha Ukeh said the SUN Man of the Year 2020 Award is the flagship of award the company.
According to him, Governor Wike was unanimously selected for his remarkable contributions to the socio-economic development of Nigeria and promotion of fiscal federalism with his position on VAT, which will help in the restructuring of Nigeria.
"Today, His Excellency has guided Nigeria to true federalism with the issue of VAT. Knowing what fiscal federalism should be His Excellency went to court to challenge the collection of VAT and the Court stated that actually, the States should collect VAT. And that is laying the foundation for true federalism and fiscal federalism."
Ukeh commended Governor Wike for the sterling performance in office and infrastructural revolution taking place in Rivers State.
YOU SHOULD NOT MISS THESE HEADLINES FROM NIGERIAN TRIBUNE
Experts Say Mixture Of Snail Slime, Evaporated Milk Cannot Cure Stroke
CLAIM: A Facebook user claims water gotten from snails (snail slime) and peak milk can cure partial or full stroke.
VERDICT: The claim that water gotten from snails (snail slime) and peak milk can cure partial or full stroke is false.
FULL STORY: On July 26, 2020, a Facebook user, Prince Nnamdi Enyinnaya Emelelu Eluwa, in a post claimed that water gotten from snails (Snail slime) and peak milk can cure partial or full stroke. The post which is over a year old has recently been reshared by other Facebook users.
Marburg Virus: What You Need To Know About Disease Recently Detected In West Africa
On Monday, August 9, 2021, the World Health Organisation (WHO) confirmed the first case of Marburg virus in West Africa in Guinea. This development has sent shivers down the spines of West Africans who are still grappling with the effects of the coronavirus pandemic. But before this dreaded disease is greeted by rumours and misinformation, here is what you have to know about the virus.APC states to establish Health Emergency Trust Fund…
FACT CHECK: US Did Not Give Nigeria 48 Hours Ultimatum To Detain Abba Kyari
CLAIM: Several social media posts claim the United States of America (USA) gave Nigeria's Federal Government 48 hours to detain suspended Deputy Police Commissioner, Abba Kyari, or face severe sanctions.
VERDICT: The claim is false and misleading. The US did not give Nigerian Federal Government 48 hours ultimatum to detain Abba Kyari.
FULL STORY: Tons of reactions have greeted the indictment of suspended Deputy Police Commissioner, Abba Kyari, by the United States District Court for the Central District of California.
The court indicted Kyari following his alleged involvement in the international scheme to defraud a Qatari school founder of over $1 million. The fraud scheme was masterminded by popular Instagram celebrity, Ramon Abbas, also known as Hushpuppi.
The Dangers In Mixing Toilet Cleaner With Bleach
Few weeks ago, Eniola Oyemolade, a journalist, decided to get creative while cleaning, by mixing a toilet cleaner and a bleach together. She did this with the thought that if one product works, mixing it with another would make it even better.
Unknowing to her, Mixing bleach with toilet cleaner creates a poisonous gas that can cause adverse health reactions, including death.
"After the mixture, I started feeling a burning sensation in my throat and I had to leave the room because the odour was really bad too," she said.
---
---