Wife, relatives, friends take bouquets of flowers to Mugabe's funeral parlour in Singapore
•State burial to hold next weekend •British PM, other leaders pay more tributes
Preparations have begun to give Robert Mugabe a state funeral as his wife, relatives and friends brought bouquets of flowers to thefuneral parlour where his body was in Singapore.
Also, British Prime Minister, Boris Johnson, was among world leaders who on Saturday sent the Zimbabwean government and the widow as the country he led for 37 years went into three days of mourning.
Mugabe died in Singapore aged 95 on Friday morning and his widow paid her respects at the funeral parlour. She later came out with a cloth covering her face.
Zimbabwe's Charge d'Affairs to Singapore, Claudius Nhema, speaking to Daily Mail of UK, said: "Of course, Mr Mugabe will be given a state funeral… he was a national hero."
Asked why his wife, Grace, hid her face under a cloth, he said: "Her grief is immeasurable. She may have been married to a national hero and president, but ultimately she had lost her husband."
Mr Nhema, who has been comforting Mugabe's wife and helping with funeral arrangements, added: "She is in pain. It doesn't matter what religion you are, Hindu or Christian or what your background is, the sense of loss is the same for her as anybody."
He said Mr Johnson had sent a message of sympathy to the Zimbabwean government as had 'many leaders.'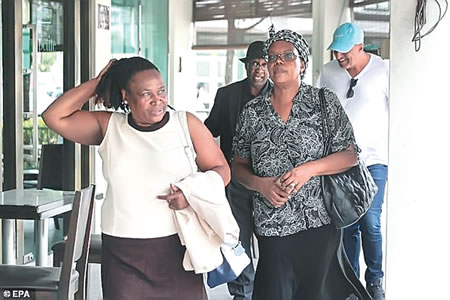 A state funeral, probably next weekend, is likely to be attended by heads of state mainly from the African continent, but lesser from the rest of the world.
Prime Minister Johnson, in his message, said: "His resignation in 2017 marked a turning point and we hope that today marks another which allows Zimbabwe to move on from the legacy of its past and become a democratic, prosperous nation that respects the human rights of its citizens."
But South Africa's President Cyril Ramaphosa described Mugabe as liberation fighter.
"South Africans join the peoples and government of Zimbabwe in mourning the passing of a liberation fighter and champion of Africa's cause against colonialism" he said.
China lauded him as an "outstanding national liberation movement leader" while Russian President Vladimir Putin noted Mugabe's "great personal contributions" to Zimbabwe's independence.
Mugabe's body, which is lying in the Singapore funeral home on a busy dual carriageway, was visited by relatives and friends from Zimbabwe.
Mugabe's family are also preparing documentation and expect a military aircraft to be sent from Harare later this week week to take his remains back to Africa.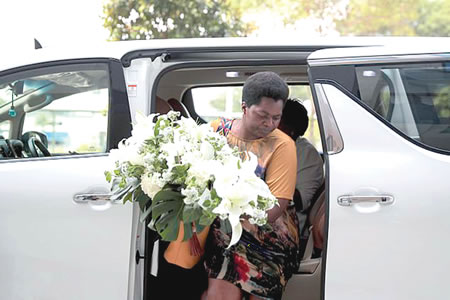 Zimbabwean President, Emmerson Mnangagwa, is also expected to declare Mugabe formally as a National Hero, which is normally a status reserved for icons of the country's independence war.
He said he gave his heartfelt condolences to Grace Mugabe, the Mugabe family and the children "on this their saddest loss."
He added: "Amai Mugabe stood by her husband to the very end, thus imparting to our nation a lasting lesson on devout love and care.
"For that we deeply thank her, as we join her in the grief and loss and bereavement which is also ours to feel and bear."
Mugabe is believed to have left behind a multi-million-pound estate which was built from his days as ruler.
His only daughter with Grace Mugabe Bona, 31, studied in Singapore and is said to own a luxury home in the island nation.
Grace was Mugabe's second wife and they married in 1996, having two sons and a daughter. He married his first wife, Sally Mugabe, in 1961 but she died in 1992.
Mugabe met Grace in the early 1990s when she was one of his young typists, but she became an ambitious politician.
Speaking in 2013 about how he met her, she said: "He just started talking to me, asking me about my life. I didn't know it was leading somewhere. I was quite a shy person, very shy."
Meanwhile, Zimbabweans entered a first full day of national mourning on Saturday, with flags flowing half mast in the capital Harare as shops remained open and people bustled about their daily errands.
The news of Mugabe's death was plastered across the front page of the country's newspapers.
"End of an era" said DailyNews. "95 and out", echoed NewsDay, while state-owned The Herald published a special edition entirely dedicated to the former president.
Many Mugabe supporters came out the streets, sporting emblazoned T-shirts in honour of his passing, chanting and dancing.
"Mugabe provided education and scholarships to most Zimbabweans," Comrade Bhobhi told AFP. "Of course he failed somewhere but on the education side, he did great."
"We will never get any other president like president Mugabe who during his time had the guts to call the British 'these stupid British' right in their face," said Vivian Jena, another supporter.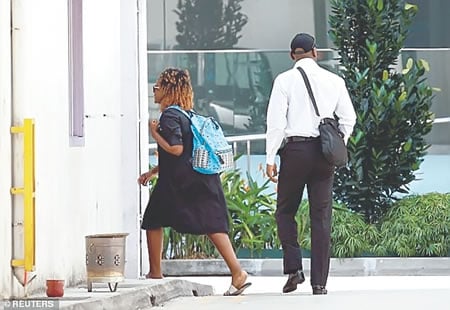 Mugabe, the former political prisoner and guerrilla leader, swept to power in 1980 elections after a growing insurgency and economic sanctions forced the Rhodesian government to the negotiating table.
In office, he won international plaudits for his declared policy of racial reconciliation and for extending improved education and health services to the black majority.
Culled from Daily Mail of UK and CNN