My wife is a dirty person, a terrible cook, husband tells court •I do not know why he stopped eating my food —Wife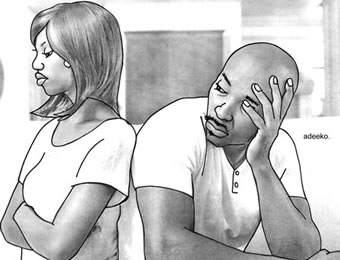 The 21-year-old marriage of a man, Ashimiyu Abiodun, may be dissolved over his wife's poor cooking habit if an Igando customary court in Lagos State grants his request.
Abiodun, 54, told the court that his wife, Aisha, who had five children for him did not know how to cook.
"My wife's food is terrible and tasteless, anytime she cooks and I complain about her food she tells me to be doing the cooking myself.
"And I started cooking my food because if I continue eating her food I may fall sick," he said.
Describing his wife as dirty, he added: "My wife is very dirty; she does not wash or sweep the house, everywhere in the house smells.
"She keeps used plates for four days or more and I always do the cleaning.
"Aisha goes out every Friday and comes back Sunday evening. During weekdays, she leaves home by 7.00 a.m. and comes back at 12.00 a.m. and I dare not query her.
"Aisha has turned my children against me, they do not respect or greet me and she does not allow me to correct them whenever they err.
"On several occasions, my wife and our first son tore my clothes in the public each time I tried to beat him for his wrongdoing."
Abiodun said his wife was lazy and that he had on three occasions set up a shop equipped it with goods for her to sell.
But Aisha, 46, said she washes clothes and said:"I do not know why my husband stopped eating my food, I tried my best to give him good food but he always complained that my food was tasteless.
"I am not dirty as I always clean the house."
She urged the court not to grant her husband's plea, saying "I still love him."
President of the court, Mr Adegboyega Omilola, after listening to the couple, adjourned the case till July 26 for judgement.