Why we risk our lives to cross highways rather than use pedestrian bridges —Residents
•36 offenders arrested, govt vows to dislodge traders on footbridges
TUNBOSUN OGUNDARE found out that only a fraction of Lagos residents see footbridges as a life-saving measure by the government.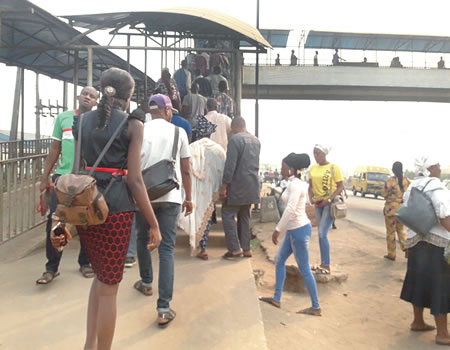 PENULTIMATE Tuesday, a woman in her 40s lost her life crossing the highway at the Iyana Ipaja area of Lagos. The woman was said to be taking her two children to school on that fateful morning without knowing that death was lurking. She was crushed by a commercial bus on high speed along the Bus Rapid Transport (BRT) corridor, which is still under construction in the area.
An eyewitness said the woman holding on firmly to her children's school bags with both hands had wanted to dash across the BRT corridor to accompany one of the two children when an okada man (commercial motorcyclist) on a one-way ride on the BRT corridor hit her. She was instantly crushed by a fast-moving bus whose driver also wanted to quickly make use of the fast lane, which is also under construction. The only footbridge in the area remains under construction. However, there are many places with footbridges all over the state which countless residents are not using. They prefer to dash across the highways.
Dangerous crossing at Ijaye, Ojokoro
Such is the situation, according to Saturday Tribune's investigations at Ijaiye, Ojokoro and at Ilepo Oja\Oke-Odo bus stops along the Lagos-Abeokuta Expressway. Most of the people at the bus stops were seen running across the expressway and obstructing traffic in the process rather than climb the footbridges erected there. Our correspondent observed that what was witnessed at the two bus stops was the general attitude across the state.
At Ijaiye, for example, people seen coming, especially from Ijaiye-Ojokoro Local Council Development Area secretariat axis, abandoned the bridge and chose to cross the highways. Only a few people, mostly female adults and the physically-challenged, managed to make use of the skywalk.
"We have come here to prevent people from crossing the highway," Mr King Joseph told Saturday Tribune. He is a Special Mayor Squad volunteer with the Lagos State Traffic Management Authority (LASTMA). He was with about seven others, including two females. The special squad is present all over the state.
According to Mr Joseph, the squad members just make it a point of duty to station themselves on the highways and other spots with heavy human and vehicular traffic between 7.00 a.m. and 10.00 a.m. to direct people to make use of the footbridges to get across the highways. "And we do this as part of our own service to the state," Mr Joseph, who said he is a cleric and the squad's vice chairman at Agbado\Oke-Odo Local Council Development Area, noted. He claimed that many people had got knocked down by vehicles, and fatally sometimes, while crossing the highways in the area.
It was observed that while the squad manned the spot, nobody was allowed to cross the highway. Rather, people were politely asked to make use of the footbridge.
According to Mr Joseph, reports reach them that people return to the old order by walking across the highway as soon as members of the squad leave the spot for their respective personal businesses. "No one wants to use the footbridge unless they are made to do so, he added.
Ojota axis of Ikorodu Road and avoidable deaths
Similarly, men and women are always seen lining the corridor of Ikorodu Road in the Ojota area and, waving at speeding vehicles to slow down for them to cross the highway, even when a footbridge is just a stone's throw away. This is at the portion where the preventive barbed wire does not cover. They always stand like people on a marathon set, waving until a driver on the first lane heeds their call and slows down for them to race onto the road, oblivious of possible speeding vehicles on the second lane.
Something close to the Iyana Ipaja's experience had played out in Ojota in 2016 when a mother and her four kids holding hands were crossing the expressway. They were in the middle of the road when one of the kids lost grip and slipped. A speeding commercial vehicle hit and killed him on the spot.
Another incident happened on March 4, 2014. A woman was crushed as she attempted running across the busy highway just about 30 meters away from the pedestrian bridge at Palmgrove area within the metropolis. According to some of the onlookers, the state laws stipulate that the families of such victims are liable to make a payment before they can claim the body. Though this claim could not be officially confirmed, what is not in doubt is that more residents are shunning the footbridge.
Another unconfirmed report has it that up to 55.6 per cent of road crashes involving pedestrians happens on the highways with significant number of victims getting knocked down while crossing.
Why we don't use footbridges –Residents
In Lagos, pedestrians are forbidden to cross the highways where there are footbridges. But Lagosians are known for many things, one of which is impatience. Most times, most people are in a rush and because of that, among others, they would rather make a mad dash across the highway full of all manner of vehicles and okadas, some of them with faulty brakes than take time to walk the a few meters and climb a pedestrian flyover to continue their journeys. Apart from that, some people believe that the bridges, like the one in Ijaiye, are far from the bus stops.
While some also say some of the bridges are just too high and that they have phobia for height, there are others who believe that the facilities are not properly designed and, therefore, not user-friendly. They also claimed that some footbridges have no light for illumination at night and that the presence of beggars, mentally deranged people, hawkers and hoodlums sometimes on them is another major turn-off for them. The reasons are limitless.
Some people specifically told Saturday Tribune that the amount of time it takes to walk to the foot of the Ijaiye bridge, climb it and cross over and then start walking back to their bus stop or destinations is huge and, therefore, not worthwhile.
Mrs Jane Oriaki, a business woman, who lives around Jankara auto spare parts market is one of such people. The mother of three told Saturday Tribune that it would have been better if the footbridge is located right at the bus stop and not between two bus stops – Ijaiye and Ajala.
"So, I watch very well and ensure that no oncoming vehicle or okada is near before I dash across the highway. The practice has been working for me," she said. Mrs Oriaki, however, was quick to point out that despite her habit, she still made use of the bridge (excluding night-time since there is no light on it) but that is only when environmental agency officials are there with their truck. "Their own is not to correct anybody like those Special Mayor squad you are talking about but to make arrest and then get 'settled' or else you will be taken to their office," she said.
The one at Ikeja Along Bus Stop is a typical example of those taken over by beggars and hawkers. A mentally deranged individual has found the Ijaiye footbridge a suitable home.
Respondents at Ikeja Along told Saturday Tribune that they make use of the bridge for fear of arrest by law enforcement agents who have permanently stationed themselves there for that purpose.
"There are pockets of beggars on the bridge and I hate embarrassment because they would want to follow you until you give them something which I don't like to do," Temilayo Ajelangbe, who sells phone accessories nearby, at the popular Computer Village, said.
The security officers are not exempted in this practice. Some of them, even in uniforms, elect to dash across the highways or sometimes by stopping oncoming vehicles to allow them to cross to the other side
An officer with the state police command boasted: "I am a law enforcement agent and no one can arrest me for not using the pedestrian bridge." But when he was reminded of the danger in doing so, he said: "Except for the new ones, many of the old bridges are in bad shape." He referred our correspondent to the bridge at Iyana Oworo adjoining the Third Mainland Bridge and another one at Motorways\Old Toll Gate in Oregun and Ketu. The hole on that of Iyana Oworo, for instance, makes it scary to use, while the protective railings on the latter pulled off a long time ago.
"Those conditions could be scary as one can easily fall off. Although I know what it takes to cross the expressway, I do take my time and observe very well, and then move when it is safe to do so," he said.
Advocacy, not arrest, is the answer –NMA boss
The Lagos State branch chairman of the Nigerian Medical Association (NMA), Dr Saliu Oseni, shares a similar view with those who pointed out that some of the bridges are not so good for use. Dr Oseni, as a medical doctor serving in a state-owned hospital, has seen it all with many patients who are victims of road crashes, including those who got injured crossing the highways. Many victims of road accidents either end up in government or private hospitals while others engage in self-medication at home, especially due to poverty and ignorance.
So, for Dr Oseni, it is high time that government redouble effort at preventing people from crossing the highways rather than focusing too much on punishing offenders. According to him, the biggest price anyone can pay is life and so advocacy and erection of wires around the vicinity to prevent people from crossing would do the magic. He gave the ones at Berger and Ojota bus stops as examples.
"Let the government start with mass advocacy to enlighten residents on why they need to use footbridges instead of crossing highways and the consequences of doing otherwise. They should at the same time put barricade wires around the bridges just like the ones [former Governor Akinwumi] Ambode's administration did at the same Berger and Ojota bus stops and also to repair those that are worn out or damaged. This cannot be too much for government to do," he said.
The NMA boss, who is a consultant surgeon, however, emphasised that although there are other types of road crashes, the ones involving pedestrians being knocked down by fast moving vehicles and okadas are fatal most of the time. This, according to him, is because most of the vehicles involved are usually on high speed and apart from the fact that some victims end up dead right at the accident scenes, the cost of treating survivors, according to findings, is usually very huge.
"That is why the government needs to do more on prevention rather than law enforcers hiding somewhere and waiting for flouters to arrest so as to make money."
He also observed that some of the bridges were not user-friendly or convenient to use. For him, some are located where people would go as if they are "travelling between two towns" just to cross the road. That alone, he said, could discourage many from using the bridges.
According to him, flyover should be simple and easy to climb and take a short time to walk across "But most of the newly designed bridges are not so and therefore should be re-adjusted, particularly for those who are physically-challenged and have a long distances to cover," he said.
Comparing the old footbridge to the new one at Ojota Bus Stop, for example, he said the former is better. He however, explained how expensive it is to manage accident victims, especially when it involves hit-and-run drivers and unknown patients.
"The initial financial burden on such patients is usually borne by the hospital and most times the money is not easy to come by. That is why the government should build additional, better bridges and do all it could to enforce usage of these bridges. Law enforcers can be stationed at both sides of the highways to tell people not to cross rather than wait for them to cross so as to make arrest and collect money. That is part of social development as it is wrong to criminalise people for the purpose of revenue generation.
"So, after some time, it would register in people's subconscious not to cross the highways where footbridges are available, because sometimes road accidents happen when someone tries to escape arrest."
No excuse is tenable –Govt
But the Ministry of Works and Infrastructure which put up the bridges in place condemned people crossing the highways where footbridges are available. The ministry expressed the belief that crossing a highway is only understandable where bridges are not on the ground and pedestrians must be extra careful doing so.
The deputy director in charge of Public Affairs of the ministry, Mr Olusegun Ogundeji, told Saturday Tribune that the bridges are erected for two major reasons. One is for safety of lives while the other is to ease the flow of vehicular traffic around where they are erected. According to him, about 35 of these bridges, including the old ones, are currently in use across the state and about another six are under construction.
"And government is building all these for the people's benefits," he emphasised even though he has claimed to have no knowledge of how much money is spent in putting one in place.
The total budget of the state for 2020 is N1.168 trillion and roads and infrastructure, including footbridges, would take up to N117.248 billion from the amount as against the N31.673 billion expended last year. In spite of this, many still cross the highways and in the process lose their lives or get maimed for life.
Ogundeji noted that it is only in Nigeria as much as he knows that people have penchant for lawlessness and laziness and still try to rationalise all deviant behaviours.
The excuses that many of the bridges are distances away from their bus stops or too high or that people want to save time or that traders display their wares on the passage, among others, to him, are, baseless.
"It is a matter of people liking to do whatever they believe is convenient for them without minding the repercussion," he added. Even at that, climbing of bridges, by his understanding, is a therapy. "The fact is that some people, if possible, would want okada (motorcycle) to carry them to the top of their beds," the spokesperson joked.
On the excuse that the presence of mentally deranged persons on some of the bridges makes them scary to use, as discovered at Ijaiye along Lagos-Abeokuta Expressway, he said such encroachment is as result of abandonment by those the footbridges are originally meant for. "Even at that, there is just no excuse for not using the bridges. Everybody, including physically challenged, is factored into putting up the bridges. So, it is absurd to see people who complain of pains in their legs using the same legs to run across the expressway. It is just that we are always in a hurry but to nowhere. So, people should just learn to obey simple laws for the good of all," Ogundeji stated.
We're trying our best –Law enforcement agents
The Lagos State Environmental Sanitation Corps (LAGESC) said it is trying its best under the circumstances the state has found itself.
Recently, the agency arrested a total of 36 persons for allegedly crossing the highways indiscriminately across the state. The Corps Marshal of the agency, Mrs Gbemisola Akinpelu, a retired Commissioner of Police, stated this in a statement signed by the head of public affairs unit of the agency, Mr Adebayo Kehinde.
Akinpelu pointed out that apart from the suspects putting themselves and motorists in danger, they are also impeding free flow of traffic in the process of crossing major highways where overhead bridges are available. She said the aim of the agency was to attain total compliance of people on road crossing and use of pedestrian bridges and prosecution of offenders in line with the extant law of the state.
She put the distance from the pedestrian bridges where arrests can be made by the officers of the agency at 200 meters. She urged officers and men of the agency to also dislodge traders around the bridges for free human movement.
We're fully in support of enforcement –Lawmakers
Just like the executive arm, the state House of Assembly is also backing the government on enforcing all traffic laws, including crossing of highways at wrong portions by pedestrians. A member of the assembly representing Mushin 2 Constituency, Mr Olawale Sobur, said the practice is inimical to lives and residents must desist from it. While laying emphasis on laws enacted by the assembly, he stated that the assembly was able to pass the traffic law of 2015 for the purpose of safety and easy flow of traffic.
"But what we see today is a gross violation of these laws and in spite of that, I will encourage residents to follow government's directive. The law must take its course," he said.