'Why we are raising teenage fashion enterprenuers'
Bisola Owokoniran is the creative director at Mastic Beads and Aso Oke. She speaks with ROTIMI IGE, in this interview, about their upcoming teens' fashion training summit in the United Kingdom, among other topics. Excerpts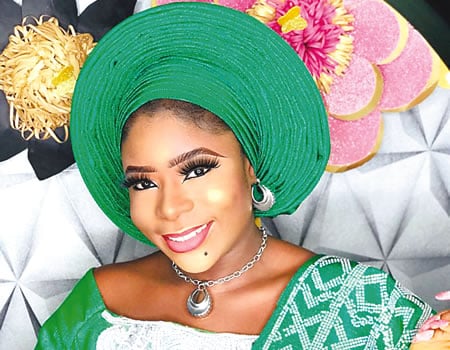 TELL us about your outfit.
Mastic Commercial Enterprises is into training and trading business with fashion hub as the major arm. Our brand is Mastic Beads and Aso Oke and was awarded the best Aso Oke designer of 2019 by Ibadan Weddings.
Your brand has become one of the most sought after Aso Oke designers in the South West. How were you able to achieve this feat?
Our CEO as well as other team members believe in excellence and customer satisfaction, these attributes I believe is highly contributory to our success story, not underestimating the grace of God, though.
You are currently spearheading a fashion campaign for teenagers. Tell us about that?
As one of the creative directors at Mastic, the idea was spurred by the manner in which young adults in the university as well as the way in which youngsters get either raped or dismembered all in their quest to earn money. I just concluded my NYSC and returned to continue my work at Mastic. When I shared the experience of one of the teens who narrowly escaped being trapped by kidnappers all because she wanted to get a part-time job to earn additional income, which was also what I did during my undergraduate study, when I started work with Mastic in 2015; our CEO, Mrs Olumayowa Alajo, was moved and this fanned the flame of what she had always had passion for- building teenagers, having served as a teen teacher in Church during her spinsterhood and even currently being a role model for those that have contact with her, myself inclusive. The  idea for a Teenpreneurship training was birthed. And of course, it can only be kicked off with a focus on the main strength of the company which is fashion. This led to us reaching out to both local and international sponsors/collaborators and we currently have the support necessary to sail. Included in the support is a fashion school in the UK which has given  us the consent for  collaboration.
You mean they will be going to the United Kingdom for training? What are the expectations?
Yes, the best participating teen, which will be decided based on different criteria including  but not limited to training tests, will be the beneficiary of sponsorship for training in the UK Fashion School. The expectation is that such teen will be able to see how other teens in other climates are making waves in fashion, since the training will take place in UK along with other teenagers from different parts of the world. Also, it will be an opportunity for such teen to be exposed to such variety.
Is this open to everyone or only the students of your fashion school?
Everyone between the ages of 13 and 17 is welcome to register. And in the training every participant has something to go with in addition to the rich content of the training. It is "Santa's" way of reaching out to teens this December.
Why did you decide to train teenagers in fashion designing?
We decided to start with this aspect since we have examples of those who have practised and benefited from fashion in earning money to support  themselves right from their teenage years. The CEO and even myself are such examples. More so while still brainstorming, we had the opportunity to attend the interview of one of the most influential women in  the fashion industry and she mentioned that she developed the inkling for fashion from the age of 10!
What do they stand to gain?
Participants stand to gain a lot. Starting from the opportunity to meet influencers in the fashion business, who incidentally are young people and positive mentors, thus giving them opportunity for mentorship, exposure to a  source of livelihood and means to earn funds while studying (particularly as the target age involves those that are preparing for next level of study after secondary,which is often times the first time they will become their own self managers, having to leave the direct custody of their parents and usually, the "pocket money" do not usually hold the pocket tight till next supply. The privileges of freebies provided by our collaborators and sponsors which include discounted shopping in December  and so on.
Do you agree that enterprenuership is the future for young people in Nigeria?
Yes, I do. And this is why we want to ensure we entrench the mentality right from now.
Your fashion influences are?
Numerous: nature, mood, culture and age.