Why over 200 cultists/militants accepted amnesty in Akwa-Ibom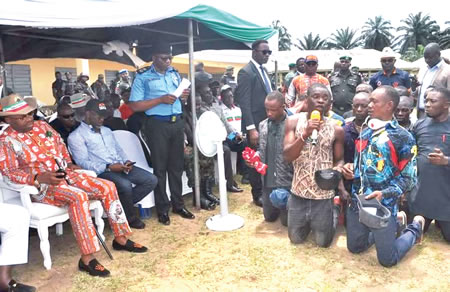 Last week, the efforts of Governor Udom Emmanuel of Akwa-Ibom State in partnering security agencies to entrench a peaceful state yielded some positives as over 200 leaders and members of various cultists and militants in Etim Ekpo and Ukanafun axis of the state, laid down their weapons and renounced their memberships.
Emotions were betrayed at the event that took place on Tuesday, at the Central Primary School, Ikot Akpan Nkuk, in Ukanafun Local Government Area, as the repentant former cult leaders and militants went on their knees and prayed for clemency for all the pains they had brought on their people over the years.
ALSO READ: IGP warns against detaining suspects beyond 48hrs
They narrated what they had been through in the wilderness, reasons they chose the ignoble path and requested rehabilitation and empowerment to enable them begin a new life on a positive note.
According to the ex-cultists cum militants, some of the reasons they took to the arm-bearing path to cause mayhem were poor supply of social amenities such as good public schools, lack of government's attention to other plights of their communities, including unemployment for several decades, among others.
While speaking to journalists on further reasons they took to arms, they maintained that politicians, over the years, had used them to attain their political ambitions, but abandoned them to their fate.
One of them from Ukanafun, who gave his name as Mentor, appealed to the governor to right the wrongs of past administrations that failed to look into their plights.
"We don't have a village head; we don't have any youth leader, and we didn't have anyone to talk to us. I am sure Your Excellency will provide these for us, so that we can stay together and support you for a second term," Mentor added.
Victor Frank, another penitent arm-bearer, said he was from Ikot Udobong, Etim Ekpo Local Government Area, and that he had lived in the bush for several years in the course of militancy.
Frank, who said he was happy that peace had been restored, appealed to Governor Emmanuel to intervene in restoring freedom to some of their members who had been apprehended by security agents in the spirit of forgiveness and reconcilation, pledging their readiness to sustain the peace.
"For this great feat, we promise to stand with the governor, and ensure he succeeds in his second term so that he can continue to bring peace and development to our communities," Frank enthused.
Yet, another repentant cultist, UtomobongAniekan Sunday, said he regretted being part of the clash that led to the destruction of lives and property as well as shutting down of economic and social well-being in his communities over the years.
"We had to sound the gong and invite all our members to answer to your amnesty call and we have surrendered our weapons; we have nothing to give to you, but peace and we want all our people who ran away to come back and let's live together again," Utomobong pleaded.
IfiokUkpong, on his part, said he hailed from Ikot Ukpong village of Ukanafun Ward 2, and his ward had suffered persistent neglect in terms of appointments while Faith Friday Benson from Ikot Etim thanked the governor for coming to their rescue by giving them a second chance to live a meaningful life.
Others who also spoke amid tears included Goodluck Emmanuel from IkotUdo Obo, who appealed to Governor Emmanuel to help in the rehabilitation of  destroyed markets and power supply infrastructure in his community.
Meanwhile, Governor Emmanuel, who by then was gripped by emotion, said he was saddened by the condition of the repentant agitators.
He recounted how difficult it had been for the state government to deploy  development to the besieged areas because of perpetual insecurity.
"I wanted to bring a World Bank assisted project to Ukanafun, but those people preferred to go elsewhere. At the moment, because of you people, no contractor accepted our offer to come and execute a project in Ukanafun," he lamented.
The governor thanked the repentant agitators for embracing the reconciliation and rehabilitation meeting, and also called on one of the cult leaders, Overcomer, and others to come out of their fortress like others and accept the olive branch offered by the government.
He urged them to be wary of politicians  who might return to woo them back into cultism and militancy.
The principal actors of the cult groups were introduced by the State Commissioner of Police, AdeyemiOgunjemilusi, who said the cultists, having surrendered, had turned a new leaf and were willing to be rehabilitated and re-integrated into the society.
Governor Emmanuel was accompanied to the event by his deputy, Moses Ekpo, the National Legal Adviser of PDP, Emmanuel Enoidem, the Secretary to the State Government, Emmanuel Ekuwem, Commissioner for Local Government and Chieftaincy Affairs, Udo Ekpenyong and the chairmen of Ukanafun and Etim Ekpo Local Government Areas of the state.