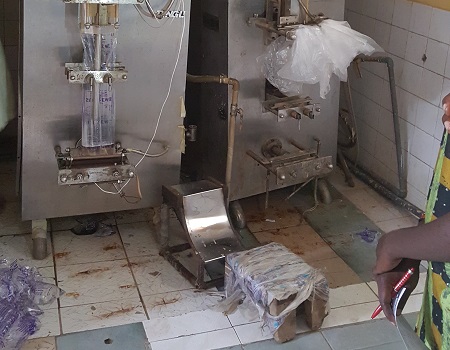 SAFE and readily available water is important for public health, whether it is used for drinking, domestic use, food production or recreational purposes but the journey to achieving safe drinking water for all may be far-reaching due to the proliferation of unsafe packaged water. ADETOLA BADEMOSI, with support from the Ford Foundation and the International Centre for Investigative Reporting, ICIR, presents findings of her investigations into the hygienic state of packaged water factories in the FCT, Niger and Nasarawa States as well as the environmental and health effects of poor hygiene in the areas. 
"Pure water!!! Akwoi maisanyin? (is there cold one)," the passenger, who obviously was dehydrated as a result of the hot weather asked the pure water seller.  Impatiently, he gulped down two sachets of the water and heaved a sigh of relief. Although his thirst for cold water was quenched he might have unknowingly gulped down a cluster of water bacteria.
"Pure water" is the household name for packaged sachet water. It became widely adopted by Nigerians after a major transition from the old 'ice-water' which was packaged in a white polythene nylon and sold for just a few kobos in the past.
Over the years, sachet and packaged water evolved and was first sold at N5 then increased to N10 per unit. Apparently, the idea behind packaged water was to replace the iced water packaged in nylon was meant to address the issue of waterborne diseases, which include cholera, typhoid, dysentery and polio. These diseases are reportedly caused by drinking water containing infectious viruses or bacteria, which often come from human or animal waste.
Bearing in mind the importance of safe drinking water to the health, the proliferation of packaged, especially sachet water has become a cause for concern in Nigeria, especially when they are produced under unhygienic conditions.
This has become a major menace despite the establishment of the National Agency for Foods and Drugs Administration Control  (NAFDAC) in 1994, which is responsible for regulating and controlling the manufacture, importation, exportation, advertisement, distribution, sale and use of food, drugs, cosmetics, medical devices, chemicals and packaged water.
The production of unsafe sachet water has continued to thrive with little or no treatment adequate enough for the water being packaged for public consumption. The resultant effect on the health of consumers cannot be overemphasized.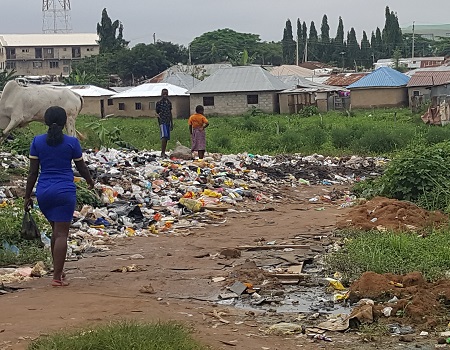 On daily basis, different brands of sachet water, are released into circulation, hawked by under-aged children and even adults on the streets, at bus stops, markets, and other places with human concentration. It is consumed by virtually all average Nigerians. However, the question that comes to mind is where and how they are produced.
 A plethora of findings
Investigation conducted by this reporter on the proliferation of unhygienic sachet water in the Federal Capital Territory  (FCT), Niger and Nasarawa States revealed that about 90 percent of pure water factories visited do not conform with the NAFDAC's requirements for the establishment of water production factories.
For instance, one of NAFDAC criteria before setting up a packaged water factory for public consumption is that "the factory must not be sited (located) near a cemetery, abattoir, quarry, sewage treatment plant, sawmill, oil depot (Petroleum and Vegetable) or any such establishment that could be a source of contamination for processing, production and packaging of potable water.
NAFDAC code further indicates that: "The building should be designed to allow for free flow of personnel and materials to prevent cross-contamination. The building for the production of potable water should be purpose-built or suitably adapted to comprise a minimum of five rooms designated as the cloakroom, packaging material store, production room and finished product store & office."
However, it was discovered that some factories in the FCT produce this commodity under really terrible conditions. Example of such is a company in the heart of the popular Jabi District, which operates directly beside a dump site where open defecation is freely practised and all forms of wastes are dumped. Every day, a huge stench pervades the whole area.
The company, with the brand name, PETCEN Ozonised water is located in a small compound, at the extreme end of a cluster of substandard houses. No one could imagine that such a firm operates in the environment which is about 10 metres away from the dump site.
The workers, during a visit to the location, were so conscious of occurrences around the business vicinity. Efforts to gain entrance into the main compound proved abortive but a quick survey of the entire factory revealed that the products are conveyed in an unbranded white but rickety looking 'pick-up' Van, while the major production factory is a sore sight. Although like every other factory visited, they had cylinders of industrial filters placed outside, the functionality is questionable.
Closely attached to the factory's fence is a shallow gutter and burglarized diesel generator house while the main entrance was loaded with a heap of refuse dirtbags.
John Haruna, a resident living in the area, told this  reporter:  "…this pure water factory has been here for a very long time since I packed to this Jabi upstairs five years ago."
Further investigations carried out in the FCT, also exposed to situations where the commodity is produced in shops and widely distributed for public consumption without considering the required treatment needed to certify the water safe for drinking.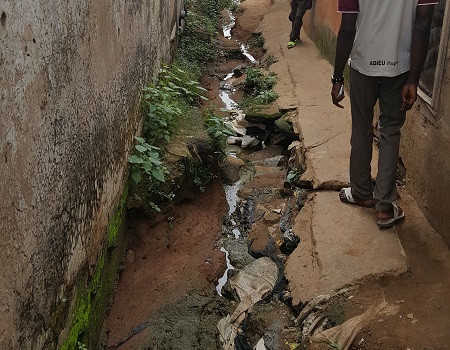 For instance, a sachet water producing factory with brand name Tbillz Daily table water is located in a popular estate along Lifecamp, Abuja. Although the environment looked hygienic, what seemed peculiar to the factory is its mode of operation.
Though it is located in an estate, the commodity is being produced in a block of two shops closely confined to a building. "….they don't allow anybody to enter the compound as you see it," Kolade Onibiyo, a resident in the estate told this reporter."
Onibiyo who wondered why the entire place is tightly confined in such a way that nobody could see through the building disclosed that the commodity is produced occasionally.
His words: "The building you are looking at is where they do the pure water but inside those two shops, you cannot even gain entrance into the building not to talk of saying you want to see how they are doing it. But why are they acting suspiciously if what they are doing is right? And as you see that place, at times in two weeks they may not do water. So, it is somehow but I used to drink the water because the shop beside us, at times, they use to supply them. It is God that is protecting us all."
Interestingly, one could never have thought that such activities take place in the companies so far highlighted in the FCT, but their operations are mostly kept away from the prying eyes of the public. That possibly accounts for why NAFDAC officials are also missing their trail.
To further conceal their illegal operations, the commodities are conveyed in unbranded vehicles which are mostly rickety. They are distributed to wholesalers and retailers within their jurisdiction. Unfortunately, the commodity has a way of getting to a heterogeneous number of people.
Similarly in Lafia, Nasarawa State capital, pure water business seems to be the most popular one everywhere. "Pure water business is really booming here, I will even say this is the hub because hardly will you work past a street that you won't find one or two factories," Godwin, a local guide told this reporter.
Sadly, it was discovered that only a few operate closely with NAFDAC's prerequisites. The situation is even worsened by the fact that most households have pushed aside the idea of drinking water from boreholes and taps as packaged water is embraced with belief that they are safer.
A visit to some factories in the state revealed how the purportedly "pure water" is packaged in shops located in secluded areas, away from prying eyes of the public.
Three of the factories visited are Pajo, Fasaha and Fajo table water companies. Interestingly, they are all are located within residential areas but residents, who are in the know of the illegal operations, seemed unperturbed.
Efforts to get officials of these companies to speak proved abortive as every question posed to them on their mode of operation was met with courteous replies and mild hostilities, perhaps for fear of being exposed.
However, a visit to the Alamari Table Water factory in the state was a different experience from other factories. It is located around the popular Stadium junction, Lafia and seemed to meet up with some of the NAFDAC's approved standards.
Unlike other factories, the building was sectionalised and comprised of the cloakroom, raw materials store, toilet, finished goods store, production unit. Apart from this, the facilities and equipment included a borehole, industrial filter about three septic tanks, microfilters among others.
"The processing starts from the borehole to the raw water tank, from the raw water tank to the industrial filter from there to the treated tank then it goes through the filters then the UV light before it comes to the machines. We don't put any chemicals to purify, it is just with the processes I mentioned. With the UV light, if there is any germ, it traps it and won't scale through," Jonah Alogala, a supervisor at the factory explained.
While also speaking, Managing Director of the firm, who gave his name as Mr Alfred Alogala, accused the NAFDAC of complicity in the proliferation of substandard packaged water across the country.
Alogala, who is the state chairman of the now comatose Association of Table Water Producers (ATWAP), explained that officials of the agency rarely go out to inspect factories even as he alleged that when the illegal activities of the substandard products are brought to their knowledge, these are not handled professionally.
"The problem we are having in the industry is much blamed on NAFDAC, NAFDAC is not doing what they are supposed to do. They are supposed to inspect the factories regularly, your aim is not to victimize but to see that the right thing is done if the wrong thing is happening you have to advise them on what to do. And if they keep doing the wrong thing, you close up.
"They hardly even go round, for instance, a NAFDAC official, who is ahead of the unit, we the Association' executives decided to go out and do self-assessment, some factories that we went to, honestly I cannot use the so-called pure water to bathe based on what we saw. Some of their microfilters were green, pure green because of dirt. Something that should be pure white has now turned pure green. So, we reported a particular case to NAFDAC and the man went and told the owner of the factory that we were the one that came to report. We helped him to do his job and he still went ahead to betray us. We didn't know what happened afterwards," he explained.
He said the association was established to ensure that its members comply with NAFDAC's guidelines by periodically going out to check their activities. However, he said its efforts were allegedly sabotaged by the regulatory agency.
"For now, the Association is comatose because, for quite some time, I was the State chairman, then we had four zones, we have Lafia zone, Akwanga, Keffi and Karu zones. So we used to help ourselves, we used to go round and check, we used to do sanitation but along the line, with this kind of attitude from the NAFDAC head, we had to suspend that. Another unit head sent his staff on inspection, he went on inspection and they found a lot of faults so they closed the factory, wrote the report in the person's file and submitted to the head. The team leader explained what happened in the report, then the owner came and sat down and the head called the team leader in the presence of the owner and queried why he shut the factory. So it is a serious issue and has discouraged almost all the staff from going out."
He further cited instances where approvals were allegedly given to factories who have not met with the criteria of the agency says: "For instance, some places that are not qualified to be certificated for production, maybe they bribe them, I don't know but they will allow them.
"These are the same people who gave us as a precondition that for you to have a water factory, you must have, production room, goods room, finished goods room, cloakroom, toilet etc. If these facilities are not there, they are not supposed to approve. Then till the condition is fulfilled then they will go to others like testing of the water but you find out that in most cases, many people are producing in one room and they will give them a certificate. Not all NAFDAC numbers are fake, only a few of them but not all. There was a case where somebody just picked another person's nylon, printed the same thing and was producing water."
Similarly in Niger State, from the three factories visited (Al-machus, Supreme and Kabinaf), only one of them seemed to be operating in a fairly clean environment. Efforts, however, to gain access into the premises was met with strong resistance.
Two of the other factories, however, opened their doors widely to this reporter who pretended to be a student working on a project with a focus on packaged water. A quick observation of one of the factories situated in the heart of Suleja, Niger State, revealed that although the water is packaged for public consumption undergoes certain treatment processes, this may be rendered ineffective as a result of the environment in which it is located.
For instance at Supreme table water, the entire factory is an old building painted in cream and white with the dirtied white tiled floor. There was no such thing as finished goods room, cloakroom, except for a small room with two sealing machines.
The extremely tight structure which is situated in a small fenced compound, however, draws its water source from the water board.
"We have been running for about 20 years now and we get our raw water from the water board. It is close to us here, other people get theirs from borehole but our own is directly from the water board," the factory owner explained.
Kabinaf Table Water factory was a sore sight. It is located in a filthy environment. The road leading to the company is characterised by stagnant water, unclosed mosquito breeding gutter etc.
On getting to the factory's entrance, one could not have imagined that water for drinking is being packaged for sale in such place. In front of the gate was a rickety and unbranded pickup obviously used to convey these products to distributors or retailers.
Further survey of the rather dirty compound revealed a small fence used to demarcate the factory from a residential house. Rags were left hanging loosely in some corners by the entrance. The floor was as well littered with dirt betraying the state of uncleanliness, very dark ground surface and other substances which are not fit to be in such place.
However, what is similar to all the factories visited is that they all seemed to have the equipment needed, some of which include industrial filters, microfilters, septic tanks among others but the question that comes to mind is if the commodities are pure considering the environment in which they are produced.
Also, the factories do not have signboards placed in front of their companies as a form of advertisement, since this is the sole aim of every business venture, to create awareness and make a profit. Gone were the days when water producing factories advertise their products in both electronic and print media.
Understanding WHO's statistics on consumption of contaminated water 
According to the 2018 World Health Organisation (WHO) fact sheet on potable water, contaminated drinking water is estimated to cause 502 000 diarrhoeal deaths each year.
In Nigeria, about 150,000 children reportedly die of diarrhoea-related diseases annually for drinking unsafe water, while a large sum of rural dwellers still lacks access to potable water.
According to the 2016/2017 Multiple Indicator Cluster Survey (MICS), about 90 percent households in Nigeria consume contaminated water and other impure substances.
The 2016/2017 report which is the fifth round of the MICS series, revealed that an overwhelming majority representing 90.8 percent of households in Nigeria drink water contaminated by faeces and other impure substances like E. Coli.
E. coli is the name of a type of bacteria that lives in intestines. Although the majority of these bacteria are harmless, some types can make people sick and cause diarrhoea. The worst type causes bloody diarrhoea, and can sometimes cause kidney failure and even death.
"About two out of every three households use improved water sources, while a little more than one-third use improved sanitation compared to 58.5 percent and 31 per cent respectively in 2011, "Mrs Maureen Zubie-Okolo, a Monitoring and Evaluation Specialist with UNICEF said.
She said although 64.1 percent of Nigerians had access to improved drinking water sources, North-East states were, however, lagging behind with 52.4 percent, while South-West states top the chart with 87.3 percent of its residents having access to improved water sources.
NAFDAC's prerequisites for packaged water; excerpt 
Some of the structural guidelines for the production of quality and safe packaged drinking water stipulate that: "The entire factory premises should be fenced to demarcate it from all other buildings (residential or commercial). The factory must not be sited (located) near a cemetery, abattoir, quarry, sewage treatment plant, sawmill, oil depot (Petroleum and Vegetable) or any such establishment that could be a source of contamination for processing, production and packaging of potable water
"The building should be designed to allow for free flow of personnel and materials to prevent cross-contamination. The building for the production of potable water should be purpose-built or suitably adapted to comprise a minimum of five rooms designated as the cloakroom, packaging material store, production room and finished product store & office."
In terms of washing and toilet facilities, the regulation is that: "Adequate, clean washing and toilet facilities should be provided for personnel. Washing facilities should be equipped with soap or detergent, air driers or single-service towels. This should be walled and floored with easily cleaned and disinfected non-shedding durable material and should have a smooth surface.
"Toilets should be away from the production or storage areas and should be easily accessible to the production area. Sewage, refuse and other wastes within the premises should be disposed of in a safe and sanitary manner."
It further stresses that: "Any building used in the manufacture, processing and packaging of potable water should be maintained in a hygienic condition. The building should be regularly fumigated with approved fumigants in accordance with the food and drug act and the pesticides registration regulation."
Test tube analysis on sachet water sample  
In an effort to ascertain if environmental factors affect the quality of water produced, a sample of sachet water from a pure water factory (PETCEN table water) producing beside a dump site in the FCT was taken for test tube analysis. Meanwhile, a total of nine factories were visited in Lafia in Nasarawa State, Niger State and the FCT, Abuja.
This study was to determine the total bacterial counts of the water sample whether it is in conformity with the acceptable standard of the Environmental Protection Agency (EPA) and World Health Organization, WHO's 1.0 × 10 2 CFU/ml standard.
The test found the sample to be microbiologically satisfactory and confirmed with the Nigeria Industrial Standard (NIS) 2008 of drinking water.
Meanwhile, a laboratory analyst, Olayemi Ibrahim, who spoke with this reporter, explained that although the water was found safe for consumption, the factory's source of water also calls for questions.
He gave instances where factory owners package treated water from the water-board adding that in this case, they spend less and even cut back on the amount of treatment needed to certify the packaged water safe for consumption.
According to him, considering the environment where the water is being produced, there are possibilities that the source of water is not from a borehole within the environment.
"If you have access to the factory, you will be able to know if they are using borehole. We will be able to analyse the content of the water and if we get the content and you are able to gain access into the factory, we will be able to know if they are using that water or not.
"By the time we analyse their raw water, we will know what it entails, if it is borehole we will be able to know what is inside that borehole. If we are able to ascertain what is in the raw water, we will be able to know how effective is their treatment plant but knowing the source of their raw water is important.
"The question mark on this sample is that they may be using direct tap water because I have seen instances, where people will say, is it not treated water from the water board. Clients will come and tell you my water is from water board all I just need is NAFDAC approval," he explained.
However, he noted that the environment where water is being packaged for consumption also does not necessarily matter, depending on the amount of treatment given to such water.
Ibrahim cited instances of water recycling processes where wastewater from rivers, drainage among others are reprocessed, treated and channelled for human use.
"The environment does not really matter depending on the kind of treatment you apply to your water. Although the environment matters to the raw water for instance if the borehole is within that area, you will find a lot of things, the bacteria load much, there may be a lot of faecal contamination but when you suggest that water to treatment all those things will be wiped off.
However,  NAFDAC has to be particular  about the environment because they are not always there to monitor."
"If it is NAFDAC that went to that site, it will be closed down irrespective of the water quality because they will always tell you that your factory should not be close to the dump site. You may be doing the right thing but NAFDAC is not always there to monitor."
A Medical Doctor, Mrs Uchechi Nkiru who offered to speak on the effect of consuming contaminated water cited instances of cholera outbreaks in Kwara state and recently Niger State, saying these are due to unhygienic practices in terms of consumables and the environment.
According to her, cholera which could be deadly if not promptly attended to is either caused by drinking of contaminated water and food.
On the impact of environmental factors on personal wellbeing, she said irrespective of the level of hygiene, the environment where consumables are produced should be considered as it directly or indirectly affects the product.
Nkiru, who cited instances of pure water factories operating in compromising environments said; "For instance somebody producing sachet water beside a dump site there is 50/50 chances that in some cases, there may be the escape of some bacteria like e.coli, Salmonella, there are lots of these organisms.
"You can say you are careful with the treatment but flies can also carry germs around, it could be during the production process. Even if it happens that their source of water is from the water board, there may be issues of burst pipes and with the virtue of the environment the factory is located, it is quite dangerous to the health.
"There are multitudes of organisms that are waterborne if it is e.coli you could get diarrhoea if it is Salmonella you could also get diarrhoea and some typhoidal kind if illness. Like typhoid, it could be waterborne or food-borne."
NAFDAC Speaks
When contacted, the National Agency for Foods and Drugs Administration Control  (NAFDAC) affirmed the situation but explained that there are cases where manufacturers lower their standards after getting the required certification from the agency.
Speaking to Sunday Tribune, the Director of Special Duties, Mr Abubakar Jimoh, said this led to the establishment of the post-marketing surveillance and enforcement department in the agency.
His words: "Generally speaking, NAFDAC is aware and conscious of the fact but first you need to find out from the database maybe these companies are registered. We are not oblivious of the fact that there are instances where we have registered a product and immediately we turn our backs the people will lower their standards so that is part of the reason the post-marketing surveillance and enforcement directorate was created.
"Any organisation that has been certified in terms of Good Manufacturing Practices, GMP, in terms of the location, personnel and equipment, product and laboratory analysis and they now lower the standards by virtue of the registration certificate given to them, they have offended the law. We are going to investigate the complaints, we are aware of the fact that there are instances where we register a product and immediately they get their licenses, they lower the standards, there is nothing new about that."
Jimoh who noted that the shortage of manpower has also denied the agency the opportunity of performing up to expectations in terms of routine inspections.
He said: "It is not true that NAFDAC is not doing what it should do, allegations like this will always come up but when you investigate you will find out that it is just a mere figment of the imagination. We have a routine inspection but I must confess that we cannot cover all the places at a go. How many things under the sun have you reported? There are limitations and that is why in an attempt to bridge this limitation, we try to partner with people and that is why are partnering with the local government, communities and public enlightenment campaign. We cannot be everywhere in terms of our numerical strengthen, vehicular movement and logistics but all in all it is not an excuse."
It is worthy to note that for Nigeria to achieve the Sustainable Development Goal 6 (SDGs) which is to ensure access to safe drinking water and sanitation, thereby reducing the menace of waterborne diseases, the Federal Government (FG) through the NAFDAC must on its part, ensure massive clamp down on packaged water factories producing in unhygienic conditions.