Fast-rising actress, Bukola Makinwa, is one of the new faces in the movie industry. With just about six years in the industry, Makinwa, a graduate of Oduduwa University, Ile Ife, Osun State, has shown that she is in the make-believe business for real. In this interview with SEGUN ADEBAYO, she speaks about the challenges she faced when she began, the beauty of being an actress, among others.
The movie industry is always a very hard one for new actors to get in. How would you describe your journey into the industry?
The journey has been quite interesting, though it was not rosy at first and I found it quite difficult settling in because I thought things were going to be easy but I was wrong. These days, I tell those who want to join the industry to get ready for the real deal because you may be shocked at the kind of things you would be exposed to.
Things like what?
I don't need to start explaining all of that but I know the journey was not all smooth. I faced some very strange and challenging times being a beginner. The industry is not meant for the lily-livered. You just have to brace and get ready to face the situation. There would be things that would be thrown at you that could make you feel bad about yourself. You have to work hard and rise above the odds that may rise against you and get the job done. This is my job and I thank God for how far I have come on the job. The journey continues from here. Right now, I am looking forward to bigger opportunities coming my way because I believe I have paid my dues and still paying.
To what extent are you willing to take on new opportunities?
I have worked hard over the years to put myself in a prime position where I could be considered for jobs that are befitting of my career and status. Rising to this stage cost me a lot of hard work and commitment. So, whatever comes up regarding my career, I am ready to give it my best.
Fulani and origin of the names "Yoruba" and "Yamiri"
What was the experience like for you when you were faced with your first movie task?
My first experience as an actress was so bad that I could not even remember what I was asked to do on the scene. I could not even speak up. I was shy. I felt so humiliated. I was just looking so lost and confused because the crowd was so much. I didn't give up on my dreams to become one of the most respected and successful actresses in Nigeria and I am working towards fulfilling my dreams.
At what point did you make up your mind to become an actress?
I have always been fascinated by acting since I was a child. I can't remember loving another job or profession as much as I love to see myself on the screen acting. Right from my tender age, everything that came to my head was to be an actress. I knew what I wanted to do with my life right from the very first day, it was only a matter of time and chance. The moment the chance presented itself, I didn't wait the next minute. I embraced it and that's how I found myself in this business of make-believe.
As an up-and-coming actress, is it true that some of you are always subjected to some conditions that you could not say no to?
I have had to go through different stages of challenges. You can't talk about someone that went through challenges and you would not consider me as one of them. You can imagine when someone wants to force you to do what you don't want all in the name of being a senior colleague. It was so sickening that I wanted to just walk away from the industry.
So you almost walked away?
I almost walked away but I am glad I didn't walk away. But it was really a tough time. If I tell you it was easy dealing with that moment, I would be lying to you but I pulled through because I was determined to be what I wanted to be no matter what anybody does. I wanted to build my career and make a name for myself. I wanted to shoot my movie. I wanted to take my career round the world, so when I remember how and why it started, I am encouraged to keep going.
Why did you choose to be a Yoruba actress?
First thing that you need to know is that I am a proud Yoruba lady with so much passion for its culture and tradition. It was just my choice that I am in the Yoruba movie industry.It does not have anything to do with language deficiency. To the best of my understanding and knowledge of English, I don't think I would not excel in the English movies If I had decided to pitch my tent with that sector. It was just my choice and I am happy about that choice.
Was this because you found an easy sail in the Yoruba movie industry or you are just not ready for the English game?
There is nothing so special about the English movies that I can't handle. Everything about life is about the choice we make and our ability to live by those choices and be happy with it. I have done a couple of English movies too and I can tell you that it is not special. The difference is the communication. I am proud to be in the Yoruba movie industry.
How have you managed to stay on top of your game for the past few years?
I don't know how I have stayed on top because I don't think I am doing anything special. I am a very calm and calculated lady. I don't rush things for whatever reason. I have never stopped believing in myself and my ability to deliver on any job I am given to play. Having said that, I have never stopped learning from the elders in the industry.  I don't know if that is what has helped me to stay on my game but I don't think I am on top of my game yet.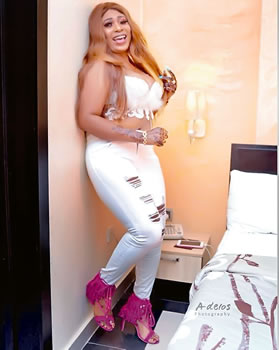 Which of those movies you featured in gave you the break?
That would be Kesari produced by Itele. It was one movie that I received so much calls and commendations. I was so happy being in the movie. I have been in a number of movies after then and the reactions have been positive.
Is it true that you have to be a producer to be free from sexual harassment?
I really don't like talking about this topic. I have heard a lot of my colleagues with all kinds of experiences they have had, and I can't fault their claims but the fact is that sexual harassment happens in every sector. We have heard cases of lecturers harassing students and even students harassing lecturers. My experience is not something I really want to share on this platform. It is not new but I don't want to go into details. My determination not to allow anyone take advantage of me has also helped me a great deal.
Can you share some of your bitter experiences as an actress and producer?
I am not going to disclose that. The experience was untoward and distasteful. Let me just say I had a bad experience when I was going to produce my first movie. Let us just leave it that way. You just have to be humble so that you will be called for more jobs.
Is acting the only job you are involved in. Some of your colleagues say movie making alone can't pay the bills. Is this true?
Yes, it is true that acting alone can't pay our bills. The bills keep increasing and you can't stay on one income unless you don't want to be truthful to yourself. So, I'm into business.
As a beautiful lady with so much attention, how do you cope with men and their advances?
I am coping well. The attention has always been there and would be there but you can deal with it if you are careful and respectful. Whether you are an actress or not, as a lady, you can't run away from attention from men.
EFCC receives petition against Tinubu over bullion vans
When are you settling down?
I will settle down at the right time.
When is the right time?
The right time would present itself but hopefully very soon.
Would you love to be married to an actor?
No, I can't marry an actor.