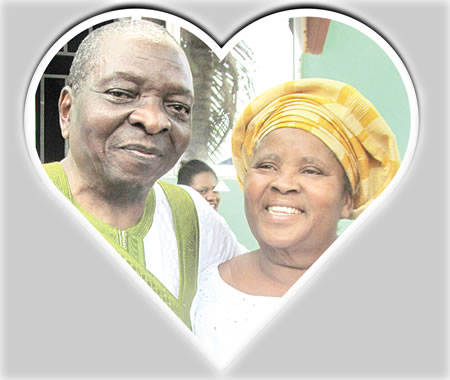 AS a young man Pastor John Olusola Ojo looked forward to having a home, with a woman by his side and children all around him, living together forever as a happy family. Though from a humble background, the young Olusola Ojo soon came across a young lady by name Olabisi whom he fell in love with. She has a funny and cheerful character that charmed the young man. The lady too, though from a more comfortable background found love in the eyes of Olusola Ojo, thus starting a relationship that would continue for almost half a decade now.
However, there was an obstacle. Olabisi's uncle who was the bread-winner of the family had a different idea for a personal reason. He would rather want his niece to marry his colleague at the Nigeria \Railway Corporation, a senior railway driver to marry Olabisi, but she would have none of that. Her heart was already with Olusola Ojo and she was ready to stick to him, despite his poor background, whatever the situation.
For refusing to toe his line, Olabisi was often victimised by her uncle but that did not dissuade her. In fact at a point in time she was taken to far away Kafanchan in Kaduna State so that she could forget Olusola Ojo. Undaunted, she soon found her way back to him, to assure him of her undying love.
Today all that have become history as 46 years later the then young Olusola, now a pastor in his 80s, decided to have the traditional wedding he could not have back then. The traditional wedding was fixed for Tuesday, 12th September, 2018 and it had all the trappings of a young couple about to wed. Any invitee not in the full know of the characters involved must have expressed deep surprise at the two, wondering why a grandmother should take the place of a young bride in a traditional wedding, not knowing that the grandma herself was the bride and the octogenarian the groom.
As of the "wedding day," 84-year-old Pastor Ojo and 70-year-old Iya Ojo as she is fondly called have been together for about 46 years as statutory husband and wife.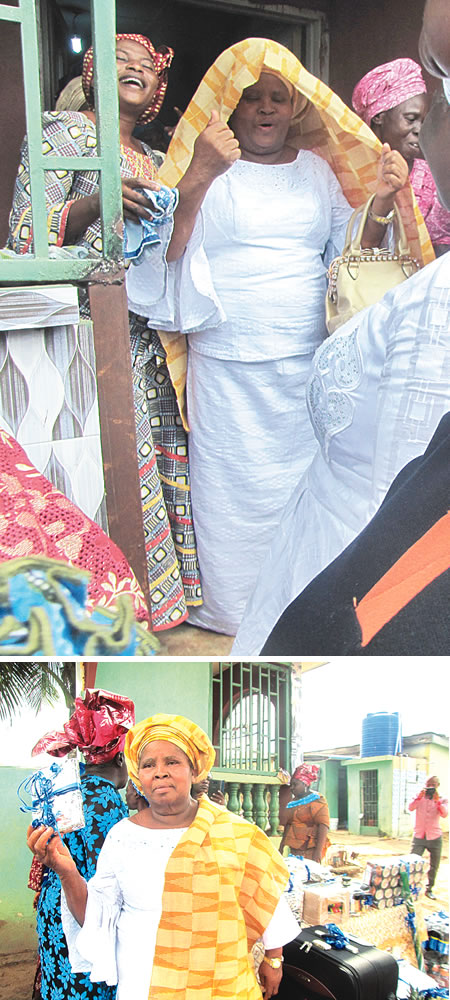 In response to curiousity from people who wondered why it took so long to decide to pay his wife's dowry, Pa Ojo took up the story. According to him it was not his intention to delay paying the dowry but the delay was caused by his in-laws.
"It was not because of disrespect of any form to my in-laws or the Yoruba tradition, neither was it due to my financial background but due to the position of my wife's uncle who was the bread-winner of the family at that time," he sated.
Pastor Ojo who is the founder of Christ Apostolic Church (CAC) Odi-Ajaye Zone, Nigeria and Overseas, noted that he had wanted to do the right thing as other young suitors do but his prospective in-laws then would not allow their daughter to marry him because they had other ideas.
Going into further details, Pastor Ojo, the only surviving child of his mother narrated that having fallen in love with the funny character of young Olabisi, he did not waste time to propose to her and Olabisi agreed but her uncle was the obstacle.
"On many occasions, her uncle will beat her into coma so that she could denounce me. Because of Bisi's determination to marry me, she would not change her mind even when her uncle took her to Kafanchan in the northern part of Nigeria, with the belief that distance will remove my love from her heart. One day, after serial persecutions, Bisi returned to me and assured me that even if I had married five wives, she is ready to become the sixth.
"When all persuasions to make my in-laws accept their daughter's bride price from me failed, the General Superintendent of the Christ Apostolic Church, Nigeria, advised us to go by statutory marriage through which we were certified as husband and wife in 1972. Few years into our marriage, my in-laws had a change of heart; since then we have maintained a good rapport," he said.
Underscoring the change of heart by his in-laws, Pastor Ojo said that at a point in time his father-in-law was sick and brought to their home where he stayed till he was healthy enough to return to his house.
After years of marriage the in-laws were so satisfied with the way things have turned out with the Ojos that nobody remembered to ask him to pay their daughter's dowry.
"In fact, the relationship with all my in-laws had been so cordial such that nobody was asking for bride price anymore but because of my belief as a Christian, bride price is a must in God's view; so I must pay it, at least if it is just to show how much I value my dear wife – Olabisi.
"Today I give all glory to God for sparing my life to see today. I have to tell you that my mother gave birth to four children before me. Three died within a short period.
"My mother decided to have one more child. I was about six months old in her womb when the fourth child died. I was born at a Revival ground during a crusade organised by the Late Apostle Ayo Babalola and Evangelist Babajide at Oke-Oye, Ilesha.
"In fact, according to the secrets revealed to me, part of the plan was to have me killed before I was born in the twelfth month at a weeklong revival programme by Apostle Babajide. I will forever be grateful to my mother's elder brother, Chief Judge Abioye Olufayo, the Aro of Ilare-Ijesha.
"He fought vigorously to an extent that the people of Ilare till date still believe he is my biological father as much as he did to save my mother from that untimely and painful death. But in spite of all his efforts, my mother could not survive with her sixth child inside her," he recalled.
The 'bride' while recalling the good old days when the whole story began, said she was determined to marry Pastor Ojo because of his poor background.
"I knew I could take care of him, I concluded so because my parents were financially buoyant – my mother was a produce buyer while my father was a commercial farmer. But to my people, he was poor beyond redemption, they called him 'one-man-one-jacket.' It took much pacification before I was allowed to marry him," Iya Ojo said.
Reflecting on their marital life, she said: "I thank God for his mercy on both of us, our children inclusive for whom we have become today. I have to thank Him especially for His special kindness to me. Up till this moment, I have never had any cause to regret that I married my husband.
"Most especially, I am grateful to God that I am also among those women who were married traditionally; appreciating me before my people by paying my dowry. I am indeed happy that it happened to me," she enthused.