Why Gov el-Rufai must change his leadership style —Archbishop Amoo
Most Reverend Israel Afolabi Amoo is the archbishop of the Kwara Province and bishop of the Diocese of New Bissau Church of Nigeria (Anglican Communion). In this interview by SEYI SOKOYA, he highlights some challenges facing Christians in the North, among other issues.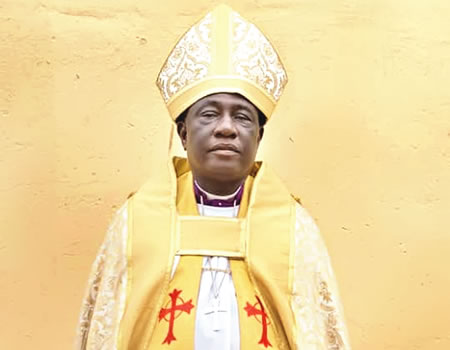 Authorities of the Anglican Communion have just commissioned you to oversee the Kwara Province in addition to your current office as the Archbishop of Guinea Bissau. How do you feel about the role?
I feel humble. I am seeing the hand of the Lord in all of it. I also feel that it is a challenge for a greater task ahead, especially with the fact that I am coming from a humble background and having come to the priesthood, even as a lawyer. I think this is a rare privilege from God for giving us the opportunity to serve in the vineyard. Though this calls for more commitment and devoting more time to the work of God, because now that one is serving a larger Christian body, it requires more commitment in terms of programmes and leading a group of people and life style. It is a position that one must lead by example.
 What do you think stands you out for the expansion of your office?
I think it is just the grace of God, especially when one considers that there are better hands and even seniors in the priesthood and bishops that are ahead of us. God has His own way of doing things. He also has his unique ways of giving one an assignment and one must do all he can not to fail God, as well as His people, because he has put His confidence in us.
Considering your experience in church leadership, what do you think church management entails?
When we are talking about the church, we are talking about the combination of people of diverse understanding, temperament, outlook towards issues, and different backgrounds. The level of understanding also differs. However, as a church leader, we must not be tired of explaining and repeating the true teachings, as well as learn to bear with all the time. Sometimes, some people get overexcited and others are not excited at all. Sometimes, you find people that are givers, while you also find people that are not givers and all manner of things. One of the principles I learnt as a leader of the church is to encourage those who understand and also take time to speak with those that are neither here nor there and for those who appear not to understand at all, I take time to make them understand till when they know what we are teaching them. So, these principles are essential, because it is very important in church management. Those that do not have the ability to give today can have the ability to give tomorrow and that is all about life. Giving hope to people and assuring them that tomorrow will better and good, personally, is a principle that I have embraced and do my best to keep to.
You have travelled far and wide in the cause of your calling. Given your level of exposure in the vineyard, how would you describe the church in the Northern part of the country, especially when compared to the experiance in the Western axis of Nigeria?
The understanding the church in the North is not the same to the West or in the other parts of the country, because of its challenges. The church is faced with the challenges of religion, culture, education and leadership in the North. The leaders are not accommodating most of the time. Leaders from the southern part of the country still embrace people of other religions than the North; sometimes they support and even show more sense of belonging. It is not the same in the North. They hardly embrace people of other religions; they deny us of land, our rights, and so many things. So, I feel the religious leaders need to speak with the political leaders to carry all of us along, because we are all Nigerians. There are lots of Christians in the North; so, it is not ideal to deny people of their rights and even hinder them practising their religion in good faith. If we genuinely want to move this nation forward, we need to embrace one another.
Are you saying the northern part of the country is not friendly towards Christians?
The political leaders are not helping matters at all, especially in the Muslim-dominated areas. They are not helping or encouraging Christians. One may not use the word hostile, but the fact is that they need to do more to bring all of us on board. We want a change of attitude, policies and principles that will make us feel as citizens, irrespective of wherever we find ourselves in any part of the country.
The government of Governor Nasir El-Rufai of Kaduna State came up with a policy that churches in his state obtain permit before holding an open crusade or church programmes. What is the implication?
That is part of what we are saying. Why would the governor of a state claim that he knows that Christians will not vote for him? Is he saying that there is an Islamic party? It is time we shunned statements that will create enmity or hatred in the society.  There are also Christian-dominated local government areas. There are party members there. I think people need to weigh their words before they voice out. I don't think it is a good way of expressing oneself. I feel the governor should change and he has to watch his words.
As a lawyer, how difficult was it for you to adjust to the service of God and humanity?
Yes, I trained and practised as a lawyer until when I became a bishop. I had no choice, but to dump legal practice for the work of God. What can I do when one cannot embrace two things at the same time, especially, God's work? So, I had to drop it in order to adhere to the call of my Creator. It is God's commitment and I have to embrace it and follow Him. The truth of the matter is that the reason I love practising Law is because that is what I have done all my life. I have a greater commitment and at my level now, I cannot be going to court; I am now a church father and I am happy with how God has designed my life.
Clerics are often confronted by different forms of temptations. How do you cope when such situations arise?
It is through the grace of God, because nobody is perfect. I think the major reason clerics fall into one temptation or the other is because they are losing focus. Whether one is a cleric or not, temptations will always come, because it is part of human race. It has been in existence from the day of Adam, and it will still be with us till the end. But the point is that we must understand the person that sent us on an errand. What is the mission about; how are you doing it and what is going to be your report back to Him. As a cleric, when you are able to answer those things, you already have a focus. Nobody is bigger than temptation; so, you must always be in touch when there is the need to take consultation perhaps from senior and junior colleagues. We should always ask for peoples' prayers. However, most people that fall into temptations are those that are difficult to be corrected. So, we must always learn to be prayerful and committed to God.
There are claims that Christians have deviated from the core values of Christianity: truth and evangelism. What do you have to say concerning the issue?
I think the bottom line is for all of us to go back to what it was in the beginning. The focus of the church, many years before now, is not on material gains. The missionaries that came were not acquiring wealth for themselves. Instead, they were establishing schools and hospitals. Their major concerns were to impact on the society, and not for their purses. But, what we have today is different; many are interested in worldly things, which have even resulted in competitions among clerics and churches. All these things are taking us away from what God asks us to do. I want to urge everyone; especially fellow clerics to focus on what God asks us to do. He is calling us to be faithful. He has not called us to amass wealth or material things. You don't need to be a cleric to make money or build houses. A true cleric is called to a specific assignment and we must not deviate from God's assignment.