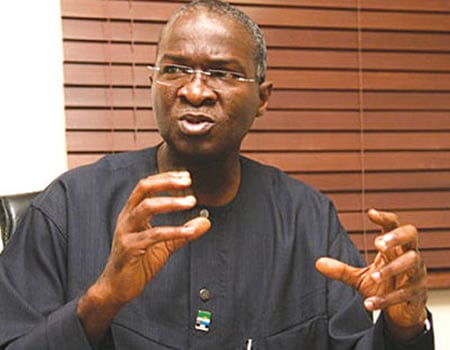 THE Federal Government (FG) on Tuesday said deficiencies in substations apparatus and control subsystem, improper project scoping among others are factors responsible for the several failed attempts at delivery of functional Supervisory Control and Data (SCADA) and Energy Management System (EMS) in the power sector.
It said the Transmission Company of Nigeria (TCN) had made attempts in 1990 and 2004 to deliver on the project but had led to implementations that were not fully functional.
The Minister of Power, Works and Housing, Babatunde Fashola made the disclosure in Abuja on Tuesday at a two-day workshop on SCADA/EMS/Telecoms organized by the Transmission Company of Nigeria(TCN)
He said: "TCN has tried over the years, to deliver a functional SCADA, EMS and telecommunications system. The attempts in 1999 and 2004 led to implementations that were not fully functional for reasons ranging from substations apparatus/control subsystem deficiencies, improper project scoping to unsatisfactory project execution and deficien2caoacity of the intended users and operators of the system.
"There are many reasons for TCN's serial failures to deliver functional SCADA and EMS. One important reason is perhaps that consultation with the eventual users and beneficiaries of SCADA and EMS on their needs and expectations, and approaches to achieving them were not wide and deep enough."
Fashola who spoke through the Permanent Secretary, Ministry of Power, Engr. Louis Edozien stressed the importance of SCADA to power operators, noting that some operations which ought to have been long automated are still being carried out manually.
ALSO READ: Osun 2018: PDP screens 11 aspirants
These he said include: instructions to distribution companies to increase or decrease off-take at trading points which are still manually done through the use of ad-hoc communications, allocation of available load to generation companies manually without acceptable levels of transparency.
He also added that supervision and control of the lines, breakers and substations for an effective response to normal and unexpected incidents are still not automated and data-driven.
In view of this, he expressed FG's readiness to successfully implement the project, which is to be executed under the Transmission Rehabilitation and Expansion Programme (TREP).
He said to ensure its delivery, it included SCADA and EMS in the recently approved World Bank-financed component of TREP.
The Minister, who stressed the importance of a functional SCADA and EMS in the power sector said Nigeria, being a net exporter of power into the West African Power Pool (WAPP) cannot effectively discharge its roles without a functional system.
He said: "Nigeria, as a net exporter of power into WAPP, is playing an important role in the integration of transmission networks of electric power utilities within West Africa."
However, Fashola noted that the new SCADA and EMS system; "is expected to optimize existing facilities and procure new systems, infrastructure and outsourced services for a successful and complete rollout of effective supervision, control and monitoring of all power stations and substations connected to the national grid."
Earlier, the Managing Director ( MD) TCN, Gur Mohammed who spoke on the review of the SCADA feasibility study report said the project was included in the TREP, which seeks to expand and stabilize the grid, thus provide necessary flexibility and redundancy consistent with the N-1 reliability criteria.
He explained that prior to the workshop, a review committee was set up to provide reasons for the several failed attempts at establishing effective SCADA-EMS in the TCN.
Mohammed noted that: "as part of the implementation of TREP, we are making a conscious effort to address the recommendations of the committee. As part of the quality control measures, we decided to organize this workshop to review the scoping report in order to ensure we improve the quality of the document.
"We believe with the contribution of all stakeholders present here, TCN would be appropriately positioned to acquire a state of the art, a world-class SCADA-EMS facility that would stand the test of time."