Why female students now have better grades in tertiary institutions —Oladebeye, Rector, Fed Poly, Ado-Ekiti
Dr Dayo Oladebeye is the first alumnus of the Federal Polytechnic, Ado-Ekiti, Ekiti State, to become a substantive rector of the institution. He graduated from the Department of Mechanical Engineering as the overall best student in 1986. He was a Head of Department thrice and was elected director of the Olusegun Obasanjo Centre for Engineering Operation and later as Dean, School of Engineering and deputy rector. He speaks to FAVOUR BOLUWADE about the state of the institution, among other issues.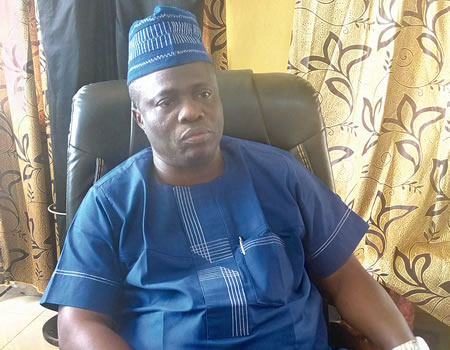 What has the experience been like since you assumed office?
Well, looking from the outside, when you are not in the saddle, you might have the erroneous belief that it is a tea party but honestly, it is not. It is a challenging job in that you have a whole community to lead. Talk of the academic staff, the non-teaching staff, students and the staff unions. There are the polytechnic community and the community in which the polytechnic is located. All these come with different challenges. So, when you are in this seat, you are confronted with a lot of challenges every day. It is a lot of work that takes a good part of your time and if you are not careful, you will have no time for yourself.
It is a prestigious position but it comes with lots of challenges. You have to be a very good manager of men, materials and money so that you don't mess up. Everybody is looking up to you to take one decision or another. These are the challenges but I have seen God in action. If you are in this type of position and you don't have God on your side, it is not going to be easy.
In what state did you meet the polytechnic and what are your plans for the institution?
When I was deputy rector, I was able to move very close to administration and I saw many things that happened firsthand. This is a polytechnic that was always in the news for the wrong reasons. Hardly did a month go by without the polytechnic being in the news. I had that in mind. I studied the situation. I knew that most of the problems bordered on staff welfare, so I was prepared to, within the available limited resources, address staff welfare head-on. When we came in, we met a huge debt in terms of unpaid allowances and backlogs of salaries that go back to 2007. I must commend the effort of the present council. We worked in synergy and found a way to make the staff members happy by paying those salary backlogs.
We met a debt of about N600 million but we started paying. Still on staff welfare, we embarked on the promotion of staff without delay. We did the necessary upgrading and we are poised to do more. That is what this administration is doing. For the past two years, there has been peace all over the place.
As a former student who witnessed series of students unrest that sometimes led to the closure of the school and disruption of academic calendar and as someone who has a good idea of what the grievances usually are, what measures have you taken to ensure peace and stability in the institution?
We ensure that we deal with situations accordingly. We operate an open-door policy and we give the students listening ears and explain things to them.
The dichotomy between polytechnic and university certificates has continued to persist with preferences usually given to graduates from the latter. Do you think this is a healthy situation?
I quite understand that there is dichotomy but it is now on the decline because the society has realised that it is not only university education that can take one to the Promised Land. Polytechnics are saddled with the production of middle-level and high-level manpower. I think the society has to come to realise that technical and vocational training is important if this country must move forward. It depends on individuals. We have HND holders that are very good and some are very bad. We also have university degree holders that are very sound and some are very poor. So, it depends on you.
I had a friend who was studying Mechanical Engineering with me. He said he would like to go to the university even if it was Yoruba that he would study. What is the correlation between Yoruba and engineering? This is the extent people go to talking about this dichotomy. Many have made contributions in regard to this dichotomy. Polytechnics could be made to be awarding degrees in the disciplines if that is what it would take to solve the problem. But even before that is done, I don't see any problem since there is academic growth. The path is already defined. I would have done masters straight but with HND, despite spending the same number of years as getting a degree, I had to go for 18 months or two years of post-graduate diploma which they call a bridging format before you are now admitted for masters. But one thing has always been: it depends on the individual. I was in master's class after my PGD in the East and we had degree holders who were also admitted for the same programme and none of them could beat me in class. No matter how good an HND holder is even after having masters and PhD, he cannot teach in the university. This is one of the fundamental problems we are having in this country. My younger brother who finished also with the rector's award in 1986 with 4.8 CGPA, by the time he got employed with his HND and PhD in one of the universities which I won't mention, he had to get a BSc after PhD. He was already married with three boys and he still had 4.9 for his BSc. Such a person did not need to go back but he felt he should because of the dichotomy. You can see what the dichotomy has done to us now.
How do you bridge the gap between entrepreneurial development and academic teaching for students with the high rate of unemployment in the nation?
Well, there is an adage that says 'you can take a horse to the river but you cannot force it to drink'. On our own part, our polytechnic is adjudged the best in entrepreneurship, vocational studies. Sometimes all the polytechnic rectors in Nigeria came here to understudy what we are doing. What does that say? It says we are doing what is necessary in terms of entrepreneurship development among the students. We also make sure that we go into the practicality of it by introducing a lot of skills that students could engage in. They say practice makes perfect. We believe that when they begin to apply those skills, it will get to a stage that they will become perfect to the level that they leave the institution and build on that. Why do we need that? Because of the absence of white-collar jobs, which even when they are available are available to only very few. We have seen many students who have established their own businesses. That is one way of engaging oneself as a youth without resorting to social vices like Yahoo-yahoo, youth wanting to get rich quickly or girls engaging in prostitution.
Sport is very nice but I do take offence nowadays. During our own days, it was not like this that a child who is sent to school would want to watch the entire European league matches from the beginning to the end. It is a way of relaxation but if it becomes an everyday thing, it is bad and that is the trend among our youths today. Those footballers they are watching are doing their business. They are making money but many of our youths don't do any other thing during the day than looking forward to a match that would run from 8.00 p.m. to 11.00 p.m. and then you find them moving about in groups after the match. Now, what have they gained from doing that? This is the trend among the youths which is becoming very dangerous, especially for the males. So, if you see the females in the tertiary institutions collecting all the prizes, don't be surprised. Most male students believe in using their time for Yahoo-yahoo or fraud, a very dangerous trend in this country, and one is afraid for the future of our dear nation.
How have you used the advantage of being the first alumnus of the polytechnic to become the rector to move the institution forward?
As the first alumnus to be in this saddle, nobody can be more passionate about the development of this institution than me. As a former student who knows what this polytechnic was thirty-something years ago, definitely, I want to leave the institution better than I met it. One of the problems I met is the condition of our roads. The road network is bad. I have gone to other institutions. It is like the road network in this polytechnic is the worst I have seen and the situation has been like this for a long time. So, one of those legacies I would like to leave behind is to see the road network improve tremendously.
Very soon, a set of people will come in who are also very concerned about the development of this institution. Another project that is paramount is to have a 3,000-seater auditorium where we can have our convocation ceremonies, public lectures and inaugural lectures rather than using the sports complex. I want to leave an institution which would rank others in the comity of polytechnics or tertiary institutions in Nigeria, West Africa, the whole of the African continent and the world.