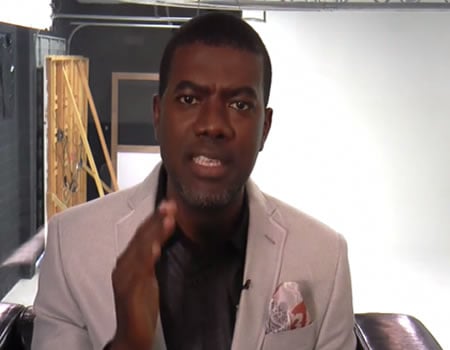 SPECIAL Assistant to former President Goodluck Jonathan on New Media, Reno Omokri said at the weekend that the former Inspector General of Police, Suleiman Abba lied against former President Goodluck Jonathan in his claims in the media that the former President failed to confirm his appointment because he refused to rig the 2015 election.
Omokri in a statement made available on Sunday said that Abba lied in his claim that ex-President Goodluck Jonathan sacked him as IGP because refused to rig elections in favour of the Peoples Democratic Party during the gubernatorial elections in Osun State.
He quoted Abba as telling an Abuja based newspaper on Sunday, August 26, 2018 "One of the leading stalwarts in the PDP then said to me: 'IG (you know I was acting then) deliver Osun to us and we will confirm you quickly.' I was shocked! That was when I knew that I may not last long in the office."
According to Omokri, the former IGP was a proof of the fact that "liars need a very good memory otherwise they would contradict themselves with their lies."
According to him, the Osun State gubernatorial election held on Saturday, August 9, 2014. The result of that election was declared the next day on Sunday, August 10, 2014.
He stated that Suleiman Abba was appointed acting Inspector General of Police on Friday, August 1, 2014, and sacked from office on Monday, April 20, 2015.
He said: "If it was true that Mr Abba was sacked for refusing to rig the Osun State election, which held on August 9, 2014, why would former President Jonathan wait for 7 and a half months before sacking him?
ALSO READ: Osun 2018: Omisore's allegations are laughable ― REC
"If it was true that Mr Abba was sacked for refusing to rig the Osun State election, which held on August 9, 2014, why would former President Jonathan keep him in office to preside over the Nigerian Police Force during the more important 2015 Presidential election which was even more crucial to the then President and the PDP?
"When juxtaposed with these facts, the accusation of the former IGP of Police makes no sense to reasonable men and women.
"Former President Jonathan is known as a man who is not desperate for power. He has a reputation for providing the enabling environment for free and fair elections.
"As a matter of fact, when the current chairman of the All Progressives Congress, Adams Oshiomhole, was re-elected after the June 2012 gubernatorial election in Edo State, the then Edo State Governor said on July 15, 2012, as follows:
"President Jonathan has demonstrated statesmanship. I think there is hope for Nigeria. What the Edo election has confirmed is that when the President and Commander-in-Chief puts the country first and conducts himself as a statesman, not just as a party leader, credible elections are possible."
Omokri added: "This testimony, from an opposition governor, who was opposed to the re-election of President Jonathan and who is now the chairman of the APC, completely rubbishes Mr Abba's statements.
"For the avoidance of doubt, Mr Suleiman Abba was sacked for dereliction of duty, because under his watch, the Resident Electoral Commissioner of Kano State, Alhaji Mukaila Abdullahi, was burnt to death with his wife and two children on Friday, April 3, 2015, under suspicious circumstances after he had reported incidents of severe electoral fraud in his domain.
"When confronted with this suspicious death, the then acting IGP of Police gave contradictory and unsatisfactory answers. As a leader who valued the sanctity of human life, former President Jonathan ordered the sack of the then acting IGP and appointed Deputy Inspector General of police, Solomon Arase, to act in his stead and get to the bottom of the suspicious death.
"I, therefore, urge Mr Abba to find other ways to ingratiate himself to the current powers that be and leave former President Jonathan out of his lying schemes and plans."