Why Christian leaders are afraid to confront government —Olubo
Prophet Bayode Olubo is the visioner of the Housefavour Church, Lagos State. In this interview by SEYI SOKOYA, he speaks on some challenges facing Christianity. Excerpts: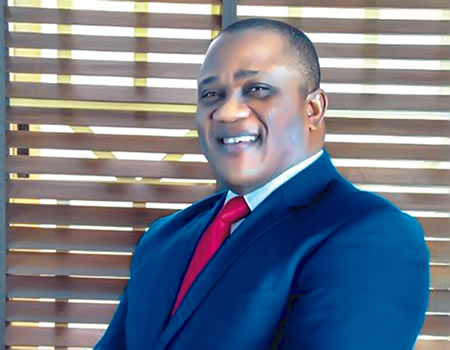 You recently held a crusade in Abuja. What actually informed it?
My first experience in Abuja was in 2009, when I attended a conference organised by Pastor Paul Adefarasin and the second time was when I went to retrieve my passport in 2012. I never had it mind to stage a crusade in the capital city, because I had no branch of the church there, although I have friends and people I came across through social media broadcast there. I was in the United States, when God spoke to me through a white woman, who came to consecrate my mentor that I have an assignment in Abuja. My reaction to the revelation was not too pleasant, so I ignored it. Most times, I like to hear from God directly. It is not as if I doubt prophetic words, but I always want to confirm if it is the will of God. It is not new that some prophesies are influenced by emotion, poverty, stomach, association and even divine revelation. One of the major reasons I was skeptical about complying to the will of God about extending the evangelical ministry to Abuja was that the city, including majority of the people living there are full of packaging. However, with the support of positive-minded people in the city, we were able to hold a powerful crusade entitled: Unlimited Favour and I thank God that the programme was a success.
Crusades have become a fad among churches. How would you react to claims that clerics now use the avenue to amass wealth, especially through funds generated at crusades?
People who claim that churches make money either through crusades or meetings, do not understand the intrigues behind the church. A genuine minister will receive divine help. No matter how rich a church is, one cannot sustain it through offerings. For instance, we spent over N1 million for the crusade and what was realised as offerings was nothing to go by. That was and is not our main goal, anyway. My joy is that we were able to achieve God's mandate by preaching the gospel and also liberating people from the kingdom of darkness. The programme is not one-off. This is an assignment given to me by God, so as to spread the gospel. We had one in Osogbo, and we just held that of Abuja. Now, we are moving to Ado-Ekiti, with plans underway to move round the states. God told me that the dimension of my ministry is not just one. Presently, I am going to a mission field and I am always happy doing this. This is an expansion of the ministry. We are not called to be preaching alone in the four walls of our churches. The ministry is centered on two things: welfare, especially for the widows and winning souls through missionary work. Despite the fact that I host widows across the federation every December, I have a greater vision for these people so that they can experience a comfortable life. So, I describe the two as a prophetic apostolic mission.
Some clerics often claim to operate a number of empowerment schemes, yet  most of their church members wallow in poverty. How will you react to this?
I can only speak for myself. The funds I use in supporting church projects are majorly raised outside the church. The facts are there for anyone to investigate. However, I often give my best to teach and empower my members on how to equip themselves. Despite the fact that the money coming from the church is not enough to maintain her, I am not relenting in my prayers to bless her members more. They are trying in their own way, so I don't have to force or crucify them. Personally, I cannot explain how God has been blessing me; I just know that I have been enjoying divine grace and favour. If I am really eager to see the story of my church member change for good, why do I have to complicate life for them? I cannot start mentioning what I have done for many of my church members. That has become part of me and I derive joy in making people around me happy. Personally, I love good things about life, but not at the detriment of those that are suffering.
Why do you think most Christian leaders in the country are too silent on the worrisome state of the nation?
Most Christian leaders are afraid of losing their empire, just as most preachers are self-centered and selfish. They claim not to be attached with politics, but they play politics in the church. The politics in the church is even worse than what happens in the mainstream political parties. Why are they afraid of crises? God Himself had experienced crisis which He resolved. So, there is no way His creation would not face one challenge or the other. We should not shy away from addressing issues and making things right. God left His comfort zone to the earth without money to execute a fresh project, but with the power of spoken Word, He commanded that light should come out. So, the assignment God has given every cleric is to speak light into the world, where there is darkness. When you shut your mouth, you are shutting destinies up and cutting off lives. It is unfortunate that Christian leaders are not speaking out. This empire may crumble someday. Mind you, not many people can carry community or church burden, but our leaders, under one voice, should be able to rise and speak for the Christian body.
What are your expectations President Buhari begins his second term in office?
This government has nothing to offer us; one man cannot run a nation. A leader without a good team will mess up the nation. President Buhari has integrity, but everybody surrounding him is self-centered. I am not talking about religion now. He is a man of integrity, but his teammates have nothing to offer us.
The preparation for the leadership of the Ninth National Assembly is gathering storm. What is your take on the intrigues going on among the newly-elected lawmakers?
I don't think we need these people. They are only wasting our resources. They are self-centered and they deserve no honour. There is nothing honourable about them. They have absolutely nothing to offer us. Look at what happened in the Eighth Assembly; they could not pass the 2019 budget for seven months. They don't deserve any honour and I don't think Nigerians should expect a magic from the incoming legislators.
What is your take on the claim that the government is making move to Islamise Nigeria?
Nigeria is too big for one religion. What I have discovered is that it is going to be a government of intimidation. This is why they are clamping on the media.