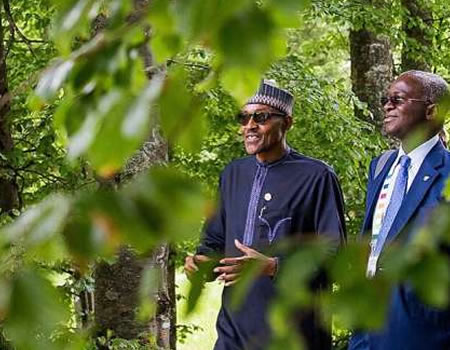 THE Minister of Power, Works and Housing, Babatunde Fashola has explained that the administration of President Muhammadu Buhari has in the last three years invested a huge sum in infrastructure compared to previous administrations.
He said so far, a sum of N529 billion has been expended on critical infrastructure for transport, electricity and housing.
Fashola who stated this at the south-west town hall meeting held in Ibadan, Oyo State capital said;"In 2015 when you elected this government, the budget for these three ministries, left behind by the previous government, was N19 billion for works, N5 Billion for power, and N1.2 Billion for housing making a total of N25.2 Billion.
ALSO READ: Ekiti govt seals buildings allegedly owned by Fayose
"In the year 2017, the budget for works was N394 Billion; Power was N69.96 Billion and Housing was N64.9 Billion (Total N529 Billion)."
He said voting in another party in the forthcoming general elections will rather bring Nigeria backwards in terms of infrastructure and economic growth.
"I am mindful of the fact that this is the first time where we have had two major parties manage our affairs.One for 16 years and another for 3 and a half years thus far.
"I am aware that we still want more service from Government, and therefore decision-making will require deep reflection.Do we go back to those who have served you for 16 years since 1999; or do we move forward with this government that has had only three years and five months to serve us?So the next election might well be a choice between going back and moving forward," he said.
He further noted that roads are being constructed in the 36 states of the federation with about 90 transmission projects aimed at improving connectivity between the GenCos and the DisCos.
"We are constructing houses in 34 states in a pilot scheme to determine affordability and acceptability.
"Those 90 projects are largely resuscitated because this government has recovered 690 containers of power equipment out of over 800 containers left at the Port for almost a decade because they did not pay contractors, who then could not pay the shippers and warehouse companies," he added.
The Minister further accused the opposition, Peoples Democratic Party (PDP) of weaponizing the country's problems saying; "It is going to take more than one election cycle to consolidate on the progress I have shared with you; and if you do not choose wisely you can reverse it.
"A choice to go back is a choice to reverse this progress and a choice to move forward is a sensible choice to consolidate and progress. Those same people who caused the problem cannot now be trusted to fix it.
"You will hear from them that the country has problems as they try to weaponise our challenges to deceive Nigerians."
However, he expressed the government's commitment to maximizing resources to further better the country's economy.
"Who will you trust to better manage your affairs . The one who did less with more; or the one that is doing more with less.
"Without a doubt, we have done more with less time and with less money. That is change and we remain committed to doing more," he said.