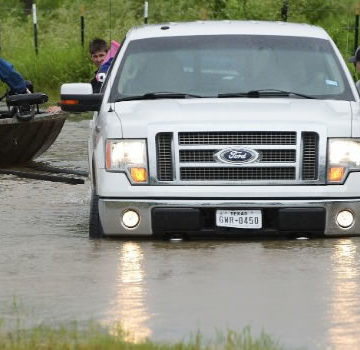 WHILE countless Houstonians are still waiting for rescue, Tropical Storm Harvey has now swallowed another Texas city.
"Our whole city is underwater right now but we are coming!" Port Arthur Mayor Derrick Freeman posted Wednesday morning on Facebook. "If you called, we are coming. Please get to higher ground if you can, but please try stay out of attics."
Port Arthur — about 90 miles east of the devastated Houston area — is so deluged that floodwater has overwhelmed an evacuation center. Murky brown water nearly reached the top of cots at the shelter.
It's all part of Tropical Storm Harvey's devastating encore. Harvey made landfall once again Wednesday morning, slamming into the Louisiana coast near the Texas border.
Harvey has now busted the US record for rainfall from a single storm, CNN senior meteorologist Dave Hennen said. It's dumped almost 52 inches of rain in parts of Texas.
The coastal cities of Beaumont and Port Arthur got pummeled with 26 inches of rain in 24 hours — and it's still raining.
"Life-threatening flash flooding continues in far east Texas around Beaumont and Port Arthur," Hennen said.
And Port Arthur, a city of about 55,000, is in exceptional danger because water from Beaumont is expected to flow toward it.