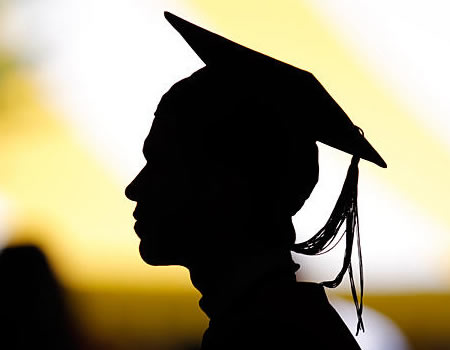 If the educated citizen does not defend the pursuit of learning, it will not be defended at all. For there will always be those who scoff at intellectuals who cry out against research, who seek to limit our educational system.
The educated citizen knows how much more there is to know. He knows that "knowledge is power," more so today than ever before. He knows that only an educated and informed people will be a free people, that the ignorance of one voter in a democracy impairs the security of all.
Therefore, the educated citizen has a special obligation to encourage the pursuit of learning, to promote exploration of the unknown, to preserve the freedom of inquiry, to support the advancement of research, and to assist at every level of government the improvement of education for all.
The educated citizen has an obligation to uphold the law. This is the obligation of every citizen in a free and peaceful society–but the educated citizen has a special responsibility by the virtue of his greater understanding. For whether he has ever studied history or current events, ethics or civics, the rules of a profession or the tools of a trade, he knows that only a respect for the law makes it possible for free men to dwell together in peace and progress.
Today, we stroll towards our 58th independence day with little but no direction because our own educated class has simply refused to get it right. The Nigerian state, if anything like it does exist, has been governed, ruled and her affairs directed by the best of her worst, and worst of her best; one week, one trouble, one drama very little to encourage has left us almost permanently on the edge.
The general elections are few months away but again the run-up is the same difference; we remain torn by same ethno-jingoist drive. We are not one; our youths whether lazy or hardworking are products of a land with no full meaning of their rights and their responsibilities.
The nation, indeed the whole world, has watched recent events in Nigeria with alarm and dismay. No one can deny the complexity of the problems involved in assuring to all of our citizens their full rights as Nigerians.
Prince Charles Dickson PhD
pcdbooks@outlook.com