What winning car, N.5m cash means to me as an undergraduate —Adeyemo, winner of Osun State's essay competition
Victor Adeyemo, a 400-level Medical student of Bowen University, Iwo Osun State, is the winner of Osun State's Independence Day essay competition among tertiary institution students across the country. In this interview, he told SATURDAY TRIBUNE how he won the competition and what the society should look forward to from him.
 How come you, a medical student, won an essay competition? How did you hone your writing skill?
First and foremost, all glory belongs to God, the giver of talents. I will also like to add that my interest in writing started since I was in Primary school. Both of my parents are teachers, and so, there were plenty of books around the house. That helped to spur my passion for writing. My father is himself a writer and poet. I can say it runs in the blood.
On how I was able to hone my skills, I have realised that talent is never enough. With this on my mind, I always strive to write better than I did yesterday. I have participated in several essay contests – I have won some and lost many. I have learnt from those experiences. I am committed to improving myself by reading wide and learning from mentors.
What does this award mean to you?
This award is unprecedented. It has further helped to strengthen my convictions about the benefits of hard work and consistency. On this account, I can say with all confidence that dreams come true.  Sometimes, I cast my mind back on the disappointments I have encountered in the past and, I am grateful for all of that pruning. To God be the glory. I thank the Osun State government for the opportunity.
To what or to whom do you owe this award?
God, the Alpha and Omega deserves praise and thanks. Next, I owe this award to my amazing parents – Dr and Mrs Olufemi Adeyemo – and my brothers, Richard and Festus, for their unwavering love and support. I am also grateful to my school, Bowen University, where I have learnt and continue to learn the virtues of godliness and excellence. I must acknowledge all the teachers under whom I have learnt. They all have been instrumental to this feat. I consider myself a child of the community. Therefore, I appreciate every one of my well-wishers.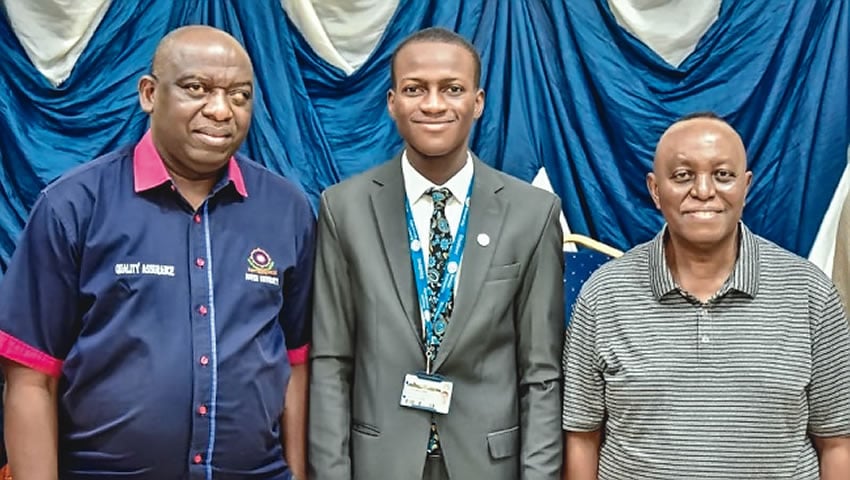 You should have a piece of advice for younger ones out there on what to do with their lives.
To every one of my friends out there, I want us to be encouraged. Let us not despair or slack in doing good for someday and that is, very soon, the reward is coming. We must live circumspectly, bearing in mind that posterity will ask what we did with our youth. We – the young people –  need to start to take our position. The future that we sang about is here already and, the destiny of this land rests on our shoulders.
Tell us about your background? 
I am from a humble family and the first of three children. My parents are teachers – my father is a Lecturer while my mother, a secondary school teacher. I hail from Okuku in Odo-Otin local government area of Osun State. I have authored two books. My first, How Amazing, was published in 2015. It is a collection of poems that I have been writing since I was about nine years old. The second is an e-book titled Chronicles of Quarantine, published in 2020.
Where would you like to be five years from now?
Well, the future is in God's hands. However, in five years, I desire to have, in my little way, begin to make meaningful contributions to the development of Nigeria. I hope to look back on the past years and see tangible progress in my career and every other area of life.
Why did you decide to read medicine? Who or what inspired you to make that career choice?
Medicine has been my childhood dream. I have always been fascinated by the opportunity to cater to the health needs of people. That would not have been possible without the support of my parents. I am glad for that privilege.
Like I always say to my friends, my inspiration is rooted in my desire to be a bridge, reaching out to people of all classes and social standing. I believe Medicine provides me with that platform. Moreover, the thoroughness and discipline that hallmarks the profession are solid preparations for an enviable future.
YOU SHOULD NOT MISS THESE HEADLINES FROM NIGERIAN TRIBUNE
We Have Not Had Water Supply In Months ― Abeokuta Residents
In spite of the huge investment in the water sector by the government and international organisations, water scarcity has grown to become a perennial nightmare for residents of Abeokuta, the Ogun State capital. This report x-rays the lives and experiences of residents in getting clean, potable and affordable water amidst the surge of COVID-19 cases in the state…Fayemi has shown exemplary  Fayemi has shown exemplary
Selfies, video calls and Chinese documentaries: The things you'll meet onboard Lagos-Ibadan train
The Lagos-Ibadan railway was inaugurated recently for a full paid operation by the Nigerian Railway Corporation after about a year of free test-run. Our reporter joined the train to and fro Lagos from Ibadan and tells his experience in this report…Fayemi has shown exemplary  Fayemi has shown exemplary