In this interview by AKINWALE ABOLUWADE, a leading Nigerian actor, Dele Odule, laments the frustrations that characterise the movie industry in the country and he gives a glimpse of his career, educational and family life.
Having been in the theatre and film industry for over four decades, you have surely come a long way; how will you describe the industry then and now?
Theatre then was just for passion but today, it is all about commerce. People are now coming into the theatre and film industry mainly for commercial purpose. It used to be a case of I am interested so I want to go into it. Regardless of the little reward at that time, many people were still passionate about it and so they wanted to join the industry. But now, people want to make quick money in Nollywood and that is why you see  productions that are not worthy. Many of the films you see nowadays are nothing to write home about because of poor production. They come into the industry without having interest otherwise they would want to do everything possible to make it good. Again, the industry is a place where you can hide and idle away. We have a lot of people who are not genuinely willing to get involved in the job but they are there just to tell the public that they have a business. We have prostitutes there today; we have fraudsters so that when they are apprehended they can say this is what they do for a living. That is their reason behind coming into the film and theatre industry.
But what are the professionals among you doing to check the trend?
The problem that we have is the birth and saturation of different associations in the theatre industry. Had it been we had just one or a maximum of two associations that are overseeing the membership, maybe we would have got it right but, unfortunately, we have saturated the industry with many associations. Of course, there is freedom of association and as long as you meet the requirements set by the Corporate Affairs Commission (CAC) so be it but because we have so many of them, we cannot speak with one voice. We could have designed a way or set the standard. Majority of those coming in now don't even have the orientation. They don't know the nitty-gritty of the business and that is why they are messing the whole thing up.
Buhari secretly pursuing third term agenda —Falana
What do you think can be done to regulate activities in the industry?
Some time ago, government took certain  steps to float the Motion Picture Council of Nigeria (MOPICON) whereby if you are not a member you cannot be a practising film maker or theatre practitioner. Particular attention should be given to the film industry because the problem we are facing is with the film and not the theatre. Those who are in the theatre are even very few because if you really want to be a theatre practitioner you must be very hardworking unlike in the film where you just go into without proper orientation. Filming is quite easy compared to going on stage. When government came with the idea of MOPICON, I thought okay, maybe that would sanitise the industry because if you want to practice you have to be a member and for you to be a member there would be requirements, so definitely, you will be forced to upgrade your knowledge by going to school or by getting trained. But unfortunately, because of bureaucracy, it was rested. From the time of Frank Nweke Junior and Chukwuemeka Chikelu respectively as ministers of Information, Culture and Tourism till now the MOPICON bill is still foot-dragging at the National Assembly. If like any other profession, we have got our acts right, there would have been standard. If you do not belong to the Nigerian Bar Association (NBA) you cannot practice and if you are not a member of the Advertisement Practitioners Council of Nigeria (APCON) you cannot erect a billboard anywhere otherwise it would be uprooted and they would charge you to court. But it is not like that in this industry; every Dick, Tom and Harry just come in. They are using the place as a dumping yard to cover up their shady businesses.  It is so unfortunate.
Can you still recall the first movie in which you featured and the year?
The first movie in which I featured was 'Oju Oro' which was produced by Moses Omilani popularly known as 'Eegunleti'. In the movie, I was one of the egungun (masquerade) cult leaders – Alapinni. I was also in the late Hubert Ogunde's film titled 'Ayanmo', in 1987, as one of the members of the crowd. I was too young for him at the time and Baba Ogunde was very selective. He used members of his family and those who are in his hierarchy in his films.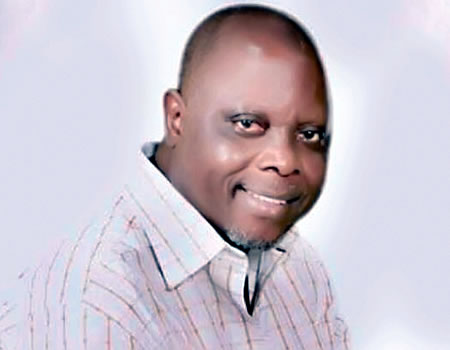 You are an Ijebuman; at what point did you come in contact with late Hubert Ogunde?
I had a close encounter with him in 1987 before Ayanmo was produced. I wanted to float a theatre troupe in Ogun State and the state did not have a Ministry of Culture then. However, they had the Culture Division under the Ministry of Information and Baba Olu Shokoya was the Cultural Officer at the time. I forwarded my proposal to float a standing cultural troupe but it was thrown under the carpet. Later, Ogun State government was to send its troupe to Abuja Carnival during the time of General Ibrahim Babangida and I was contacted. However, they wanted to know our competence – myself and another man were asked to meet late Ogunde for screening but there was an argument between the other man and I in the presence of baba Ogunde and he sent us away from his residence saying that the state government ought to have communicated him properly in writing in the first place. We were asked to meet another old hand, Funmi Odusolu for screening and my troupe was eventually picked on the grounds that we were younger and more vibrant. We performed well at the Abuja Carnival but it was not a competition. That gave birth to the Ogun State Cultural Troupe.
Actors of your age were known as husbands of many wives. How many wives have you?
I have one. The number of wives that you have is a matter of choice. One of the peculiarities of a popular person, same for journalists, is that women would mill around you but it is a matter of choice. That does not make me a saint but I have just one wife. If my wife choses to go tomorrow I will marry another wife but I can't have more than one.
There are many big Nigerian artistes whose children are also into acting; is any of your children in the theatre industry?
No. Today, I don't have any of my children in the industry. I may have tomorrow but I don't have any at present. I don't encourage them and the reason is that if a profession doesn't have standard its growth would be dicey. The standard is not there in Nigeria. Anybody can become an actor without having any qualification.
If one of your children had indicated interest would you have encouraged him or her?
After he would have done my will by getting higher education I can allow him or her. I would guide him or her if he or she is interested after being educated. As my child, you just have to be well educated first and then you can go into what you want to do. Now I have a son who is into tailoring  but he is a graduate of Political Science from the University of Ilorin. Tell me the course you want to study at the university and I will not discourage you  but you must have a minimum of first degree; it is a laid down rule in my family. To God be the glory, my first daughter is lecturing at Abraham Adesanya Polytechnic and she is pursuing her PhD now. I have one who studied Geology, one studied Fishery and Aquaculture and one is studying Medicine and Surgery.
Can you let us into your educational qualification?
I had a degree in Mass Communication from Olabisi Onabanjo University, Ago Iwoye in 2011, having been given admission in 2007. I had education much later as an adult. I did that to get my children to know that it is compulsory for them to be well educated. My wife is also well educated;  she is a lawyer so, I see no reason why any of my children would tell me that he or she is not interested in getting educated.