What it is like having a family of six lawyers —Prof Bamgbose
Professor Yemisi Bamgbose of the Faculty of Law, University of Ibadan, is the first female academic to be appointed a  Senior  
Advocate  of Nigeria (SAN). She is a mother of three lawyers, daughter in-law is also a lawyer. Professor Bamgbose, the wife of Hon Justice Olatokunbo Bamgbose, in this interview by TAYO GESINDE, speaks about the pros and cons of having a house  full of lawyers, her love for teaching and research, among other issues.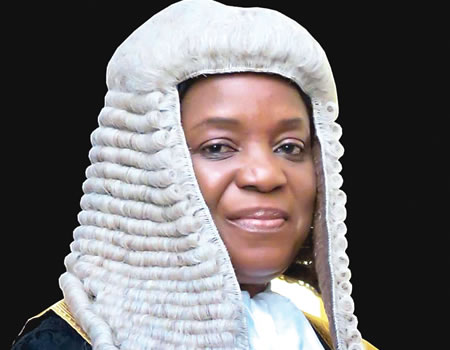 BACKGROUND Information?
I  was born in Ibadan  on the June 26, 1961 to Chief A.A.K. Degun, CON and  Otunba (Mrs) C.M. Degun of Ijebu Ode. I started my primary education at University of Ife Staff School, Ibadan branch, now The Polytechnic Ibadan Staff School. From there, I proceeded to Queens School,  Apata, Ibadan.  I  started my A Levels at   Comprehensive  High School Ayetoro but completed it at  Adeola Odutola College, Ijebu-Ode. I was admitted into the University of Lagos, where I studied Law. I went to the Nigeria Law School, Lagos, then did my National Youth Service Corps (NYSC) programme at  the  Oyo State Ministry of Justice. By the time I was to start work, my father, who was the Secretary to Ogun State government and Chief of Staff had retired, but I knew he had connections in Ogun State, so, I applied to the Ministry of Justice and Ogun State Property and Investment Corporation (OPIC). Incidentally, I received  my two letters of appointments same day and I was in a fix as to which one to choose. In OPIC,  I  was going to be a company's secretary but in the ministry, I would just be a state counsel. The OPIC one was really attractive to me but I went to my father to help me choose. He said something that made an imprint on me. He said,"Yemisi, I will not always be there to help you make choices but God would always be there  so ask Him . I was hurt,  but I thank God he said that at the time because I had to go to God and He gave me Ministry of Justice. I worked there till I got married and had to join my husband in Ibadan, where he had a legal practice. When I moved to Ibadan, I got  a job at the Faculty of Law, University of Ibadan, as an assistant lecturer and rose through the ranks to become a Professor of Law on October 1, 2003.
Why did you decide to study  Law?
I  have learnt so many things in life and I have made up my mind that I would make a positive impact on somebody. While at the Comprehensive High School Ayetoro, the driver came to pick me from school on holiday and he took me to my father's office at Abeokuta. When I got there, a black car drove into the governor's office and a lady got out of the car. She was coming from court and was well dressed.  To a young girl, seeing her  impeccable  dressing   and carriage made a great impact on me. I used to talk and reason  but that day, the lady made a mark on me. I ran to my father in his office and told him, I was going to study law. He asked me what happened and I told him. Up till now, I don't know the identity of the lawyer and she never knew she made an impact on me. That was how I went to study Law at UNILAG and that was where I met my husband who also studied Law. God has been very good to us. Our three children  too studied Law and also my daughter in-law, while my son also has his  PhD in Law. They are both based in England. My daughter is also doing her PhD in Law  at the University  of Lagos, while the last born is a final year law student.
How did you get all of them to follow in your footstep?
It was not as if we spoke to them about  studying law. Left to me, I would have wanted one to study engineering or medicine, but we just found out that they all wanted to study  law. I think God just put His glory upon my husband and I that we were able to show a good example and the children found something good in it.
What is the experience like, having six lawyers in one family. Do you argue a lot?
We have different roles that we play. When I am at home, I am a mother and wife. When my husband is at home, he is not the judge that will be condemning everybody, he is a father and husband. But when it comes to issues of Law, sometimes we don't agree about some things, so we argue and that is the beauty of law. It is always very amazing because we all have different points of view  and we get to learn from each other.  We have been able to rub on each other and help each other. So, it has its negative and positive aspects. It is very interesting.
Why did you remain in academics instead of going into legal  practice?
I like mentoring, teaching and imparting knowledge. I did a bit of advocacy and a bit of practice but I love being in class with my students. I decided to  concentrate on  imparting knowledge and researching.  I have over 90 articles and books about contemporary issues. I just wrote an article about "Should attempted suicide be a crime in Nigeria."  In Nigeria, attempted suicide is a crime but, I think it should be treated as a  medical and psychological issue.  I like to write on such things so that there can be a change in the law.
What price did you pay to be where you are today?
The price I paid was to stand firm, be disciplined and  sacrifice mundane things while climbing the ladder of my career. I was not extravagant, I was not buying dresses or gold, I was investing in myself. I was travelling and attending  international conferences. I never missed any promotion because  I was  writing and publishing books and  articles regularly.  Workers  strike was an opportunity for me to write something. I refused to be distracted. There was a time I had to fight for my right when some people wanted to deprive me of promotion. The issue was looked into and they found out that some people wanted to witch-hunt me and to God's glory, the promotion went through.
Combining the home front with career?
I am a wife, mother, teacher and a leader in my church and  I ensure that everything is balanced. For you to say that you are successful, one area of your life must not suffer for another one. I do all my cooking in the house. When my children were growing up  and the driver is taking them to school, I.  would  go with them. It is a time to talk. Some times when I am free,  I would leave my office and check on them during break time at the staff school. I got  to know about three families through my children. I  saw my children playing with their children and waited to meet their mothers  and  asked if we could come to their house. I ensured we did their homework together.  Also, the time I would write would not be the time my husband would need my attention. Sometimes, we both sit down and we are both writing. I never played with church. There is a time for God, work and family. That  is what we call grace.
Most defining moments of your career?
There are many defining  moments in my life. When I became a SAN is one moment in my life that I would ever be grateful to God for. The graduation of my children,  my son's marriage, my husband becoming  a judge, holding leadership position in the university, are all defining moments for me. I was the first female Head of Department in the Faculty of Law, Dean of Law, member of the Governing Council of the University of Ibadan, among others. Another defining moment was the day I gave my life to Christ.
Secret of your success?
I will give God all the glory. He is the one that has given me grace and favour. Then a supportive husband and understanding children. My husband encouraged me all the way.
How can we tackle the issue of   violence against women?
One of the ways we can tackle sexual  and physical violence  is that women should speak out.  Have somebody you can confide in. Somebody who can talk to the person that is inflicting  violence on you. When  it comes to the issue of sexual violence against children,  especially  the girl-child, we have to be very careful. Don't leave your children  in the hands of  just anybody. If you have a nanny, be vigilant. Don't allow the driver to take them to school alone, follow them. Don't throw your children into the hands of people who will molest them. Don't be too busy to notice what is happening to your children. Be sensitive, if your child is running away from her dad, don't push her to him. It is not something that should normally happen but it is happening, so we  should not be careless. Be close to your children and listen to them.