Last Wednesday, President Muhammadu Buhari assigned portfolios to his new ministers, which generated mixed reactions from Nigerians. Remember that some of the ministers were also ministers in the last administration, with the same portfolios. OLASUNKANMI OSO and OLUWAYINKA AJE sampled the opinions of Nigerians to enquire what they think about the new ministers'  portfolios and what they expect from them. Their responses:
Habeeb Kayode
I have witnessed the loop again—the recycling of the same people. I do not know what justification they had for orchestrating this again. I feel chances should be given to credible new people. Besides Fashola—whose reputation speaks for him—and a few others, one is compelled to ask the following questions: "We are trying to take Nigeria out of the sea of corruption and recessive economy—would these set of recycled people, who have been there since, be able to achieve this? Are we only capitalising on experience over credibility? Well, there are portfolios of some of the ministers that meet the eyes. I hope they would put their best to ensure a better Nigeria for Nigerians.
Ademiluyi David
The ministerial appointments, this time, came about three months after the inauguration of the president. Forty-three portfolios: twelve returning, and thirty-one new appointees. The president retained the Petroleum Ministry. Three new ministries have been created: the Ministries of Police Affairs, Aviation, and Humanitarian Affairs and Disaster Management. The Ministry of Police Affairs existed in Goodluck Jonathan administration—President Buhari has seen a need for such. Interesting to note, a one-time EFCC lawyer appointed junior minster under his one-time suspect. All those who made the list played a major role in the last general elections. So, their appointments were compensatory gifts.
Rilwan Balogun
Having gone through the list of the new appointees and their respective portfolios, I see no reason why Mr President had to delay it this far. With the creation, splitting and merging of some ministries, it makes the stuff look like a call to 'find food' for the party stalwarts to come and have a bit of the national cake. One needs to question the rationale behind the merging of the Ministries of Finance and that of National Planning and Budget. Fashola was literally the 'super minister' in the last administration. Now, I think it is Mrs Ahmed Zainab. To worsen the situation, a minister is now almost subordinated to a 'staff' that does not have a legal recognition and legitimacy. I do not expect any spectacular performance from these ministers.
Okunade Abigail
What do you do when you keep doing the same things without result? You change strategies. I expect the federal government to do the same. Why are the same people recycled with each administration? The same people, who were in power when I was a child, are still the ones in different areas of governance. They do not want us, the youth, to live up to the song we sang in school: "We are the leaders of tomorrow". I still find it difficult to pinpoint the performance of Aregbesola that got him a ministerial appointment. We need new ideas and new minds for leadership. If the opportunity is not given to the youth, the 'Change' and the 'Next Level' we aim to achieve would not happen.
Babatunde Adeleke
Some funny selections. A few right decisions as well. Asides the new choices, little remains shaken. The Ministry of Information is still in capable hands of Lai Mohammed. Rauf Aregbesola is in charge of Interior. Timipre Sylva as Minister of State for Petroleum. A friend encapsulated some of the choices as placing a yam in front of a goat and asking the goat not to eat it. I interjected in defence of the president. After all, these are the people he knows personally. Just like his first term—many promises—painfully little would be done. Sadly.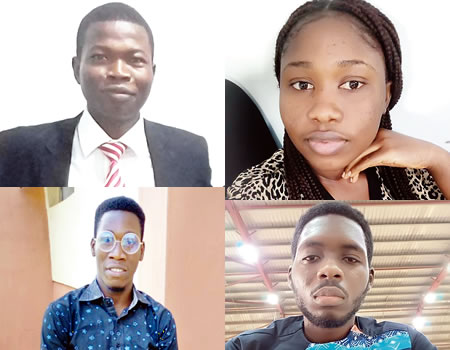 Oyeleye Kehinde
Our problem as a nation has never been portfolios, but leadership. What I see is sharing of the 'Spoils of War'as was reflected in the last election. We do not have technocrats in this caucus. It is where many are clueless about what they intend to do in their respective offices? To have expectations would be good. But, to have it actualised is something else. However, they should serve with the interest of the people in mind. They should consolidate projects initiated in the last four years. The power sector, transportation, education—most importantly—should be revamped.
Ofure Siakpere
It is shocking that politics in Nigeria is no longer what our expectations as citizens are. These ministers are driven with zeal to please their nominators. They believe they could also be replaced by their nominators if they fail to do their bidding while in office. If they would listen, I would expect them to look into the Nigerian prison system and the Nigerian judicial system as well. The prisons should be decongested, bail conditions should be milder and the law should not be biased or bought by the rich. Corrupt and sentimental law officials, like police officers, prosecutors, magistrates and judges should be replaced with more focused ones.
Bamidele Segun
The list is reasonable, but not quite enough. I would suggest we have a team set up for quality checks and balances. As we know: What is worth doing at all, is worth doing well. I strongly believe in a few of the ministers. On the other hand, some are not worthy to be there. But, what could we do?