What I learnt from the international model pageant in Thailand —Somto
Emmanuel Somto was recently crowned the African Continental Champion at the Mr Model International Pageant held in Bangkok, Thailand. The Imo State-born model, who also describes himself as "event host and a young entrepreneur", was the winner of Mr. Teen Nigeria competition in 2016. He tells SAM NWAOKO of the Mr Model International Pageant and his experience in the competition.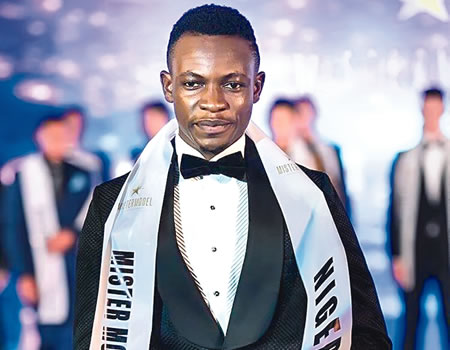 Describe the competition that took you to Thailand?
Mister Model International is a global contest for male beauty pageant which has been held since 2013. It is managed by TIM Management Group who is also the franchise holder for several beauty pageants for the USA, Dominican Republic, Haiti, Argentina and Nicaragua. They are the producers of Mister Model International Pageant, Men's Fashion Week Miami, Green Fashion Miami and Master of the
How many contestants were there, or how many contestants can you remember?
We were from over 35 countries.
How did you qualify to represent Nigeria? Did you win a competition in Nigeria that gave you the ticket to represent the country, or is it an individual competition?
I was Mr Teen Nigeria 2016. That was when the TIM Group discovered me and came on the scene.
Are there sponsors… who are your sponsors? How did you make the trip…by yourself? 
To be honest I didn't have the kind of sponsor I should have had, but by God's grace, some individuals helped.
How did you choose your official perfumers: Lambo Fragrances?
I have known Lambo Fragrances for a while. They are so good at the art and their products are unique and top of the range. So I couldn't have had better official perfumers.
What's the attraction to the work of Lambo?
I gave some samples of Lambo Fragrances products to some of the contestants and they were surprised that such was produced in Africa and Nigeria in particular. The representative of the United States (USA) even asked if we had a store in US and I told him soon, one would be coming up.
You were crowned Mr. Model Africa; what does that mean?
Yes every international pageant has overall winner and continental winners. I was one of the continental winners and that's for Africa. There was also Mr Model International America, Europe and Asia, while Mr Spain was the overall winner. I'm the first Nigerian to compete in that pageant and I'm glad I made Nigeria proud and I represented us well and in a good way.
What have you learnt at the Mr Model International Pageant in Thailand?
I learnt a lot, lived in a strange city for two weeks and with over 30 men from 30 different countries. I learnt a lot and I made great lifetime connections.
Describe your experiences, what is it like in Thailand?
Although I arrived late due to visa complications, I also had fun and I met great people. Above all, I learnt a whole lot that would be useful and also help me in my modeling career.
Before the competition, which other competitions have you taken part in or outside the country?
I contested for Mr Teen Nigeria in 2016 I also won
Which modelling company are you attached to?
None at the moment.
You've had photo shoots with some brands. Which ones can you remember?
I have worked with most Nigerian designers.
What are your immediate plans when you return to the country?
When I return I have a number of activities lined up. After all the media rounds, homecoming and all, I'm starting a new project through my foundation. I'm also hoping to re-launch my clothing brand TradzBySomto. These are the immediate things on my mind at the moment.
What are your future projections after the outing in Thailand?
I want to be better in my craft and I want to improve in my business and then become successful business man.
Would you keep the brands you're currently working with or are you going to demand for contract review?
There will be a review because of my new contract with TIM Management Group.
Your words to your fans, sponsors (if any), friends, family and well-wishers…
Thank you for your support. Be consistent. I love you and God bless you all.
How do you see the Nigerian entertainment industry in the future and what do you think Nigeria should do to improve the industry?
Nigerian Entertainment industry is fast growing and is now well recognised. However, we need to seek out the real talents, promote them and stop pushing just fine faces and money people without talent.