Nigerian-born USA-based fast-rising actress, Ayo Adey-Kosh, has continued to foster the Nigerian acting industry despite the fact that she is based abroad. The mother of one is a graduate of Psychology. In this interview by SEYI SOKOYA, she speaks on her acting experience and her assessment of the industry. Excerpts:
How has the experience been since you took up acting professionally? 
It's been a journey of enlightenment. I have encountered lots of trials and errors, but the best of all is that my sojourn into the industry has been fun and interesting for me. Though, I cannot say that I have seen it all, because one is still growing in the system; I have enjoyed divine grace and the commitment to stay focused. So, I have every reason to say that I don't have any regret venturing into this profession.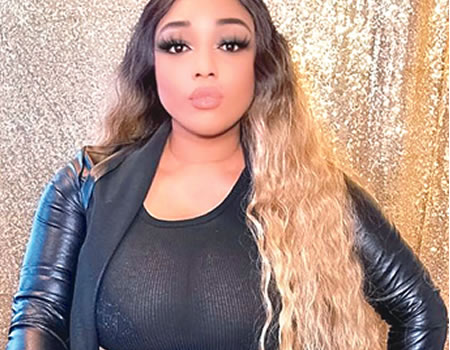 How did you discover your passion for acting?
I have always had a flair for acting, but more of hobby. Then I met Yomi Fash-Lanso and Kunle Afolayan in 2003. I was invited to one of their productions. Honestly, I felt so natural the first time I faced the camera, so, I decided to go explore the acting talent.
What has been your greatest challenge in the industry? 
Finance, it is no news that it is the major challenge of any surviving actor, especially in Nigeria. It has been a great task to source for fund to produce great movies. It is really hard, but we are not relenting against all odds. We will continue to give our best with things within our powers to promote the industry as well as to entertain and educate our fans with series of productions.
What is your relationship like with other actors?   
It's great, I love being on set with other actors. We work like one big family. This ignites us to be more creative and excel in our crafts.
What is the distinctive thing you have brought into the industry?
That has to do with myself and my vision. I have a lot in stock that I want to unleash one after the other. I am delighted that I am currently adding value and making positive impact in the industry. I have not come into the industry to flaunt or wonder around. I mean business and I am confident that I am going to set a trademark.
What is your assessment of Yoruba-speaking moving sector?
It is like a lady bug when it goes after its prey. The stakeholder, especially thespians of this sector are tenacious, determined, resourceful and most often have to make the best out of a bad situation. Though we have a long way to go, I have utmost respect for the Yoruba sector; they work with one of the most stringent budgets and shortest shooting timeframe and still manage to come out with superlative movies full of lessons. As far as I am concerned, things can only get better.
How would you compare the acting industry abroad to that of Nigeria?
I'm in the USA.  The industry abroad is more of a family. We don't have much of the crew sector so you find many of us doing more on set than just acting. Also, I have not seen any of our colleagues that are here that are full time actors or crew. We have other jobs that we do, so, the hustle is real. We work 10 times harder.
For instance, there is no makeup artist fixing your face every time; personal assistant running after you and doing your every bidding. But our finished products are on the same level with the ones made in Nigeria and now we are even doing way better.
Many female actors have lamented their ordeals with randy producers over sexual harassment even to get role. Have you ever had such experience and how did you overcome it? 
I have never experienced it. I simply removed myself from such an equation by becoming indispensable and self-reliant. So, you would have to be crazy to try that with me.
Is it true that many female actors are promiscuous?
A promiscuous person will be promiscuous in any work sector. Your type of job does not define your character. So, no, I don't subscribe to that school of thought.
Do you feel threatened among female actors?
Not in the least; this world is about diversity, no one can be exactly like me all the time. So, I am unique and I love the diversity of everyone. So, why should I be threatened?
How many movies have you produced and featured in?
I have produced five movies which I also featured in. I love all my works, but 'Shindara' seems to be my favourite. I produced 'Oga', 'My Regret', 'Asiri',  and 'Love Web'. I have also featured in several other movies including, 'Strippers', 'Iwe Igbelu', 'Iwalewa', 'Ojiji' 'Oga', 'Ife ati Etan', 'Family Blacmail' and 'Sino', among others.
What is the reason behind your relocation to USA in 2014, why?
I met my husband in 2014; we got married in 2015 and you will agree with me that home is where your heat is. My husband is my home. My husband is a confirmed Ekiti man and a thoroughbred Nigerian man.
Despite the fact that you are happily married and a mother of one, you still get lots of advances. How do you handle them?
I simply ignore it and if the person is overly persistent, I put them in their place. If the person is a nuisance, I cut him off completely.
You are a wife, mother and actress, how have you been able to balance the responsibility that comes with all these?
Being a wife and mother is something we women are genetically wired to do. Acting is my profession. Here in the USA, most of our shoot is done towards the weekend with enough time to prepare. So, there is no way it clashes with my life as a wife and mum. When I'm home, I do my duties and then take out a couple of hours to work on any project in front of me.
Which male actor would you always like to share roles with?
I don't have any preference; I just like to work with any talented actor.
Do you have any project you are working on presently?
I currently have five personal projects and seven projects from other producers. But the coronavirus pandemic is causing a lot of projects to pile up. We pray that things come back to normalcy so that life will move on in its real sense again.
How have you been coping with life as COIVD-19 bites harder? 
I'm making the most of it. I get to spend the whole day everyday with my family. That is beautiful. I also get to work on scripts and plan for projects. So, it is like a vacation/work vacation for me.
What is your relationship with other female actors in the industry? 
It is smooth and cordial. I think that is the best and ideal way to go. Life is good and progress is certain when unity is in place.
What other things do you do aside acting?
I make beautiful wedding and event décor, which I sell through my online store. It is always a good thing to diversify.
Any words to your fans?
I love you all. No man is an island. I want to use this opportunity to appreciate them all for being the trees in my own little island.
YOU SHOULD NOT MISS THESE HEADLINES FROM NIGERIAN TRIBUNE
Buy and read digital replicas of your TRIBUNE titles by subscribing through E-VENDING
COVID-19: We Don't Know Whereabouts Of Chinese Doctors ― PTF • Don't ask me where they are ― Health Minister
The Presidential Task Force (PTF) on COVID-19, on Thursday, said that it is not aware of the whereabouts of the Chinese doctors and health professionals who were brought to Nigeria some weeks ago to help the country in its fight against the COVID-19 pandemic… Read full story
Amid Uproar, Lagos Backtracks, Says Dubai Returnee Didn't Die Of COVID-19
Lagos State government on Thursday night retracted its earlier claim that one of the returnees from Dubai, died of COVID-19. Other returnees, quarantined at an isolation centre in Lekki, had protested in a viral video clip, disproving the earlier official position… Read full story
No Conclusion Yet On 'Strange' Deaths In Kano
The Federal Government says there are no conclusions yet with regard to 'strange' deaths in Kano State. The Minister for Health, Dr Osagie Ehanire, disclosed this on Thursday in Abuja at the daily briefing of the Presidential Task Force (PTF) on COVID-19… Read full story
FG To Present Revised 2020 Budget Next Week •As Reps uncover documents on illegal virement of MDAs funds to finance COVID-19
Barring last minutes changes, the Federal Government (FG) is expected to formally present the revised 2020 Appropriation bill of N10.58 trillion to the National Assembly. The Minister of Finance, Budget and National Planning, Zainab Ahmed, who disclosed this during high-level meeting held behind closed… Read full story
COVID-19: PTF Warns Against Using Bleach, Ethanol As Cure
The Presidential Task Force (PTF) on COVID-19, on Thursday, warned Nigerians against the use of bleach or ethanol as cure for COVID-19, saying that its usage can result in death. Besides, the PTF also cautioned Nigerians to stop the stigmatisation of people with COVID-19 infection once they recover from it… Read full story
COVID-19 Care Now Available For All Who Need It ― PTF
The Presidential Task Force (PTF) on COVID-19 pandemic on Thursday assured that Nigeria's testing strategy is yielding results, asserting that the country can now give care to any patient who needs it. Chairman of the task force and Secretary to Government of the Federation (SGF), Mr Boss Mustapha… Read full story
Buhari Makes Plans For Post-COVID-19 Nigeria
The presidency on Thursday outlined its plans to move the country forward after it exits the present COVID-19 pandemic, highlighting actions in the areas of the economy, healthcare, jobs creation, among others. A statement issued by Femi Adesina, Special Adviser to the President (Media and Publicity) in Abuja noted… Read full story
Nigeria Didn't Ask For Madagascar COVID Solution, The Country Sent Them To Us, Says PTF
The Presidential Task Force of the control of the COVID-19 pandemic has disowned the Madagascar Covid organic solution, which had been reported to have been requested by the Federal Government to fight the virus. Chairman of the task force and Secretary to the Government of the Federation (SGF), Mr. Boss… Read full story
Why Canada Denies Air Peace Right To Evacuate Stranded Nigerians–Onyeama
Minister of Foreign Affairs, Mr Geoffrey Onyeama's move to patronise local carriers for the evacuation of Nigerians abroad has suffered a setback. The Canadian government had denied a local airline, Air Peace, landing right to evacuate Nigerian citizens in Ottawa on the ground that it has no license to… Read full story
COVID-19: Pandemic Offers Chance To Reset Critical Sectors ― Osinbajo
Vice President Yemi Osinbajo has observed that even though the Coronavirus (COVID-19) pandemic has affected lives and livelihoods of Nigerians in different ways, it, however, offers an opportunity for the Nigerian people and government to have a reset in critical sectors of the economy and social services… Read full story
13-Year-Old Girl, 23 Other Ladies Used For Prostitution Rescued In Lagos Hotel
The police in Lagos State have rescued 24 ladies including a 13-year-old who were trafficked to Lagos from Akwa Ibom State for prostitution. Four members of the syndicate that brought the girls, most of them from Oron in Akwa Ibom State, have also been arrested… Read full story
Shocking Story Of Man Who Found Out That His Twins Babies Have Two Fathers
A Chinese man is left stunned after finding out that his twin babies have two fathers, the Daily Mail of UK reported on Thursday. The man, who remains unidentified, made the shocking discovery after taking the new babies for a DNA test as part of the standard procedure to register their births in China, a DNA… Read full story
We Deregulated Downstream Oil Sector In March — Sylva
The Minister of State for Petroleum Resources, Chief Timipre Sylva says the downstream oil sector was deregulated on March 19, with the reduction in the pump price of the Premium Motor Spirit(PMS) also known as petrol. Sylva made the clarification at a ministerial briefing giving a scorecard of the… Read full story
EDITORIAL: Governments And The COVID-19 Billions
SINCE the Covid-19 global pandemic touched down in Nigeria in late February, there have been concerted efforts by the private and public sectors to mobilise resources to contain its spread. As early as March 26, the Coalition Against Covid-19 (CACOVID) emerged to mobilise private sector leadership… Read full story