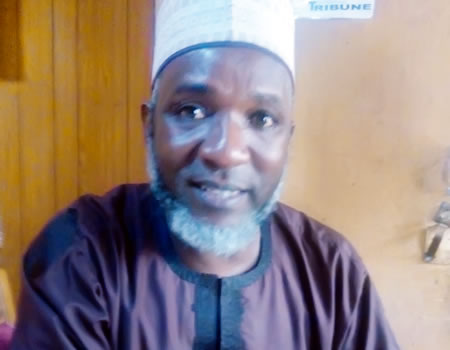 Mallam Mohammad Nuru is the Plateau State chairman of the Miyetti Allah Cattle Breeders Association (MACBAN). In this interview by ISAAC SHOBAYO, Nuru exonerates Fulani herdsmen from the deadly attacks on 12 villages in Barkin-Ladi Local Government Area of the state last weekend in which about 200 people were killed. Excerpts:
FULANI herdsmen were alleged to be responsible for the deadly attacks on 12 villages in Barkin-Ladi Local Government Area of Plateau State last week. What was the reason behind the attacks?
We have to be unbiased in everything we do and be peaceful-minded human beings for us to be able live in peace with one another and achieve tranquility in our communities. There is the need for all of us to have a rethink. What happened in Plateau State was pathetic, condemnable, but the question is: has anybody listened to the Fulani herdsmen and heard from them? For a long time, Fulani herdsmen have been killed but nobody is saying anything about it. When the president came here, I said to him that from 15 August, 2017 to date, we had lost more than 250 people to secret killings. Some of these people were killed in the bush while grazing cattle while others were attacked on the road.
So far, we have lost more than 20,000 cows. Nobody has come out to condemn what is being done to the Fulani herdsmen. In recently weeks, we have recorded cases of Fulani killing on a daily basis. For example, from penultimate Saturday to last Saturday when these latest attacks happened, there was no single day that we did not record the killing of Fulani. On Thursday, they attacked five people in Hiepang; they burnt them to death. I dare anybody to come out and say that the Fulani attacked anybody. Hoodlums have created illegal roadblocks on Maraban Foron-Heipand Road, Barakin-Ladi Road and Barkin-Ladi-Mangu Hale Road. They mounted nine illegal roadblocks and armed with sophisticated weapons, they have been conducting stop-and-search looking for Fulani people. But because we had received information about this ahead of time, we told our people not to use these roads. They operated these roadblocks between 7.30 a.m. and 1.00 p.m. Then they moved into the hinterlands searching for the Fulani. That was how the problems started.
As I talk to you now, we have not been able to evacuate the bodies of those that were killed. We were only able to recover 19 bodies for burial. Those who died were more than 70 in number. I am calling on the security agencies to exhume the corpses of those buried so that we can identify our own and bury them appropriately. They also alleged that the Fulani were expanding their territories. That is not true. Most Fulani settlements in this state have been destroyed and taken over by the natives. The inhabitants were brutally killed. Waren, Sharubutu, Makao, Magera, Kuru-Jenta, Kuru station, etc, were all Fulani settlements but my people were chased out with many killed in the process. Mosques and schools were destroyed. In Kuru-Jenta, we buried not less than 175 people in a mass grave but people are not talking about this probably because we are not good with social media. From April to the day of this last incident, more than 2,000 cows were rustled to the Fan district. Rustling is a lucrative business in Berom land. I want to say this: almost every house in Fan has AK47 rifle.
Are you saying that the scenarios you painted led to the killing of over 200 Berom people last Saturday?
The Fulani were killed prior to the incident and on those days the Fulani were being attacked, I don't have any record of any Berom man being killed before last Saturday. We took an oath never to take law into our hands and expose any criminal among us and we are doing our best in this regard.
Are you saying that those who killed innocent people last Saturday and in the early hours of Sunday were not Fulani?
They were not Fulani.
Who were they?
I don't know. Let the security agencies do that. It is their responsibility. Investigation will reveal to us, who killed whom, but these killings were not carried out by the Fulani. If any Fulani man is found culpable, the government should deal with him decisively.
Your men are alleged to have attacked many villages, chased away the natives occupied their property illegally. What is your take on this?
I am asking you this question: were Fulani not being attacked everywhere in this state? We have never attacked any village; instead, our villages are the ones being destroyed. But I am an advocate of integration. Everybody should go back to their places of abode, including Berom and Fulani.
ALSO READ: How non-Muslim women took on Ramadan hijab challenge
Both the Berom and the Fulani seem to be blaming security agencies in most of the attacks, what is your advice for the security agencies?
They must be proactive. Attacks don't just occur, there are always signs. The signs must not be ignored in order to nip any unforeseen situation in the bud otherwise these attacks will continue. The government and the security agencies should do their works diligently. They should use the carrot and stick approach. Anyone found guilty of committing heinous crimes should be dealt be accordingly, be it Fulani or Berom. And anybody promoting peace should be encouraged.
You appear to be exonerating herdsmen from the killings, are you not disturbed that these herdsmen have been labelled as troublemakers and being behind many killings around the country?
Do you remember the two pastors and their 17 followers that were killed in Benue State this year? Go the court where the suspects are being prosecuted and you will find that none of the suspects is a Fulani man. Seven of them are Tiv. Since the killing of these Christians, have you heard of any crisis in Benue State? There is no killing again because the perpetrators are facing trial. The hoodlums behind these attacks always disguise in Fulani attires. They want their evil acts blamed on the Fulani. People should stop jumping to baseless conclusions, because not all Fulani are criminals. For the past 18 years, they have been suspects, why? The intelligence of the security agencies should be greater than that of the herdsmen.
There are insinuations that the most dreadful men of the Fulani stock are the ones often employed for the onslaughts against their hosts. How true is this?
This morning, I heard a member of the National Assembly saying it was Boko Haram members that were being hired to carry out these evil acts. There is no basis for this assertion because there is no evidence to back it up. As a Fulani leader, I don't know any Fulani that would hire anybody to assist him in fighting his neighbours. What I am trying to say is that anybody that is found guilty of hiring mercenaries should be arrested and prosecuted accordingly. We don't communicate with anybody outside our settlements. I only intimate the national office of the Myetti Allah Cattle Breeders Association about each of the evil acts committed against Fulani in Plateau State. We don't know anybody outside Nigeria and we have never invited anybody to assist us in fighting any individual or group.
But the MACBAN chairman for the North Central zone claimed that the attacks were retaliation for the rustling of about 200 cattle.
When I called him to confirm the report, he said he said nothing of the sort. He even said that if the media that published the report did not publish a retraction, he would go to court. I am not speaking for him but I can tell you that Fulani herdsmen in Barki-Ladi did not carry out any reprisal attack.