We've a long way to go in convicting rapist and domestic violence perpetrators —Jesudunsin Okewumi, acvtivist and founder of The Hug Place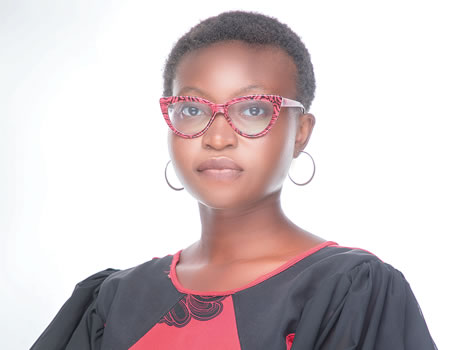 Jesudunsin Okewumi is a gender advocate, a safe space activist and the founder of The Hug Place. As a sexual assault survivor, she is dedicated to providing a centre for domestic violence and sexual abuse survivors. In this interview by Kingsley Alumona, she speaks about her work, the need for a sexual assault refferal centre, and how she would drastically reduce domestic violence and rape in the country if she were the president.
Briefly tell us about your formative experience and your university education
I am from Oyo State. I'm the first child of a family of five and was raised in Ibadan. I hold a Bachelor of Arts degree in Communication and Language Arts and currently pursuing a master's degree in Gender Studies in the Institute of African Studies at the University of Ibadan.
Tell us why you founded your non-governmental organisation (NGO), The Hug Place. In what ways have people and communities benefited from it?
The Hug Place is something I had always known I'll do, but the plan was to start when I've made enough money. However, I began to sense a strong need to speak up and raise my voice concerning sexual violence in 2018. I made up my mind, against my fears, and launched in 2019. The vision of The Hug Place is to provide necessary support for the recovery and rehabilitation of survivors of gender-based violence, especially sexual violence while also advocating for safe spaces to end gender-based violence. We've, through our storytelling programme, helped others to speak up and get help. We also have counselling and support-group programmme for survivors. We provide intervention services and make shelter available for those in danger.
Some domestic violence and rape advocates were once victims of such vices. Is this true in your case?
Yes, I'm a survivor of multiple sexual abuses. It's more appropriate to refer to us as survivors.
Some people believe that the disposition for domestic violence and rape are hereditary. Do you think so? If not, what is your take on it?
I don't think it's hereditary because it implies it's genetically transmitted and in a way it appears it can't be undone. We can rather say that children can learn it from their parents or others by socialisation. If a child is raised in a home or society where domestic violence is the order of the day, it's possible to think it's okay or blame women for it. However, it's immaterial if such a person gets involved and is charged to court. Also, since it's more about socialisation, it can be unlearnt and we're committed to making people unlearn these dispositions and beliefs about domestic violence and rape at The Hug Place.
Briefly explain to us what consent means. If, for example, someone below 18 years gives their consent to sex, is it legally right?
Consent is Yes or No. There's no in between. If you approach your partner or anyone for sex and they say (No), that's the only answer to be taken. Also, it's legally wrong to say someone below 18 years gave consent to sex. The Child Rights Acts, while not being specific, did say that in the case of a person being charged for sexual offence it's immaterial if they assumed the person was 18 years or above. The Act also benched the minimum age of marriage to be 18 years.
What three major helps do you think sexual assault victims need to recover from trauma? Do some of them actually get these helps in Nigeria?
Survivors. The first thing a survivor needs is to be believed, and that starts from when she reports the story to getting justice. The survivor also needs psychological support to walk through the aftermath of the ordeal like fear, depression, anxiety, PTSD and others. There's also the need for strong support system from friends, family and community to aid recovery. We've a long way to go in convicting rapist and domestic violence perpetrators. The process is quite long and even some survivors get weary along the way. However, there are organisations providing psychological support for survivors in Nigeria today like we also do.
You are currently advocating for a sexual assault referral centre in Oyo State. Why do you think this centre is necessary now? And, how is Oyo government responding to it?
The centre has always been necessary but the government, generally speaking, haven't been emphatic where it comes to gender-based violence. A sexual assault referral centre ought to provide medical and forensic services for survivors. It's structured such that survivors can easily access it whether or not they choose to report to the police. It provides counselling services and its function makes it a place where a survivor is believed and at lower risk of secondary victimisation. It serves as a safe space which is important for the recovery of the survivor. The conversation towards the sexual assault referral centre just began, but from the dialogue we had with different agencies and key ministries in the government at the Colour Conference, in March, where it was discussed, we've buy-ins and we believe the Oyo State government will fund a sexual assault referral centre soon.
How do you fund and sustain The Hug Place projects?
The Hug Place projects are funded by sponsorships, supports from family and friends and self-fund.
Do you see any relationship between the current lockdown in some states due to the coronavirus pandemic in the country and domestic violence? If any, how could it be managed?
Oh yes. There's a relationship. Women are locked down with abusive partners and some who've perhaps been able to escape such because their partners were at work are now faced with it daily. Children are also at high risk in this lockdown. What we've done is to raise awareness through social media and other platforms on the availability of organisations working on gender-based violence to intervene for anyone at risk. We're also appealing to the government to identify these workers as essential workers to enable them move freely.
If you were the president of Nigeria, what would you do to ensure that domestic violence and rape are drastically reduced in the country?
At the root of domestic violence and rape is the issue of gender inequality. If I were the president, I would ensure we put systems in place to regulate power relations between men and women. This includes ensuring the education of the girl child, making efforts to increase the economic and political participation of women and also strengthening the policies and legal framework. This's going to be better achieved by funding and empowering civil societies to ensure implementation of policies.
Apart from The Hug Place, do you have other job(s)? What are the major challenges you face in your humanitarian endeavour?
Yes, I've a regular job. One major challenge is tackling the cultural beliefs that surround the female gender and gender-based violence. The act of objectification of the female body and victim blaming reflected when we ask survivors "What were you wearing?" "What were you also doing their?"  These beliefs are the reasons why survivors do not speak up, and we've underreporting of gender-based violence. It's one reason why this work is for the long haul. Furthermore, I'm unrelenting in ensuring people know that rape and domestic violence is a crime and never the fault of the survivor and also in teach that the female body is not an object for sex.
What do you like doing at your leisure? If you were to make a wish on your next birthday, what would it be?
In sleep is leisure. My next birthday is still a long way off. I don't know what I'll be wishing for really other than a more beautiful year, strength and insight for more giant steps.
What advice do you have for young people, especially the female ones, who are aspiring to be like you?
Rebel against your fears. Rebel against your pains. Rebel against your failures. Rebel against what people say about you. Rebel against societal structures saying you are weak. The world celebrates those who stood up and dared to live.
COVID-19: FG Expresses Worries Over Mass Transportation Of People Out Of Lagos In Trucks
The Presidential Task Force on the coronavirus pandemic has alerted on what it called 'mass transportation' of people out of Lagos State in trucks, thereby worsening the spread of the disease… Read full story
Health Workers That Demand Fee For COVID-19 Test Will Be Sanctioned ― LASG
LAGOS State government (LASG) has said tests for COVID-19 are free of charge in all designated screening centres across the state… Read full story
We Want Our Tailors To Start Using Ankara, Others To Make Face Masks, Says Boss Mustapha
The Presidential Task Force on the coronavirus pandemic has asked the Nigerian garment factories especially tailors all over the country to start producing face masks using local fabrics such as Ankara and others… Read full story
(UPDATE): Faces Of Four Suspected Killers Of Afenifere Leader's Daughter
The Inspector General of Police, Muhammed Adamu, on Thursday confirmed the arrest of four men suspected to have murdered Mrs Funke Olakunrin, the daughter of the leader of Afenifere, a pan-Yoruba sociocultural group, Pa Reuben Fasoranti… Read full story
COVID-19: FG Threatens To Close Down Private Hospitals Engaging In Unauthorised Treatment
THE Federal Government (FG) threatened on Thursday that it would close down private hospitals that engage in unauthorised treatment of COVID-19, warning that the country cannot afford avoidable morbidity… Read full story
Covid-19 Lockdown: When Lagos Residents Rose Against Gangs
Except for the sight of few commercial bus drivers and motorcyclists engaging in brisk business operations to make ends meet and in that way circumventing the presidential stay-at-home order, major roads across Lagos State are deserted as handful of commuters are stranded at various bus stations… Read full story
Ramadan 2020: UAE Charities To Shun Mosques, Tents, Deliver Iftar Meals To Homes
IFTAR meals will be directly delivered to those in need in the United Arab Emirates this year, rather than being served at Ramadan tents or at mosques… Read full story
What Islam Tells Us About Responding To Deadly Pandemics —Experts
EXPERTS have said that Islamic guidelines on epidemics, going back to the time of the Prophet Muhammad, can help people cope with COVID-19. They said Islamic rules over epidemics to protect people from death and sickness go back to the very early stages of the emergence of the monothesitic religion. According to them… Read full story
The Power Of Amotekun
Security is not just the most sacred value, it is the ultimate value. That is why it is philosophised that survival is the first law in nature. It is true that coronavirus issues now tend to override many other issues, but we must not lose our guard. This is because the history of warfare shows that adversaries always prefer to attack their… Read full story