Why we'll uphold s*xual, reproductive rights of African youth —UNFPA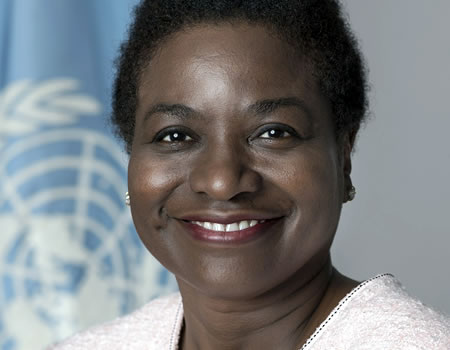 Acting, Executive Director, United Nations Population Funds (UNFPA), Dr Natalia Kanem has assured of UNFPA's unwavering commitment to securing the s*xual and reproductive health and rights of African's youth in honour of late executive director, Professor Babatunde Osotimehin.
Dr Kanem spoke in Ibadan at the special assembly to honour, UNFPA's late Executive Director, Professor Osotimehin at University College Hospital, UCH, Ibadan.
Dr Kanem, who remembered late Professor Osotimehin as a man of great vision, big heart, and great statesman of Africa, said this was important to ensure that Africa also realises its demographic dividend.
She said that UNFPA will continue in the same tenacity that late Professor Osotimehin embodied to support the poorest and most vulnerable, empower women and girls, and facilitate the development of young people all across the globe.
Dr Kanem declared, "he challenged me and all my colleagues at UNFPA to keep striving for our ultimate goal, a world where every pregnancy is wanted, and every birth is safe and every young person's potential is fulfilled.
"His strong advocacy, in collaboration with like-minded partners, helped ensure that s*xual and reproductive health and reproductive rights were prominently reflected in the 2030 agenda.
"He knew that if women could plan their families, they could better plan their futures. And he made it his mission to ensure that countries knew that investing in family planning, women and young people, could further economic growth through a demographic dividend.
"In honour of his great legacy, UNFPA will continue our strong and unwavering commitment to support efforts to realise the demographic dividend in Africa, particularly through securing the s*xual and reproductive health and rights of African's youth."
Health Minister, Professor Isaac Adewole eulogising the late Professor Osotimehin, described him as an advocate for s*xual reproductive health and right and universal access to HIV drugs for persons living with HIV/AIDS, as well as family planning.
Prof Adewole, who noted that his demise was a shock to the health sector, however said, "if we fail to harness the demographic dividends, then we will reap demographic disaster."
According to Prof Adewole, "the only thing that we can do for him is to continue on the track, promote s*xual reproductive health and right, continue to carry the banner of investing in young people, and supporting the right of women to live and not die when giving birth or carrying pregnancy."
UCH's Chief Medical Director, Professor Temitope Alonge, said late Prof Osotimehin was sold out to research, spanning different aspects of medical practice, adding that his death was a big loss to the medical community.
Provost, College of Medicine, Ibadan, Professor Oluwabunmi Olapade-Olaopa stated that whether in life or in death, late Prof Osotimehin was a great man worthy of celebration.
He added, "he lived a life of service in different capacities which could not be easily forgotten."