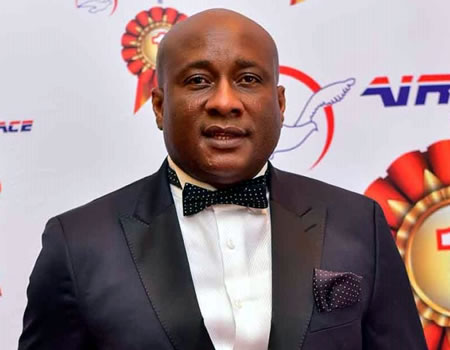 Chairman/Chief Executive Officer of Air Peace, Mr. Allen Onyema has said the carrier was embarking on massive expansion of its domestic flight operations to tackle air travel difficulties in Nigeria and build bridges of unity across the country.
Onyema spoke on Monday in Kaduna State in an address to mark the commencement of Air Peace's daily flights from the Murtala Muhammed Airport, Lagos to the Kaduna International Airport.
The launch of the airline's Lagos-Kaduna service came a week after the carrier started scheduled flights from Lagos, Abuja and Accra to Roberts International Airport, Monrovia, Liberia.
Onyema, who was represented by Air Peace Corporate Communications Manager, Mr. Chris Iwarah described the launch of the carrier's Lagos-Kaduna service as a "significant milestone in our vision to unite our dear country, Nigeria through air travel and lift the nation's economy through trade facilitation and massive job creation."
He said the airline, which also launched its daily flights to Kano and Yola on February 12 and 15, 2018 respectively, was working on setting up mini-hubs across Nigeria and the West Coast of Africa to strategically fix the challenges of air travel.
According to Onyema: "Our plan is to massively expand our operations from our base in Lagos into mini-hubs across all regions of Nigeria and the West Coast of Africa. We assure you that the North of Nigeria will be one of the biggest beneficiaries of the massive expansion of our route network and fleet capacity. Since the first quarter of 2018, we have begun to take delivery of the six 50-seater Embraer 145 aircraft we recently acquired to serve cities with air transport difficulties under our subsidiary, Air Peace Hopper.
"There is no doubt that as the leading and biggest airline in Nigeria with a fleet size of 24 aircraft, we are now more positioned to transform air travel experience in Nigeria, the West Coast of Africa and beyond."
But more importantly, we are proud to use our flight services to build bridges of unity in Nigeria. We are not just achieving this by extending our flight operations across Nigeria without restriction, we also are doing so with our employment policy that does not discriminate on the grounds of religion, tribe and creed."
"We are coming into the Kaduna route with a reputation for on-time performance and uncompromising stand on matters of safety. We promise to leverage the experience of our skilled staff and excellent business model to end the challenges of air travel on the Kaduna route and make Kaduna more accessible to leisure and business travelers", Onyema added.