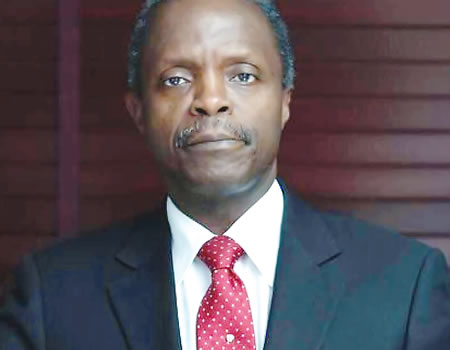 ACTING President Yemi Osinbajo has assured that the Federal Government would urgently address rising agitations and proclamations in the country as it could not pretend about them.
He said it was in line with that desire that government has initiated the ongoing consultations with leaders of thought in the North and the Southeast.
Speaking while meeting with leaders from the Southeast at the Presidential Villa, Abuja on Wednesday, he warned that no side must fall into the temptation to engage in tit-for-tat attitude.
He said: "Both of these expressions and agitations from both sides, have been attended with some controversial and hateful vituperations including patently illegal and violence-inducing remarks.
"I firmly believe that we ought to address these agitations and proclamations urgently and decisively.
"Burying our heads in the sand and expecting the storm to blow over of their own accord is not an option.
"But equally not reasonable is falling for the temptation for tit-for-tat. It has never worked or moved us closer to a solution or resolution.
"And so it is in our bid, as government, to deal with these pressing issues and grievances, that we have convened this series of consultations, with various groups. We will never shy away from the responsibility to ensure and uphold the peace and security of Nigeria."
Osinbajo noted that it was leaders' responsibility to ensure peace, progress and prosper in the country, saying that was why they must speak up.
The acting President stated: "It is in my view the role and responsibility of those privileged in society to be leaders to chart a progressive and lofty course for the ordinary people.
"As leaders, we carry the burden to secure the peace, progress and prosperity of our people, and that is why our voices ought to be heard and heard loud and clear at moments like this in the defence and articulation of what is truly beneficial to the nation and the people, and what is right and patriotic.
"Our dear nation has gone through some really difficult times. We have survived bloody coups, several rounds of ethno-religious violence, and emerged from a long and bloody Civil War.
"All of us here have seen close-up what violence can do to a country, and I believe I speak for us all when I say that no one here is keen to see Nigeria embroiled in violence or bloodshed of any kind.
"Especially not when we are only just emerging from a brutal insurgency that has consumed more than 20,000 of our brothers and sisters and children, as well as the better part of a decade.
Recalling the devastation of the Nigerian Civil War, he pointed out that wars were started with words.
According to him, "It is also clear that wars sometimes start, not with bullets, but with words. Hateful, incendiary speech, opening floodgates of blood. The tongue, like the pen, is often mightier than the sword, because it is what pushes the sword into action. When we throw words like stones in a marketplace we do not know who or what it will hit.
"Knowing this, under no conditions whatsoever should we tolerate or excuse or justify hate speech or hateful conduct of any kind, especially where such is illegal."
Osinbajo acknowledged that as part of living together in Nigeria, misunderstandings and frustrations were inevitable "because resources are limited there will always be a striving to get what is perceived as the best seat at the table."
He further said: "All of that is normal and to be expected, especially in a democracy, like ours. A healthy democracy ought to be a theatre of energetic striving by all parties and stakeholders.
"But things should never descend to a level where mutual suspicions override the desire to live together in peace and harmony."
He reiterated that "hate or divisive speech, or divisive behaviour, where it is illegal, will be met with the full force of the law. I will say it again today."
The acting President warned: "Let there be no doubt whatsoever of the resolve of government to ensure that no one will be allowed to get away with making speeches that can cause division or violence.
"We will take very seriously any attempts to cause violence or to disrupt the peace of Nigeria. And we will not tolerate such.
"We are also resolute in our determination to protect every Nigerian, everywhere in the country.
"We will do everything within our power to defend and uphold the terms of our constitution, which declares that we are one nation under God.
"It also guarantees the free mobility of people, goods and services throughout the country, as well as full residence rights for every citizen in all and any parts of the land of their choice."
He assured that it was the responsibility of the government to create the conditions for the attainment of these ideals.
He noted that since there could no development without peace and security, government was committed to its responsibilities.
"Those responsibilities also include listening to, consulting, and engaging with you; giving every citizen and every part of the Federation a sense of belonging and significance. And that is why we are here today," he stated.
Speaking for the Southeast leaders after the meeting, Governor Dave Umuahi told State House correspondents that the meeting was to find ways to ensure that Nigerians live together in peace.
Noting that the meeting was not about the Independent People of Biafra (IPOB), he said there was nothing wrong in agitations but doing so peaceful and with the law was important.
Umahi stated: "The meeting is not about IPOB. It is to stress the need for security of lives and properties of Nigerians all over Nigeria and to stress the need for a united, honest, fair and equitable Nigeria. That was what the meeting was about.
"It was a wonderful meeting and the message we are taking back is that there is hope for a united and peaceful Nigeria and everybody should work hard.
"We emphasized the need for everybody to restrain from making hate statements. We should be making statements that bind us together, statements of love, statements of unity, statements of hope and of course we should also work very hard."
On the message they would take back to IPOB agitators, he added: "Everybody has a right to agitate but we emphasise the need for peaceful agitation.
"Even you agitate, your wife agitates at home that the feeding money is not enough. So, it is fundamental right but is the manner you go about it. So, it is not an issue that cannot be resolved."
Among those present at the meeting were Senate President, Bukola Saraki, Deputy Senate President-General, Ike Ekweremadu; Speaker, House of Representatives, Yakubu Dogara; Governors of Enugu, Ebonyi, Abia, Anambra and Imo States Ifeanyi Ugwuanyi, Dave Umuahi, Okezie Ikpeazu, and Willie Obiano, Rochas Okorocha, respectively; President of Ohanaeze Ndigbo, Nnia Nwodo; Senator Ken Nnamani, Chukwuemeka Ezeife, Senator Eyinnaya Abaribe; Chief of Defence Staff, General Gabriel Olonishakin, Minister of Interior, Abdulrahman Danbazau; Inspector General of Police, Ibrahim Idris; Minister of Defence, Masur Dan Ali and their counterparts from the south east, Viola Onwuliri, Senator Joy Emordi.